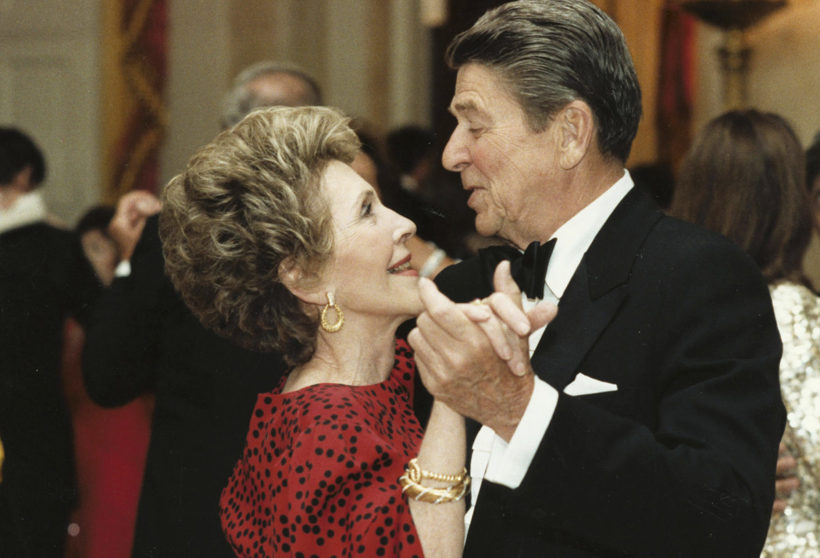 redo Jump to...
print Print...
(by Will Dunham, Reuters) — Nancy Reagan, the former actress who was fiercely protective of husband Ronald Reagan through a Hollywood career, eight years in the White House, an assassination attempt and her husband's Alzheimer's disease, died on Sunday at age 94.
The cause of death was congestive heart failure, said a spokeswoman for the Reagan presidential library. She died at her Los Angeles home.
"She is once again with the man she loved," her stepson Michael Reagan wrote on Twitter.
Reagan became one of the most influential first ladies in U.S. history during her Republican husband's presidency from 1981 to 1989.
Ronald Reagan died in 2004 after a long struggle with Alzheimer's, the progressive brain disorder that destroys memory.
…..Nancy Reagan will be buried next to her husband at the Reagan presidential library in Simi Valley, California. The public will have a chance to pay their respects prior to the funeral service, with details to come shortly.
Nancy Davis was a Hollywood actress during the 1940s and 1950s and married Reagan, a prominent film actor, in 1952. She then served as first lady of California during her husband's stint as California governor from 1967 to 1975 before moving into the White House after his decisive victory over incumbent Democratic President Jimmy Carter in 1980.
Her most publicized project as first lady was the "Just Say No" anti-drug campaign. After her husband developed Alzheimer's disease, she became an advocate for discovering a cure.
She was diminutive and publicly soft-spoken, but Nancy Reagan's strong will, high-tone tastes and clout with her husband made her a controversial figure during his presidency.
As Reagan's wife, political partner and adviser, she became one of America's most potent first ladies, alongside the likes of Franklin Roosevelt's wife, Eleanor, Woodrow Wilson's wife, Edith, and Bill Clinton's wife, Hillary.
"I see the first lady as another means to keep a president from becoming isolated," she said in 1985. "I talk to people. They tell me things. And if something is about to become a problem, I'm not above calling a staff person and asking about it. I'm a woman who loves her husband and I make no apologies for looking out for his personal and political welfare."
Tiny and frail in her later years, Reagan devoted her time to caring for her ailing husband at their home in Los Angeles' exclusive Bel Air enclave. She was always a stickler for protocol and detail and stoically presided over the former president's weeklong funeral and celebration of his life in June 2004.
One of her most trying times as first lady came when John Hinckley stepped out of a crowd outside a Washington hotel on March 30, 1981, and fired six shots toward the president, striking him in the chest. A .22-caliber bullet punctured his lung and nearly entered his heart.
"Honey, I forgot to duck," he told her at the hospital.
Some critics lambasted Nancy Reagan as a meddlesome "dragon lady," derided her anti-drug campaign and ridiculed her for consulting an astrologer to schedule presidential events.
President Reagan called this view of his wife "despicable fiction," saying in 1987: "The idea that she is involved in governmental decisions and so forth and all of this, and being a kind of dragon lady – there is nothing to that."
The reputation was established during her husband's time as California governor and followed her to Washington. She was first accused of being a vacuous [silly; mindless] spendthrift [a person who spends money wastefully] interested chiefly in renovating and buying new china for the White House…
Advocates of the latter view saw her influence as virtually unlimited in such matters as the dumping of presidential advisers, efforts to get a nuclear arms accord with the Soviet Union and her husband's decision to seek a second term in 1984.
Some Reagan-watchers said reports of Mrs. Reagan's influence were exaggerated and that it was merely the protective concern of a loving wife. …
James Baker, who served as White House chief of staff during Reagan's first term, [told] PBS in 2011: "If there was one person who was indispensable to Ronald Reagan's political success, it was Nancy Reagan."
In a statement on Sunday, Baker said Nancy Reagan was "her husband's closest adviser, his constant protector, and most importantly the love of his life."
Nancy Reagan acknowledged she had the ear of her husband.
"In most good marriages that I know of, the woman is her husband's closest friend and adviser," she wrote in her 1989 memoir, "My Turn." "… But however the first lady fits in, she has a unique and important role to play in looking after her husband. And it's only natural that she'll let him know what she thinks. I always did that for Ronnie and I always will."
Ronald Reagan was known for penning innumerable letters to his wife. In one, he stated: "I more than love you, I'm not whole without you. You are life itself to me. When you are gone I'm waiting for you to return so I can start living again."
Ronald and Nancy Reagan got married in 1952 and had two children together – Patti Davis, an actress, and Ron Jr., who pursued careers in ballet and television.
She is also survived by her brother, Richard, according to the Reagan presidential library.
(Additional reporting by Joseph Ax, Karen Brooks, Megan Cassella).  Reprinted here for educational purposes only. May not be reproduced on other websites without permission from Thomson Reuters. Visit the website at Reuters.com.
Questions
1. List several words/phrases used to describe Nancy Reagan in this article.
2. What was significant about Nancy Reagan's role as First Lady?
3. How did Mrs. Reagan explain what she saw the role of the First Lady to be?
4. How did Ronald Reagan defend his wife when critics said she was involved in the decisions he made as president?
5. The reporter writes in para. 22: "Nancy Reagan acknowledged she had the ear of her husband." Is there anything wrong with this? (Should Michelle Obama have the ear of her husband? Or Laura Bush of her husband?…) Explain your answer.
6. a) Read the "Background" below the questions. Some critics dismissed her "Just Say No" anti-drug efforts as simplistic but she became America's most visible anti-drug crusader at a time when the crack cocaine epidemic was raging. What did she tell the UN General Assembly when she addressed the assembly in 1988?
b) What do you think of this assertion? Explain your answer.
7. Ask a parent (and/or a grandparent) to describe his/her view of Nancy Reagan when she was the First Lady.
Background
The former president's Alzheimer's struggle made Mrs. Reagan a campaigner for broader human embryonic stem cell research, a stand that put her at odds with many Republicans.
"Ronnie's long journey has finally taken him to a distant place where I can no longer reach him. Because of this, I'm determined to do whatever I can to save other families from this pain," she said before his death in 2004.
Some critics dismissed her "Just Say No" efforts as simplistic but she became America's most visible anti-drug crusader at a time when the crack cocaine epidemic was raging.
In 1988, she addressed the U.N. General Assembly, saying the United States must do more with tougher law enforcement and anti-drug education efforts and should stop blaming the poor nations that produce most of the narcotics used by Americans.
"We will not get anywhere if we place a heavier burden of action on foreign governments than on America's own mayors, judges and legislators. You see, the cocaine cartel does not begin in Medellin, Colombia. It begins in the streets of New York, Miami, Los Angeles and every American city where crack is bought and sold," she told the General Assembly.
After leaving the White House, she created the Nancy Reagan Foundation to continue her anti-drug campaign. The organization helped develop the Nancy Reagan Afterschool Program in 1994 aimed at drug prevention and life skills for youth.
Resources
Read more about Nancy Reagan at the Ronald Reagan presidential library website: reaganfoundation.org
Watch a look back at Nancy Reagan's life, from Hollywood to the White House:
---
A CBS report:
Daily "Answers" emails are provided for Daily News Articles, Tuesday's World Events and Friday's News Quiz.