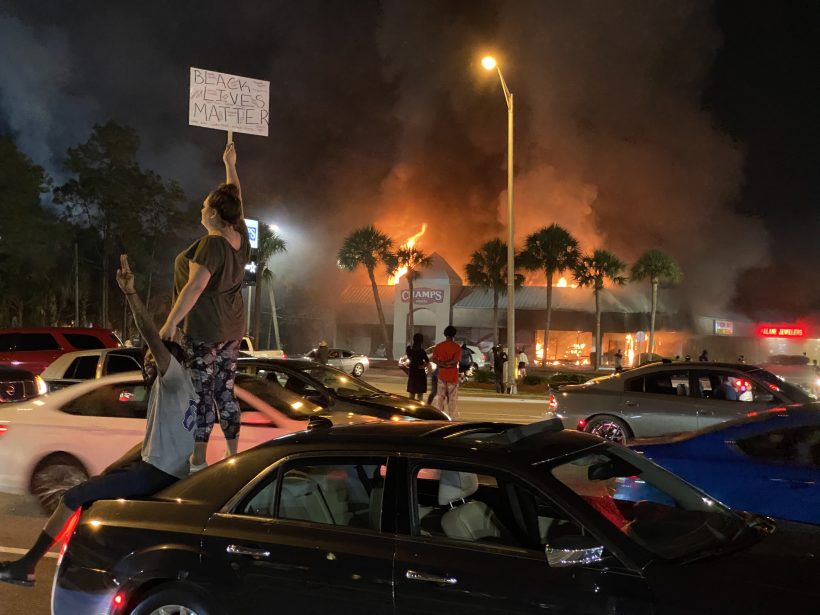 redo Jump to...
print Print...
NOTE:
The Florida Senate is made up of 16 Democrats and 24 Republicans.
The bill passed in the Senate 23 to 17.  All Democrats voted against the anti-rioting bill, with one Republican voting with the Democrats.
The Florida House is made up of 42 Democrats and 78 Republicans.
The bill passed in the House 76 to 39.
---
(by Daniel Uria, UPI) — Florida Gov. Ron DeSantis on Monday signed an "anti-riot" bill into law, increasing penalties for people who [engage in violent/destructive acts during protests/demonstrations].
The measure, which goes into effect immediately, increases the charge for protesters who destroy historical structures such as flags and memorials, raises the charge for battery on a police officer to a minimum of six months in jail and bars protesters arrested during a riot from posting bail until after their first court date.
It also grants civil legal immunity to individuals who drive through roads blocked off by protesters and makes blocking a highway a felony offense. Cities also will be required to receive approval from the state before cutting their police budgets.
"This legislation strikes the appropriate balance of safeguarding every Floridian's constitutional right to peacefully assemble, while ensuring that those who hide behind peaceful protest to cause violence in our communities will be punished," the governor said in a statement.
During a press conference announcing the signing, DeSantis, a Republican, hailed the legislation as "the strongest anti-rioting, pro-law enforcement piece of legislation in the country."
"In Florida, we are taking an unapologetic stand for the rule of law and public safety. We are holding those who incite violence in our communities accountable, supporting our law enforcement officers who risk their lives every day to keep us safe and protecting Floridians from the chaos of mob violence," he said.

["If you riot, if you loot, if you harm others, particularly if you harm a law enforcement officer during one of these violent assemblies, you're going to jail," DeSantis said. "The state of Florida takes public safety very seriously."].
The law also allows local police agencies to challenge budgets, prevents local governments from defunding law enforcement agencies, and opens cities up to liability for insufficient riot control.
"If you're derelict in your duty as a local government, if you tell law enforcement to stand down, then you're responsible for the damage that ensues," DeSantis said. "And if someone's been harmed or their property has been destroyed, then they can sue you for compensation."
Supporters of the legislation said that it would maintain the right to protest while protecting law enforcement.
"We respect the right of people to peaceably assemble and make their views known on issues of public policy, but rioting, violence and destruction of property cannot and will not be tolerated in Florida," Florida House Speaker Chris Sprowls said.
Florida Senate President Wilton Simpson explained,
"You can peacefully protest every day, and should peacefully protest if you feel like that's necessary. But if you cross the line and you start damaging property, you start threatening law enforcement, then this law is going to have the enhanced penalties that exist here."
The Florida branch of the American Civil Liberties Union, however, denounced the measure, saying that it "criminalizes peaceful protest."
"To be clear — the goal of this law is to silence dissent and create fear among Floridians who want to take to the streets and march for justice," Micah Kubic, executive director of the ACLU of Florida said.

"It should not be a crime to exist in public space, yet that's exactly what Gov. DeSantis has done — criminalized being at a protest just because someone else does something wrong."
While the bill's language says it "does not prohibit constitutionally protected activity such as a peaceful protest," the legislation drew criticism from Democratic officials and local activists, who claim it will curtail basic freedoms, silence political dissent and disproportionately target communities of color.
"The signing of #HB1 being signed today is a deliberate scare tactic, considering that closing arguments in the #DerekChauvinTrial started today," tweeted Florida Democratic State Senator Shevrin Jones. "This was never about protecting 'peaceful protesters,' it has always been about silencing a group of protesters, black & brown voices."
Published at UPI on April 19. (With excerpts from CBS, Newsweek and NBC5 local WPTV). Reprinted here for educational purposes only. May not be reproduced on other websites without permission.
Questions
1. The first paragraph of a news article should answer the questions who, what, where and when. List the who, what, where and when of this news item. (NOTE: The remainder of a news article provides details on the why and/or how.)
2. List the provisions included in the "anti-riot" bill signed into law by Florida's Republican Gov. Ron DeSantis.
3. What did Gov. DeSantis say he and the legislature were doing in passing the bill?
4. What did Florida House Speaker Chris Sprowls say about the protests?
5. a) What similar points did Republican leaders Chris Sprowls and Wilton Simpson make?
b) Do you agree with these assertions? Explain your answer.
6. a) What did Florida's ACLU executive director Micah Kubic say Gov. De Santis did by signing the HB 1 "Combating Public Disorder" bill into law?
b) Do you think this is an accurate portrayal of the law, based on its provisions? Explain your answer.
7. Florida Democratic State Senator Shevrin Jones tweeted "This was never about protecting 'peaceful protesters,' it has always been about silencing a group of protesters, black & brown voices."
Is this a fair assertion? Explain your answer.
8. Ask a parent: do you support the Florida law? Please explain your answer.
Resources
WFLA News Channel 8, April 19, 2021:
---
Fox News, April 20, 2021:
---
News 4 Jacksonville, April 19, 2021:
Daily "Answers" emails are provided for Daily News Articles, Tuesday's World Events and Friday's News Quiz.