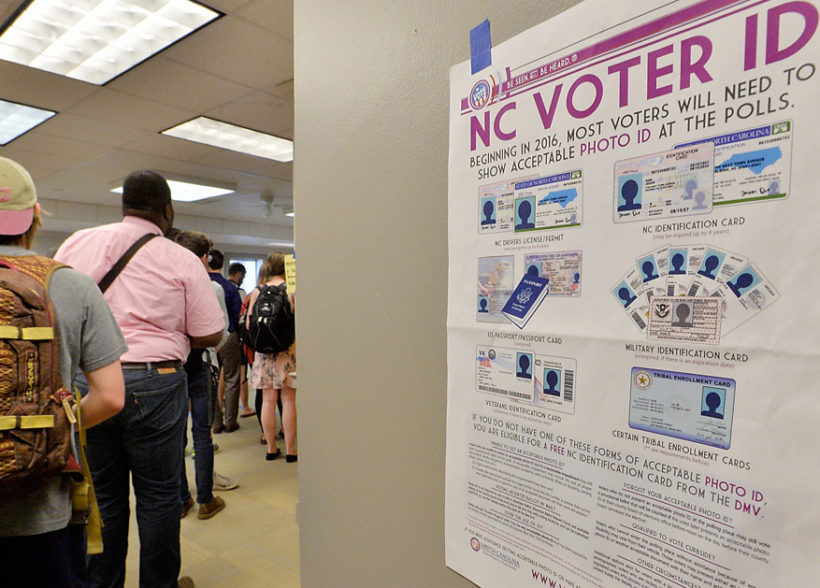 (by Colleen Jenkins, Reuters) WINSTON-SALEM, N.C. — A federal judge upheld a North Carolina law on Monday that requires voters to show certain forms of photo identification at the polls, in a key victory for Republicans in a presidential election year who say the law is needed to prevent voter fraud.
The case tested a central piece of broad voting restrictions passed after the U.S. Supreme Court ruled in 2013 that North Carolina and other states with a history of discrimination no longer needed federal approval for voting law changes affecting minorities. ["There is significant, shameful past discrimination. In North Carolina's recent history, however, certainly for the last quarter century, there is little official discrimination to consider," U.S. District Judge Thomas Schroeder wrote.]
In siding with Republican Governor Pat McCrory and other state officials in dismissing challenges to the law, Judge Schroeder in Winston-Salem wrote in a 485-page ruling that North Carolina "has provided legitimate state interests for its voter-ID requirement and electoral system."
[The plaintiffs "failed to show that such disparities will have materially adverse effects on the ability of minority voters to cast a ballot and effectively exercise the electoral franchise" as a result of the 2013 voter ID state law, Schroeder wrote. The judge also cited findings that black voter turnout rose in 2014, after the law was passed.]
"In sum, plaintiffs have failed to show that any North Carolinian who wishes to vote faces anything other than the 'usual burdens of voting,'" Schroeder also wrote.
The NAACP and individual voters backed by the U.S. Justice Department had argued that the law disproportionately burdened African-Americans and Hispanics, who are more likely than whites to lack the acceptable forms of identification.
Democrats argue voter ID laws passed by Republican-led state legislatures target voters who typically support the Democratic party. Proponents of the measures say they are intended to prevent voter fraud.
The trial in Winston-Salem was one of a number of closely watched voting rights battles across the country playing out as Democrats and Republicans fight for the White House in November.
Governor McCrory, locked in a tough race for re-election this year, said in a statement: "This ruling further affirms that requiring a photo ID in order to vote is not only common-sense, it's constitutional." He added, "Common practices like boarding an airplane and purchasing Sudafed [at a pharmacy] require photo ID and thankfully a federal court has ensured our citizens will have the same protection for their basic right to vote." 
The North Carolina law requires voters to show approved credentials such as a driver's license or passport before casting a ballot. Voters who cite a "reasonable impediment" to obtaining such identification are allowed to cast a provisional ballot.
Schroeder also upheld provisions that eliminated a week of early voting, same-day registration, and prohibited the counting of out-of-precinct ballots.
Schroeder said that the plaintiffs did not establish that blacks or Hispanics had less opportunity than others to participate in the electoral process, and pointed out that North Carolina joins only South Carolina in extending voters the "reasonable impediment" accommodation.
Opponents of the law said they would pursue an appeal.
William Barber, president of the North Carolina State Conference of the NAACP, called the "restrictive provisions" in the law "an affront to democracy" and vowed to continue the fight against "regressive and discriminatory voter suppression tactics."
(Additional reporting by Eric M. Johnson) 
Reprinted here for educational purposes only. May not be reproduced on other websites without permission from Thomson Reuters. Visit the website at Reuters.com.
Questions
1. The first paragraph of a news article should answer the questions who, what, where and when. List the who, what, where and when of this news item. (NOTE: The remainder of a news article provides details on the why and/or how.)
2. What Supreme Court ruling were the plaintiffs challenging regarding North Carolina's voter ID law?
3. How did district Judge Thomas Schroeder explain his decision? Be specific.
4. For what reason did the NAACP and the Obama administration's Justice Department argue against the North Carolina voter ID law?
5. List the three additional provisions to North Carolina's voter ID law that Judge Schroeder also upheld.
6. Republicans say voter identification is necessary to prevent voter fraud.
Democrats say identification should not be required to vote because it causes voter disenfranchisement. They say that it prohibits people who don't have a driver's license, passport, or other photo ID, from voting.
Read the North Carolina voter law provisions and "How to obtain a voter ID card in North Carolina"
With whom do you agree? Explain your answer.
7. a) In what situations do people currently have to show ID?
b) Ask a parent: In what situations do you currently have to show ID?
c) Do you think citizens should be required to show photo ID in order to vote? Explain your answer.
8. a) Do you think voter ID laws will improve or harm the integrity of elections? Explain your answer.
b) Voter ID requirements are not uncommon. Currently 33 US states enforce identification rules before allowing citizens to vote in person and that number is continuing to rise. Do you think states should implement these new ID requirements for voters? Explain your answer.
Daily "Answers" emails are provided for Daily News Articles, Tuesday's World Events and Friday's News Quiz.