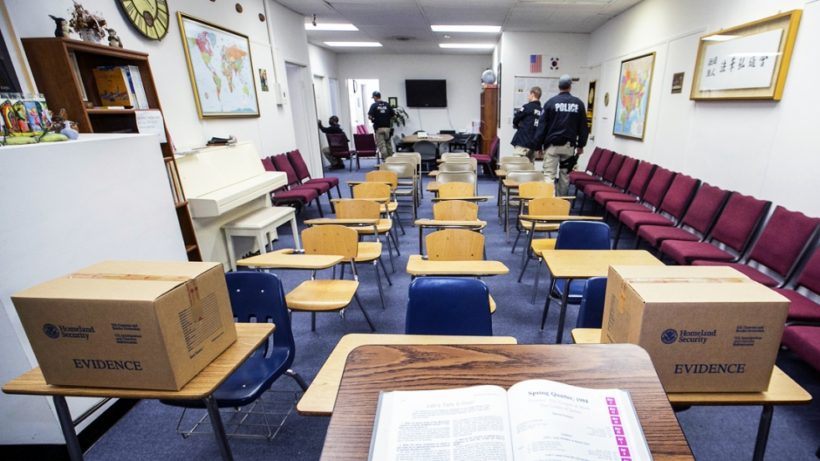 (by Miriam Jordan, The Wall Street Journal) LOS ANGELES—Amid a widening crackdown on immigration fraud, federal agents on Wednesday raided a network of schools alleged to be part of a scheme to collect millions of dollars from foreigners who came to the U.S. on student visas but never studied.
Agents with U.S. Immigration and Customs Enforcement's  (ICE) Homeland Security Investigations (HSI) arrested three individuals who ran four schools in the Los Angeles area alleged to serve as a front for the scheme.
Hee Sun Shim, 51 years old, was arrested at his Beverly Hills home, and his alleged associates, Hyung Chan Moon and Eun Young Choi, were arrested in their offices near downtown Los Angeles.
They were taken into custody and charged in Los Angeles federal court with conspiracy to commit visa fraud, money laundering and of other immigration offenses, U.S. authorities said. They weren't immediately available for comment and their attorneys weren't known.
Wednesday's action was the latest in a series targeting visa fraud nationwide.
"It's a priority for us," said Claude Arnold, special agent in charge of HSI in Los Angeles. "It is something that can be exploited by [people] who want to do harm to the country."
He added that authorities haven't seen any evidence in this case that suspected terrorists used the alleged scheme to enter the country.
The main school in the alleged scam is Prodee University, located in Los Angeles's Koreatown neighborhood. It is affiliated with three other schools: Walter Jay M.D. Institute and American College of Forensic Studies in Los Angeles and Likie Fashion and Technology College in nearby Alhambra.
Catering primarily to Korean and Chinese nationals, the schools enrolled 1,500 students, the government said, most of whom live outside of Los Angeles, including in Texas, Nevada and Hawaii. They generated as much as $6 million a year in tuition payments, authorities said.
Sham [fake] colleges across the U.S. are believed to attract thousands of foreigners who pay fees, some of them with the promise of an education they don't receive and others with assurance that no classes need be taken.
"It's never clear to what extent the students are victimized or are in on the scheme," said Barmak Nassirian, policy analysis director at the American Association of State Colleges and Universities.
The crackdown comes at a time when U.S. colleges and universities are attracting a record number of foreign students – about one million currently. [They earn the schools huge tuition fees.]
The spate [huge amount] of student-visa scams has prompted some lawmakers to call for better government monitoring of both schools and students. In recent years, authorities have raided schools in Virginia, New Jersey and California, the state considered the center of the illicit [criminal] activity.
A 2012 Government Accountability Office report concluded that Immigration and Customs Enforcement [ICE] was failing in its mission to detect fraud by school operators.
Last year ICE began [sending] field representatives to foster [encourage] compliance with regulations; a compliance unit makes surprise visits to schools and a new risk-assessment tool helps identify suspicious activity at schools. ICE also says it has enhanced electronic record keeping of students.
"We have been working to fix vulnerabilities," said Rachel Canty, deputy director of ICE's Student Exchange and Visitor program, which certifies schools that enroll foreigners.
Concern about the legitimacy of foreign students and institutions they attend first surfaced after the Sept. 11, 2001, terrorist attacks. Since then, schools have been required to provide information about students to an online government database, the Student and Exchange Visitor Information System [SEVIS], overseen by ICE.
The SEVIS contains a student's personal record, including country of origin, age, coursework and U.S. address and other details. Schools that fail to comply can lose their certification. …
Security concerns resurfaced in 2013 after the deadly Boston Marathon bombing. Authorities learned that Azamat Tazhayakov, who hid evidence about the attack, had entered the U.S. on a student visa that was no longer valid. Since then, the government has integrated the SEVIS database into the screening process at airports. Mr. Tazhayakov, a Kazakhstan national, was convicted last July of obstruction of justice in the bombing.
Investigators say the defendants [arrested Wednesday] misrepresented students on federal forms, enabling them to secure student visas in what amounted to a pay-to-stay scheme. In exchange for the so-called Form I-20, a student made "tuition" payments for up to $1,800 to "enroll" for six months in one of the schools, according to the indictment.
As part of the suspected conspiracy, the defendants allegedly created bogus student records, including transcripts, for the purpose of deceiving immigration authorities.
The indictment further alleges that students often were transferred from one school to another to avoid arousing suspicion of immigration authorities about individuals in the country for long periods.
"We have nothing to indicate the students were getting education for anything," said Mr. Arnold, the special agent for ICE's Homeland Security Investigations.
After Wednesday's raid, the schools' access to  the Student and Exchange Visitor Information System (SEVIS) was ended and authorities are seeking to withdraw the schools' certification to enroll foreign students, ICE said.
The students' fate is unclear. Foreign pupils enrolled at the schools should contact the Student Exchange Visitor Program office in Washington, officials said.
The largest student-visa fraud case, involving Tri-Valley University in northern California, left more than 1,000 students in limbo and sparked protests in India. The school's president, Susan Su, was imprisoned in 2013 for making millions of dollars in the scheme. …
Copyright 2015 Dow Jones & Company, Inc. All Rights Reserved. Reprinted here for educational purposes only. May not be reproduced on other websites without permission from The Wall Street Journal. Visit the website at wsj .com.
Questions
1. What type of immigration fraud were three people arrested for in Los Angeles this week? (What were they doing? Who were they scamming? How did they make money?)
2. What charges were brought against the three men?
3. When did the government first require colleges to provide information about foreign students?
4. When/why did security concerns resurface more than 10 years after ICE put regulations in place to prevent student visa fraud?
5. The U.S. Government Accountability Office (GAO) is an independent, nonpartisan agency that works for Congress. Often called the "congressional watchdog," GAO investigates how the federal government spends taxpayer dollars. What did a GAO investigation conclude about ICE's Student Exchange and Visitor program?
6. What do you think about ICE's ability to effectively regulate the foreign student program?
7. Watch the news report under "Resources" below.  Considering the potential threat posed by terrorists entering the country this way, what do you think should be done to solve this problem?
Resources
Watch a CBS Los Angeles report:
Daily "Answers" emails are provided for Daily News Articles, Tuesday's World Events and Friday's News Quiz.