redo Jump to...
print Print...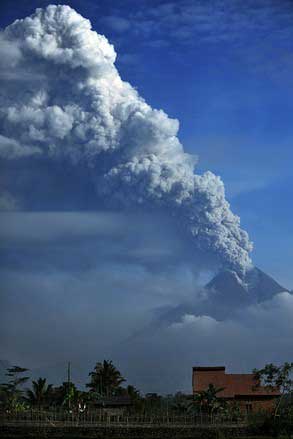 (from the Wall Street Journal, WSJ.com) AP, MOUNT MERAPI, Indonesia – Frightened residents fled [Yogyakarta], a bustling city of 400,000 at the foot of Indonesia's rumbling volcano Monday, cramming onto trains, buses and rented vehicles as authorities warned Mount Merapi could erupt again at any time.
A mass burial late Sunday for many of the 141 people killed in the last two weeks served as a reminder of the mountain's devastating power that culminated in its deadliest blast in 80 years, which sent hot clouds of gas, rocks and debris avalanching down its slopes.
"My parents have been calling…saying 'You have to get out of there! You have to come home!'" said Linda Ervana, a 21-year-old history student who was waiting with friends at a train station in the university town of Yogyakarta, [20 miles] away [from the volcano].
After failing to get tickets, they rented a minibus with other classmates.
"It feels like that movie '2012,'" said her 22-year-old friend, Paulina Setin. "Like a disaster in a movie."
Concerns about airborne ash after Friday's massive eruption prompted many international airlines to cancel flights to the capital, Jakarta, just days before President Barack Obama's planned trip to Indonesia-his second stop in a 10-day Asian tour.
All were flying again Monday, and White House officials said Obama was still scheduled to touch down Tuesday.
Merapi, one of the world's most active volcanoes, has erupted many times in the last century, killing more than 1,400. But Friday was the mountain's deadliest day since 1930, with nearly 100 lives lost.
Islam mandates that the dead be buried quickly, so authorities gave relatives three days to identify their loved ones. To speed up the process, most families chose to have their relatives interred in a mass grave-a common practice in Indonesia following a disaster.
One by one the bodies-some too charred to be identified-were lowered into a massive trench in the shadow of the volcano.
Merapi was still issuing explosive roars Monday as it shot clouds of gas and debris [more than half a mile] in the air as superheated clouds of ash, gas and debris known as pyroclastic flows poured down its slopes.
"Based on what we're seeing now, it could erupt again any time," said Surono, a state volcanologist.
The National Disaster Management Agency said the overall death toll from the volcano climbed from 138 to 141 Monday after search and rescue teams found more bodies on the mountain. [The number of those killed rose to 153 as of November 9, 2010.]
The Indonesian government has put Yogyakarta on high alert.
The city's airport was closed yet again Monday, and the ash hung so thickly in the air that breathing became painful and clothes stunk of smoke after any time spent outdoors.
Though there have been no orders to evacuate Yogyakarta, many residents have decided to go on their own. Small hamlets on the edge of the city looked like ghost towns, houses shuttered, some with laundry still hanging outside.
"What choice do we have?" asked Sukirno, 37, as he sped away with his wife and their 8-year-old daughter on a motorbike, saying they would join relatives far away over fears of the effect of the ash on their health.
The biggest threat to the city, experts say, is not searing gas clouds, but the Code River, which flows right into the city's heart from the 3,000-meter mountain.
It could act as a conduit for deadly volcanic mudflows that form in heavy rains, racing at speeds of up to [60 MPH] and destroying everything in their path. A thick, black volcanic sludge has already inundated one city neighborhood that starts at the river bank and climbs a hillside.
In Romomangun, the mud burst the banks and poured into buildings.
It has filled a path that runs along the river-which is usually about a meter below a retaining wall but is now even with it. The sludge also rushed into a small, one-room building on the bank that houses a public bathroom. The top of the entry door is now at waist level.
Nearly 280,000 people-many of whom normally live on the fertile slopes of the volcano-have jammed into emergency shelters. Many have complained of poor sanitation, saying there were not enough toilets or clean drinking water.
Indonesia, a vast archipelago of 235 million people, is prone to earthquakes and volcanoes because it sits along the Pacific "Ring of Fire," a horseshoe-shaped string of faults that lines the Pacific Ocean.
Copyright 2010 Dow Jones & Company, Inc. All Rights Reserved. This is an Associated Press article. Reprinted here for educational purposes only. Visit the website at wsj.com.
Questions
NOTE: Many Indonesians use/have only one name.
1. Answer the following questions about Indonesia:
a) What is the capital of Indonesia?
b) What is the population of Indonesia?
c) Who is the president of Indonesia?
d) What is the majority religion in Indonesia?
2. Define the following words used in the article:
-pyroclastic flows (para. 11)
-volcanologist (para. 12)
-archipelago (para. 23)
-Ring of Fire (para. 23)
3. a) How far away is the city of Yogyakarta from Mount Merapi?
b) How many people live in Yogyakarta?
4. Nearly 100 people were killed by Friday's eruption of Mount Merapi. When was the last time the volcano caused such devastation?
5. What do officials say is the biggest threat to Yogyakarta from Mount Merapi?
CHALLENGE QUESTION: President Obama is in Indonesia today, as one of the countries he is visiting on his 10-day Asian tour. Of what significance is Indonesia to President Obama personally?
Background
Indonesia is the world's third-largest democracy, the world's largest archipelagic state, and home to the world's largest Muslim population.
Indonesia's approximately 240.3 million people make it the world's fourth-most populous nation.
The island of Java, roughly the size of New York State, is the most populous island in the world (124 million, 2005 est.) and one of the most densely populated areas in the world.
Indonesia includes numerous related but distinct cultural and linguistic groups, many of which are ethnically Malay.
Since independence [in 1945], Bahasa Indonesia (the national language, a form of Malay) has spread throughout the archipelago and has become the language of most written communication, education, government, business, and media. Local languages are still important in many areas, however.
English is the most widely spoken foreign language.
Although constitutional guarantees of religious freedom apply to the six religions recognized by the state, namely Islam (86.1%), Protestantism (5.7%), Catholicism (3%), Hinduism (1.8%), Buddhism (about 1%), and Confucianism (less than 1%), Christian persecution by Muslims takes place and has been increasing over the past several years. (Do an internet search "Christian persecution in Indonesia" for more information)
Resources
Go to the U.S. State Department website at state.gov/r/pa/ei/bgn/2748.htm for background information on Indonesia.
Go to yahooimages for photos from Mount Merapi's eruptions.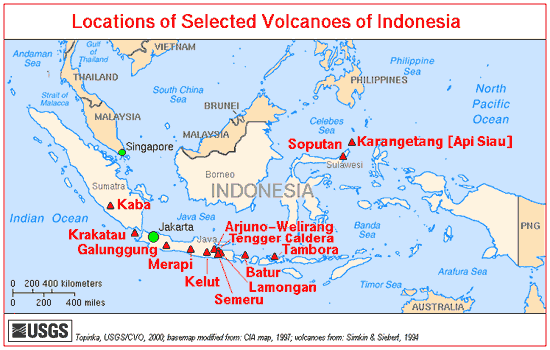 Daily "Answers" emails are provided for Daily News Articles, Tuesday's World Events and Friday's News Quiz.