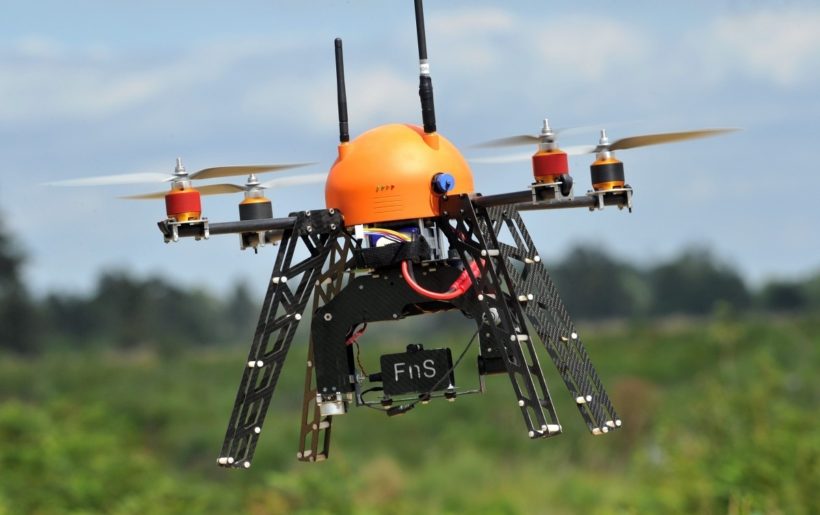 redo Jump to...
print Print...
(by Joan Lowy for Associated Press, at ABCNews) – The federal government will require many drone aircraft to be registered, a move prompted by the growing number of reported close calls and incidents that pose safety risks, officials announced Monday.
Pilot sightings of drones have doubled since last year, including sightings near manned aircraft and major sporting events, and interference with wildfire-fighting operations, the government said.
"These reports signal a troubling trend," Federal Aviation Administration (FAA) chief Michel Huerta said at a news conference to announce the step. Registration will increase pressure on drone operators to fly responsibly, he said, adding, "when they don't fly safely, they'll know there will be consequences."
To work out details, the FAA and the Transportation Department are setting up a 25- to 30-member task force including government and industry officials and hobbyists. They'll recommend which drones should be required to register and which should be exempted, and design a system that would be easy for commercial operators to comply with, the department said.
Toys and small drones that don't present a safety threat are likely to be exempt. Drones that weigh only a pound or two or that can't fly higher than a few hundred feet are considered less risky. Heavier ones and those that can fly thousands of feet pose more of a problem.
There is no official count of how many drones have been sold in the U.S., but industry officials say it is in the hundreds of thousands and will easily pass a million by the end of the year.
Transportation Secretary Anthony Foxx directed the task force to deliver its report by Nov. 20. The Consumer Electronics Association has forecast that 700,000 drones will be sold this [Christmas season], and Foxx said it's especially important that new drone users be taught the responsibilities that come with flying.
Registering drones that could pose safety risks "makes sense, but it should not become a prohibitive burden for recreational users who fly for fun and educational purposes and who have operated harmoniously within our communities for decades," Dave Mathewson, executive director of the Academy for Model Aeronautics, said in a statement.
The FAA now receives about 100 reports a month from pilots who say they've seen drones flying near planes and airports, compared with only a few sightings per month last year. So far there have been no accidents, but agency officials have said they're concerned that even a drone weighing only a few pounds might cause serious damage if it is sucked into an engine or smashes into an airliner's windshield.
In cases where drones have crashed where they were not supposed to be flying — at crowded sports stadiums, for example — it has been difficult to find the operators.
The FAA signed an agreement last month with CACI International Inc., an information technology company in Arlington, Virginia, to test technology that could locate the operators of small drones that are flying illegally near airports. The technology would let the government track radio signals used to operate drones within a 5-mile radius and identify the operator's location.
Reprinted here for educational purposes only. May not be reproduced on other websites without permission from ABC News/AP. 
Questions
1. What types of incidents involving drones have caused the federal government to require drones to be registered?
2. a) Which government agencies are involved with drone regulation?
b) How will they determine the details of the registration?
3. a) Define exempt.
b) Which drones are expected to be exempted? Why?
4. How many drones have been sold in U.S. so far? How many are expected to be sold this Christmas season?
5. A task force is defined as: a group of people who deal with a specific problem. When will the task force deliver its report?
6. a) What does Transportation Secretary Foxx want drone users to learn?
b) This news report does not give an explanation of how Secretary Foxx expects this to be carried out. How do you think the federal government could accomplish this without spending any money on a program?
7. a) What is the concern with drones being used near airports or in populated areas?
b) What is the FAA doing about operators of small drones that fly illegally near airports?
8. From the FAA website: "FAA guidance says that model aircraft flights should be flown a sufficient distance from populated areas."
What type of government registration do you think will prevent close calls from occurring in the future? (Will the registration requirement cause drone operators to become more responsible?)
Background
In September at the US Open Tennis tournament in Queens, NY:
A Brooklyn public school science teacher got served with charges for crash landing a drone into the stands during a match at the US Open tennis tournament, authorities said.

Daniel Verley, 26, who works at the Academy of Innovative Technology, was arrested at 1 a.m. on charges of reckless endangerment, reckless operation of a drone and operating a drone in a New York City park outside of a prescribed area.

His four propeller device made a grand slam into an empty section of seats at the Louis Armstrong Stadium in Queens, NY, causing a match to be suspended.

Verley told cops that he lost control of his $999.95 3DR Solo drone while flying it nearby at the famed Flushing Meadows Unisphere, a 12-story globe. He searched for his drone and only discovered where it was by going online and seeing news reports about its crash landing, police sources said. He then turned himself in to police.
CBS News reported in August:
The U.S. Forest Service has tallied 13 wildfires in which suspected drones interfered with firefighting aircraft this year – 11 since late June – up from four fires last year and only scattered incidents before. Last month, the sighting of five drones in a wildfire that closed Interstate 15 in Southern California and destroyed numerous vehicles grounded crews for 20 minutes as flames spread.
Resources
Visit the FAA's drone page at faa.gov for FAQs.
Watch an ABC News report:
---
Watch a CBS News report:
Daily "Answers" emails are provided for Daily News Articles, Tuesday's World Events and Friday's News Quiz.