redo Jump to...
print Print...
(from BBC.co.uk) – A tsunami triggered by a strong quake in the South Pacific has killed more than 100 people in several islands.
At least 77 people were reported dead in Samoa, more than 25 in American Samoa and at least six in Tonga.
Residents and tourists fled to higher ground as whole villages were destroyed. Boats were swept inland and cars and people out to sea.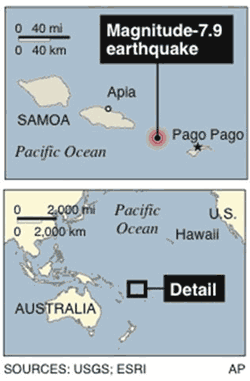 The 8.3-magnitude quake struck at 1748 GMT on Tuesday, generating 15ft (4.5m) waves in some areas of the islands.

The Samoa islands comprise two separate entities – the nation of Samoa and American Samoa, a US territory. The total population is about 250,000.

A general tsunami warning was issued for the wider South Pacific region but was cancelled a few hours later.

Separately on Wednesday a 7.9 magnitude earthquake struck a different fault line off the Indonesian island of Sumatra, killing at least 13 people.

The prime minister of Samoa, Tuila'epe Sailele Malielegaoi, said the latest death toll there was 77, including four overseas visitors, with 150 more people being treated in hospital. He said he was shocked at the devastation. "So much has gone. So many people are gone," he told Australia's AAP news agency.

[Mr. Malielegaoi also said] there had been extensive damage but that hospitals were coping well and that he was considering aid offers from New Zealand and Australia. "Had it happened in darkness, there could have been more disaster in terms of the number of those who died or are missing," he said.

U.S. President Barack Obama has declared a major disaster in American Samoa, enabling federal funding to be made available to help victims. He pledged a "swift and aggressive" government response.

American Samoa Governor Togiola Tulafono said the effects of the tsunami would touch everyone. "I don't think anybody is going to be spared in this disaster," he said.

Eni Faleomavaega, who represents American Samoa in the US Congress, said the waves had "literally wiped out all the low-lying areas in the Samoan islands". He said the tsunami had struck too quickly for a full evacuation.

Samoa's Deputy Prime Minister Misa Telefoni told AAP that the ocean had receded, heralding the oncoming tsunami, "within five minutes" of the quake. "With the location and the intensity… I don't know if anything better could have been done."

Officials at the Samoa Meteorology Division said many of those who died were killed by a second wave after they went to gather fish that had been washed up after the first.

Sirens reportedly blared out across the Samoan capital, Apia, again late on Tuesday but the warning was thought to be a false alarm.

Dr Lemalu Fiu, at a hospital in Apia, said the number of casualties was expected to rise as people arrived from coastal areas bringing reports.

Mr Telefoni said there were fears the major tourism areas on the west side of Upolu island – the eastern of the two main Samoan islands – had been badly hit. "We've had a pretty grim picture painted of all that coast," he said.

Australian Prime Minister Kevin Rudd confirmed the death of two Australians – a six-year-old girl and a 50-year-old woman.

Samoan officials say it could take a week before the full extent of the damage is known.

A government official in Tonga said at least six people had been killed there and four more were missing.

But New Zealand's acting Prime Minister Bill English said Tongan officials had told him a "considerable number of people" had been swept out to sea. Mr English added: "Over the next 12 hours the picture could look worse rather than better."

The Pacific Tsunami Warning Centre (PTWC) said the quake struck at a depth of 33km (20 miles), some 190km (120 miles) from Apia.

Radio New Zealand quoted Samoan residents as saying that villages were inundated and homes and cars swept away.

Graeme Ansell, a New Zealander near Apia, told the radio station the beach village of Sau Sau Beach Fale had been "wiped out". "There's not a building standing. We've all clambered up hills, and one of our party has a broken leg. There will be people in a great lot of need around here," he said.

Witnesses have reported scenes of destruction.

"It's horrible… The village is gone and my once beautiful beachfront villa has now been submerged in water," Josh Nayangu told the BBC after fleeing the area on a small fishing boat with his wife and son.

Information appearing on news.bbc.co.uk is the copyright of BBC News and must not be reproduced in any medium without licence. Reprinted here for educational purposes only. May not be reproduced on other websites without permission from q1the BBC. Visit the website at news.bbc.co.uk.
Questions
1. a) What entities make up the Samoan Islands?
b) what is the population of the Samoan Islands?
c) As of the this article's publication, how many people were killed as a result of the tsunami?
d) What other destruction was caused by the tsunami?
2. a) What is a tsunami?
b) What triggered the tsunami?
3. a) Who is the prime minister of Samoa?
b) Who is the governor of American Samoa?
c) Name the capitals of Samoa and American Samoa.
4. Why were people killed by the tsunami even though the Samoan Islands have a warning system in place?
5. Why do you think it will take days/weeks before the full extent of the damage is known?
Background
ON SAMOA AND AMERICAN SAMOA:
Migrants from Southeast Asia arrived in the Samoan islands more than 2,000 years ago and from there settled the rest of Polynesia further to the east. Contact with Europeans began in the early 1700s but did not intensify until the arrival of English missionaries and traders in the 1830s. At the turn of the 20th century, the Samoan islands were split into two sections. The eastern islands became territories of the United States in 1904 and today are known as American Samoa. The western islands became known as Western Samoa (now the Independent State of Samoa), passing from German control to New Zealand in 1914. New Zealand administered Western Samoa under the auspices of the League of Nations and then as a UN trusteeship until independence in 1962. Western Samoa was the first Pacific Island country to gain its independence.
In July 1997 the Constitution was amended to change the country's name from Western Samoa to Samoa (officially the "Independent State of Samoa"). Western Samoa had been known simply as Samoa in the United Nations since joining the organization in 1976. The neighboring U.S. territory of American Samoa protested the move, feeling that the change diminished its own Samoan identity. American Samoans still use the terms Western Samoa and Western Samoans.
Daily "Answers" emails are provided for Daily News Articles, Tuesday's World Events and Friday's News Quiz.