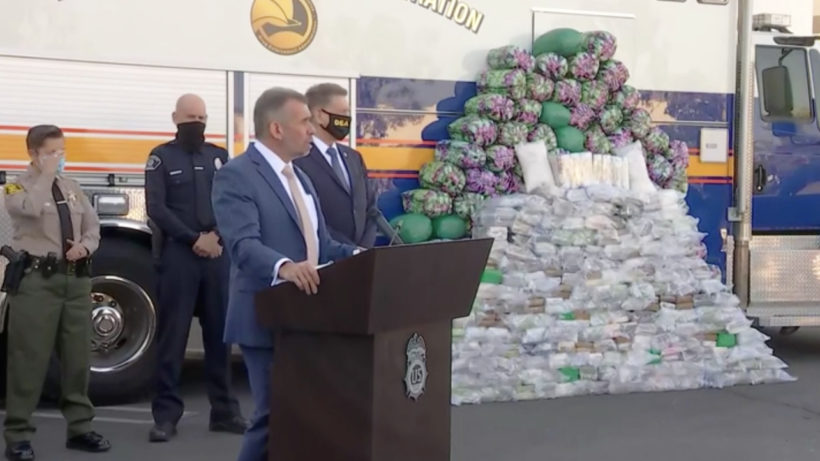 redo Jump to...
print Print...
Operation Crystal Shield was launched in February 2020 targeting drug cartel activity in nine cities described by the DEA as major meth transportation hubs.
---
(from ABC10, San Diego Tribune and CBSLA) – Federal agents announced the largest methamphetamine bust in U.S. history Wednesday, displaying a 10-foot high pile of the confiscated drug with an estimated street value of $18.5 million, which was confiscated during two recent drug trafficking investigations in Southern California this month.
"These two seizures are more than enough to provide a dose of meth for every man, woman and child in the United States and Mexico," DEA Acting Administrator Timothy Shea said. "Study after study shows that where there is meth addiction, there is also an uptick in violent crime, including robberies, assaults, and murders."
And some of it, concealed inside duffle bags, was apparently passed between cars in public — including at a Sam's Club parking lot in Moreno Valley.
Narcotics detectives with the Fontana Police Department spotted the exchange. The department said members of its DEA task force has been on the trail of the massive drug ring with ties to the Sinaloa drug cartel since June.
And, just this month, they started conducting surveillance on a drug courier who they believed was managing a stash house in an undisclosed neighborhood in Moreno Valley.
After the encounter at the Sam's Club parking lot, the officers got search warrants for two suspected stash houses — one in Moreno Valley and the other in Perris. Between the two homes, detectives seized 25 duffle bags of drugs containing 2,200 pounds of meth, 460 kilograms of cocaine and six kilograms of heroin.
"Someone who's responsible for this quantity of drugs is someone who is very, very trusted by the cartel," Bill Bodner, the special agent in charge of the Los Angeles DEA, said.
The Southern California seizure occurred on Oct. 2, 2020.
This was not the only huge meth seizure in the region. On Oct. 9, U.S. Customs and Border Protection seized more than 3,000 pounds of meth, plus heroin and fentanyl, in a semi-trailer at the Otay Mesa Port of Entry.
Agents from Southwest Border Group 2 began investigating a large scale drug trafficking organization with ties to the Sinaloa Cartel in the San Diego-Otay Mesa area, allegedly involved in the transportation and delivery of large quantities of drugs.
CBP agents stopped the tractor-trailer, which contained medical supplies.  A closer look found drugs inside.
The drugs, worth an estimated $7.2 million, were bundled up in cardboard boxes and hidden in the trailer along with boxes of medical lab supplies, U.S. Customs and Border Protection officials said. …
The incident unfolded about 9:45 a.m. after the driver pulled up to the border crossing and claimed the cargo contained medical supplies.  Customers officers used an imaging system to scan the big rig, noticing what officials described as anomalies in the rear of the trailer.
They sent the big rig to a dock, where a drug-sniffing dog alerted them to the cardboard boxes in the trailer. Packed in the boxes were more than 1,800 bundles, containing about 3,000 pounds of meth, 64 pounds of heroin, 29 pounds of fentanyl powder and 37 pounds of fentanyl pills.
Officers seized the drugs. The driver, a 47-year-old Mexican national, was arrested and turned over to a joint investigative team from U.S. Immigration and Customs Enforcement, Homeland Security Investigations and the Drug Enforcement Administration. The DEA said he will face criminal charges.
"It's much more difficult for them to traffic the traditional way so we see them stockpiling and bringing in larger and larger amounts across in one shot," the Special Agent in Charge of San Diego DEA John Callery said.
The drugs were intended for distribution in Southern California, including Los Angeles, according to DEA officials, who displayed the haul at the agency's warehouse in an undisclosed location in Los Angeles County.
Special Agent Callery said there is a supply issue right now and that's driving up the cost of meth. He also noted,
"This massive seizure is testament of what law enforcement agencies can do when we combine forces — prevent over $7 million worth of deadly drugs from entering our country; thus, saving countless lives from addiction and overdose deaths. We will continue to work together to disrupt drug trafficking organizations at every opportunity we are given."
The drug seizures are part of the Trump administration's Operation Crystal Shield through the DEA. It is a nationwide effort involving 70 to 80 investigators in nine cities including Los Angeles, San Diego, Phoenix, and Atlanta. Agents [have so far] seized more than 4,800 pounds of meth nationwide and are still working on more arrests, according to the DEA.
DEA agents said there's been an uptick in arrests saying they have made 2,800 arrests in the last six months.
"It seems to us that there's a bit of desperation for cartels to try and get meth and fentanyl into the U.S.," said Special Agent Callery.
(Compiled from reports by Elizabeth Sanchez for City News Service at ABC10, by David Hernandez at San Diego Tribune and by staff at CBS Los Angeles ) 
Questions
1. The first paragraph of a news article should answer the questions who, what, where and when. List the who, what, where and when of this news item. (NOTE: The remainder of a news article provides details on the why and/or how.)
2. How/where were the drugs confiscated?
3. What did Los Angeles Special Agent Bill Bodner say about the amount of drugs seized from two stash houses?
4. What is Operation Crystal Shield?
5. How many arrests have DEA agents made across the U.S. in the past 6 months?
6. In addition to this month's California drug busts targeting meth coming from Mexico, many others have been made including:
In the beginning of September, the DEA seized more than 900 pounds of methamphetamine, $1.1 million and made 176 arrests in the El Paso and New Mexico region in Operation Crystal Shield's national operation, U.S. Drug Enforcement Administration officials said.
On October 15, the Oklahoma Bureau of Narcotics announced one of the largest meth busts in state history. OBN said authorities seized more than 100 kilos of methamphetamine during a drug trafficking investigation in Grove, Oklahoma. Officials said the 231 pounds of meth has a street value of nearly $2 million.
What is your reaction to the arrests/drug seizures through Operation Crystal Shield?
Background
Operation Crystal Shield – from justice.gov
On Feb. 20, 2020, the DEA announced the launch of Operation Crystal Shield, a Trump administration plan to have the DEA direct enforcement resources to methamphetamine "transportation hubs" — areas where methamphetamine is often trafficked in bulk and then distributed across the country.
From the Feb. 20 press release:
While continuing to focus on stopping drugs being smuggled across the border, DEA's Operation Crystal Shield will ramp up enforcement to block their further distribution into America's neighborhoods.
DEA has identified 8-9 major methamphetamine transportation hubs where these efforts will be concentrated:
Atlanta
Dallas
El Paso
Houston
Los Angeles
New Orleans
Phoenix
(San Diego – added on some lists)
St. Louis
Together, these DEA Field Divisions accounted for more than 75 percent of methamphetamine seized in the U.S. in 2019.
"While meth is not a new drug, it has seen a troubling resurgence over the past few years," said Attorney General William Barr.

"Manufactured mostly in Mexican labs and smuggled into the United States across the southwest border, meth is a drug that is both cheap and potent, creating a deadly combination."

"Just as the Trump Administration has acted swiftly to stem the tide of opioid fatalities, it will use every weapon in its arsenal – such as the DEA's Operation Crystal Shield – to stop dangerous methamphetamine from reaching American neighborhoods and harming American families," Barr said.
Operation Crystal Shield builds on existing DEA initiatives that target major drug trafficking networks, including the Mexican cartels that are responsible for the overwhelming majority of methamphetamine trafficked into and within the United States.
From [2017-2019], DEA domestic seizures of methamphetamine increased 127 percent from 49,507 pounds to 112,146 pounds. During the same time frame, the number of DEA arrests related to methamphetamine rose nearly twenty percent.
"For decades, methamphetamine has been a leading cause of violence and addiction – a drug threat that has never gone away," said Acting Administrator Uttam Dhillon. "With a 22 percent increase in methamphetamine-related overdose deaths, now is the time to act, and DEA is leading the way with a surge of interdiction efforts and resources, targeting regional transportation hubs throughout the United States. By reducing the supply of meth, we reduce the violence, addiction, and death it spreads."
Virtually all methamphetamine in the United States comes through major ports of entry along the Southwest Border and is transported by tractor trailers and personal vehicles along the nation's highways to major transfer centers around the country. It is often found in poly-drug loads, alongside cocaine, heroin, and fentanyl.
Daily "Answers" emails are provided for Daily News Articles, Tuesday's World Events and Friday's News Quiz.