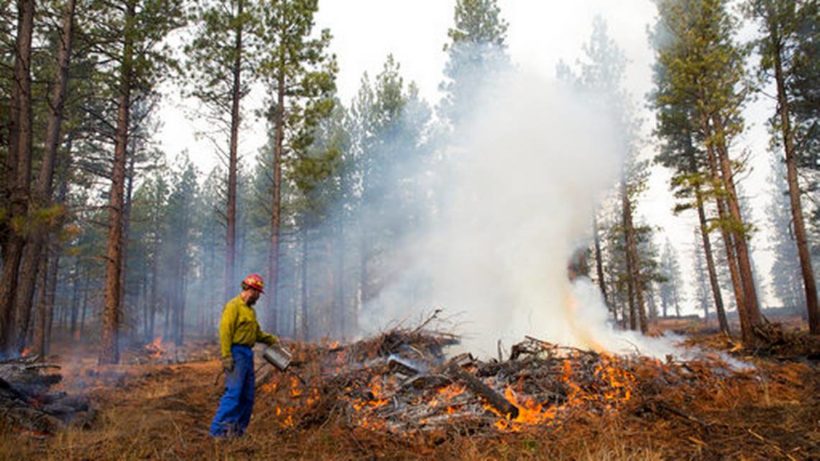 redo Jump to...
print Print...
(by Chris White, The Daily Caller) – A bipartisan group of lawmakers from Western states introduced a bill Thursday allowing forest managers to thin overgrown woods that are potential tinderboxes for wildfires.
Republican Sen. Michael Crapo of Idaho and Democratic Sen. Ron Wyden of Oregon are expected to propose a compromise measure between Republicans [who support] thinning and Democrats wary of loggers.
Congress would direct the U.S. Forest Service and Department of the Interior to treat the areas at risk of wildfires. Forest managers would then be able to thin out the pine forests near populated areas, while doing controlled burns in rural areas.
Democratic Sen. Maria Cantwell of Washington joined Wyden and Crapo's proposal, which also calls for evaluation reviews of any wildfire that burns more than 100,000 acres.
"It's time to create new tools to reduce fire risk and help better protect our communities," Cantwell said in a press statement to reporters. "By targeting our most vulnerable pine forests, this science-based pilot program gives the Forest Service tools to address fire in our most vulnerable forests and prioritizes cross-laminated timber."
(Republicans Jim Risch and Mike Crapo of Idaho also support the bill. Risch, who serves on the natural resources panel, said the nation needs to "actively manage our forests to reduce the fuel available for fires to burn.")
The proposal came as Western wildfires showed no sign of slowing down. Raging fires have blasted more than 200,000 acres in Northern California and killed at least 40 people. Similar wildfires have scorched Colorado, Idaho, Montana, Nevada, Oregon, Utah, Washington and Wyoming.
California has also experienced deadly fires in the past. Wildfires barreled through the state in 1991, killing 25 people, and in 1933, killing 29. This recent spate of fires, however, has been deadlier than any other fire or group of fires in the state's history.
Thousands of homes and businesses have been reduced to ash. Hundreds of people are still missing after fires swept through and leveled whole neighborhoods without warning, driven by hurricane-force winds.
(The forest-management bill won praise from a range of timber industry, firefighting and conservation groups, including the National Wildlife Federation, the American Forest Resource Council and the International Association of Fire Chiefs.)
Reprinted here for educational purposes only. May not be reproduced on other websites without permission from the The Daily Caller. 
Questions
1. The first paragraph of a news article should answer the questions who, what, where and when. List the who, what, where and when of this news item. (NOTE: The remainder of a news article provides details on the why and/or how.)
2. What two government agencies would Congress give direction to if the bill was passed into law?
3. What would forest managers then be authorized to do under the new law?
4. What groups approved of the forest-management bill?
5. A 1999 report issued by the U.S. General Accounting Office (GAO) entitled Catastrophic Wildfire Threats, said "39 million acres on national forests in the interior West are at high risk of catastrophic wildfire" due to unnatural and excessive tree density, massive buildup of undergrowth, disease and insect infestation.
Read the excerpt under "Background" from an Oct. 13 Daily Signal report by Jarrett Stepman.
Some say global warming / climate change is causing wildfires. Others say extreme environmental laws that impose policies preventing the clearing undergrowth, etc. is the cause.
Do you think the forest management bill is necessary? Explain your answer.
Background
The Forest Service within the U.S. Department of Agriculture (USDA) manages 193 million acres of land across the United States. The agency has 28,000 employees and annual outlays of more than $7 billion. Forest Service lands are managed for multiple uses, including timber harvesting, recreation, grazing, and fish and wildlife habitats.
---
Ways to slow the long-term trend of growing numbers of major wildfires:
While some argue that climate change is to blame for the uptick in fires, it's also worth considering the drastic changes in forest management that have occurred over the last four decades:  It has been argued that these changes are driving the surge in huge fires.
The U.S. Forest Service, which is tasked with managing public wildland, once had success in minimizing widespread fires in the early 20th century.
But many of these successful methods were abandoned in large part because of efforts by environmental activists.
In a May congressional hearing, Rep. Tom McClintock, R-Calif., said:
"Forty-five years ago, we began imposing laws that have made the management of our forests all but impossible."
He went on to say that federal authorities have done a poor job of implementing methods to reduce the number of deadly fires, and that this has been devastating for America's wildlands.
"Time and again, we see vivid boundaries between the young, healthy, growing forests managed by state, local, and private landholders, and the choked, dying, or burned federal forests," McClintock said. "The laws of the past 45 years have not only failed to protect the forest environment — they have done immeasurable harm to our forests."
In a recent House address, McClintock pinned the blame of poor forest management on bad 1970s laws, like the National Environmental Policy Act and the Endangered Species Act. He said these laws "have resulted in endlessly time-consuming and cost-prohibitive restrictions and requirements that have made the scientific management of our forests virtually impossible."
Interior Secretary Ryan Zinke has promoted a change to forest management policies, calling for a more aggressive approach to reduce the excess vegetation that has made the fires worse.
Members of the Western Caucus have proposed legislation to dramatically change the way forests are managed. If passed, this bill would give power back to local authorities and allow for more aggressive forest thinning without subjecting them to the most onerous of environmental reviews. (from an Oct. 13 report by Jarrett Stepman at the conservative DailySignal )
Read a 2015 commentary "Devastating Fires Show Forest Management Reforms Are Badly Needed" at the libertarian reason.org.
Daily "Answers" emails are provided for Daily News Articles, Tuesday's World Events and Friday's News Quiz.