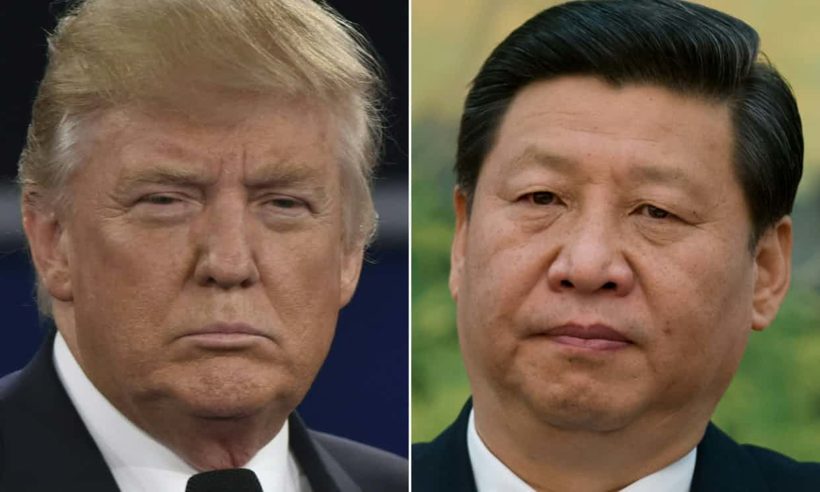 (from an Associated Press report at CBS News) BEIJING — [Following President Donald Trump's calls for fair trade as he moved to impose tariffs on Chinese goods coming into the U.S.] Chinese President Xi Jinping promised Tuesday to cut China's auto tariffs and improve intellectual property protection in possible concessions aimed at defusing a worsening dispute with Washington over trade and technology….
Speaking at a business conference, Xi made no direct mention of his American counterpart, President Donald Trump, or the dispute.
Xi promised progress on areas that are U.S. priorities including opening China's banking industry and boosting imports….
Xi tried on Tuesday to position China as a defender of free trade and cooperation, despite its status as the most-closed major economy, in response to President Trump's "America first" calls for import restrictions and trade deals that [level the playing field with] the United States.
"China's door of opening up will not be closed and will only open wider," Xi said at the Boao Forum for Asia on the southern island of Hainan.
Xi said Beijing will "significantly lower" tariffs on auto imports this year and ease restrictions on foreign ownership in the auto industry "as soon as possible."
Private sector analysts saw Xi's speech as an overture to … end the biggest global trade dispute since World War II. …
President Trump has threatened to raise tariffs on Chinese goods worth $50 billion in response to complaints Beijing pressures [U.S.] companies to hand over technology in violation of its World Trade Organization market-opening commitments. Beijing fired back with its own $50 billion list of U.S. goods for possible retaliation.
The Chinese leader promised to encourage "normal technological exchange" and to "protect the lawful ownership rights of foreign enterprises."
Such pledges might help, Rajiv Biswas of IHS Markit said in a report:
"President Xi's speech could create a very good platform to launch U.S.-China dialogue at the WTO to find a deal on intellectual property rights that will address US concerns," Biswas said. "This would be a victory for [President Trump, the U.S. and] the world trading system and an important step away from the abyss of rising global protectionism."
The dispute [between the U.S. and China] is likely to end "with a concession from China," said Larry Hu of Macquarie Group in a report.
Chinese officials deny foreign companies [including the U.S.] are compelled to hand over their technology, but business groups say joint venture and licensing rules in China make that unavoidable. The United States filed a World Trade Organization complaint last month accusing Beijing of violating its market-opening pledges by imposing unfair contract terms and allowing companies to use foreign-owned technology after licensing periods expire. …..
Easing rules that limit global automakers to owning no more than 50 percent of a joint venture with a Chinese partner in China might help to address Trump's complaints [and U.S. companies' concerns] about technology as well as giving them more flexibility in their biggest global market. …..
More broadly, Xi repeated official promises to expand imports and to narrow China's trade surplus, another irritant for Washington [and U.S. businesses that operate in China]. China reported a global trade surplus of $423 billion last year – about two-thirds of that with the United States.
"China does not seek a trade surplus," said Xi to an audience of Chinese and foreign businesspeople. "We have a genuine desire to increase imports and achieve a greater balance of international payments."
The president promised to make faster progress toward joining the WTO's Government Procurement Agreement, which extends the WTO's free-trading principles to purchases by governments. That can make a significant difference in developing countries, where the government often accounts for most sales of computer software, medical equipment and other high-value goods. …..
From a report by Associated Press published at CBS News. Reprinted here for educational purposes only. May not be reproduced on other websites without permission from CBS News. 
Questions
1. What did Chinese President Xi Jinping promise to do regarding Chinese trade practices during his speech at a business conference on Tuesday?
2. How did President Xi's portrayal of China's trade practices differ from reality?
3. What had President Trump threatened to do if China did not enact fair trade practices?
4. Many media outlets warned that China had "threatened to retaliate if Washington follows through with proposed tariffs." How did two experts view President Xi's announcement in their reports? (see para. 10-12)
5. Ask a parent: are you surprised by President Xi's concessions following President Trump's calls for China to enact fair trade policies? Please explain your answer.
6. Read the following tweets from President Trump over the past week, prior to President Xi's announcement:
April 4: "We are not in a trade war with China, that war was lost many years ago by the foolish, or incompetent, people who represented the U.S. Now we have a Trade Deficit of $500 Billion a year, with Intellectual Property Theft of another $300 Billion. We cannot let this continue!"

April 6: "China, which is a great economic power, is considered a Developing Nation within the World Trade Organization. They therefore get tremendous perks and advantages, especially over the U.S. Does anybody think this is fair. We were badly represented. The WTO is unfair to U.S."

April 7: "The United States hasn't had a Trade Surplus with China in 40 years. They must end unfair trade, take down barriers and charge only Reciprocal Tariffs. The U.S. is losing $500 Billion a year, and has been losing Billions of Dollars for decades. Cannot continue!"

April 8: "President Xi and I will always be friends, no matter what happens with our dispute on trade. China will take down its Trade Barriers because it is the right thing to do. Taxes will become Reciprocal & a deal will be made on Intellectual Property. Great future for both countries!"

April 9: "When a car is sent to the United States from China, there is a Tariff to be paid of 2 1/2%. When a car is sent to China from the United States, there is a Tariff to be paid of 25%. Does that sound like free or fair trade. No, it sounds like STUPID TRADE – going on for years!"
Following President Xi's announcement on Tuesday, President Trump tweeted:
April 10: "Very thankful for President Xi of China's kind words on tariffs and automobile barriers…also, his enlightenment on intellectual property and technology transfers. We will make great progress together!"
Under "Resources" below, listen to the radio interview and watch the video interview with CNBC columnist Jake Novak discussing this issue. What do you think about President Trump's insistence that China enact fair trade policies?
Daily "Answers" emails are provided for Daily News Articles, Tuesday's World Events and Friday's News Quiz.