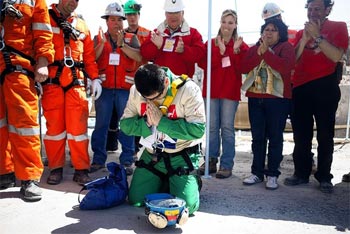 (by Matt Moffett, Anthony Esposito and Carolina Pica, The Wall Street Journal, WSJ.com) SAN JOSE MINE, Chile — One by one, they emerged through a swinging door, out of a pit a half-mile deep, pumping fists and hugging family. A great-grandfather. A 44-year-old who promised a church wedding for his wife. A 19-year-old greeted by his father. And, lastly, the miners' 54-year-old foreman. (PHOTO AT RIGHT: Miner Esteban Rojas kneels after reaching the surface to become the 18th miner rescued from the San Jose mine in Chile.)
The rescue came to a joyous and successful close less than 24 hours after the extraction of the 33 miners began when Luis Urzua walked out of the Phoenix capsule.
Mr. Urzua approached Chilean President Sebastian Piñera and said, "Just as we previously agreed, I'm now handing over my shift to you."
Mr. Piñera, smiling broadly, responded, "Like a good captain would do, you were the last one to abandon your ship." Rescuers cheered and hugged Mr. Urzua, and the president led the crowd in singing the national anthem.
The most striking thing about Wednesday's rescue of the trapped miners, after 70 days underground, was how easy it looked. The capsule that gave each man a trip to freedom seemed more like an off-kilter elevator than a part of history's most audacious mining rescue.
Nothing about the San Jose rescue was easy, of course. Every aspect of the mission was planned and patiently managed, from initial efforts to locate survivors of the Aug. 5 cave-in to NASA's input on the rescue capsule that brought them home. …
"It was 75% engineering and 25% a miracle," said topographer Macarena Valdes.
Ms. Valdes was speaking of her own role in the rescue, as she augmented science with a touch of gut instinct to help guide rescuers' probe drills into the rock, in hopes of finding survivors, in the days after the miners' disappearance.
Her method paid off after more than two weeks, when searchers sent one of their narrow probe drills down through the rock, punched it into the chamber where the men had taken refuge, and, from more than 2,000 feet above, felt someone tap back.
Throughout the miners' ordeal, and under an international gaze, Chile's rescue operation ran with surgical precision and extracted the men far sooner than the government's initial December estimate. As Wednesday's rescue wore on, miners emerged at an accelerated rate.
Florencio Ávalos was the first to surface, shortly after midnight Wednesday local time, to a tearful reunion with a young son and a hug from Mr. Piñera.
The second miner out, 40-year-old Mario Sepulveda, appeared more than an hour later, pumping his fist and running around leading chants of "C-H-I-L-E! Chi-Chi-Chi-Le-Le-Le! The Miners of Chile." From a bag he had brought up with him, he elaborately presented mine rocks to officials.
Then they began to come every 45 minutes, and faster still. Following the late afternoon rescue of miner No. 25, Renán Ávalos-the 29-year-old brother of Florencio, the first out-a government official said the Phoenix capsule had cut the round-trip time to about 25 minutes.
No. 17, Omar Reygadas-a 56-year-old father of six, grandfather of 14 and great-grandfather of four-came out at noon Wednesday. It had been his third time trapped underground.
…..
No. 24 was Jose Henriquez, 55, who had asked for 33 small Bibles to be sent to the miners so he could lead a prayer group.
No. 32, Ariel Ticona held up the phone that was used to make first contact with the outside world.
About 2 ½ hours after the final miner, Mr. Urzua, was extracted, the sixth and final rescue worker safely returned to the surface to further cheers.
"Mission accomplished," Mr. Piñera declared as he hugged Manuel González.
These moments followed weeks of darkness that began with the Aug. 5 cave-in.
Rescuers had little cause for initial optimism, judging by the survival rate of other mining-accident victims. The apparent record-holders for surviving a cave-in, three Chinese miners in Guizhou province, had chewed coal to sate their hunger during their 25 days underground in 2009.
More typical was the 2006 accident in Pasta de Conchos, Mexico, where 65 workers were trapped deep in a coal mine after an underground explosion. In that case, rescuers considered themselves fortunate merely to have retrieved some corpses.
After the world lost contact with the miners, it was the job of Ms. Valdes, the topographer, to help set the direction of the drilling rigs that sent probes deep into the rock to try to locate any surviving miners.
Through 17 days, it seemed hopeless. "It was like using a shotgun to hit a mosquito at 700 meters," she said. "It wasn't impossible, but very difficult."
Adding to the challenge, Ms. Valdes, 30 years old, was a woman in a profession dominated by men. She was teased, she said, over a superstition among Chilean miners that having women around is bad luck.
Even after some 30 probes failed to find the mark, Ms. Valdes stuck with a hunch: She always shifted the angle of the drill about one degree lower than recommended by geologists in the planning department, to adjust for vibration in the drilling rig. One degree could mean a difference of several feet in the field, which could be a matter of life or death for the miners.
On Sunday, Aug. 22, the probe she directed found its way to the miners' underground refuge.
Then, rescuers began developing their own technological arsenal, combining modified mining gear with equipment commonly used by astronauts and submariners.
Rescuers began supplying the trapped men with provisions through a five-inch-diameter shaft. They used the conduits to send small tubes, known as palomas, [Spanish for pigeons (carrier pigeons)], ingeniously stuffed with essentials such as bottled water, camping cots and chest straps to monitor their health.
The lifeline gave rise to a high-technology life underground. The men wore clothing made with a bacteria-killing copper fiber, watched movies on a projector built into a cellphone, and communicated with rescuers over an ultra-flexible fiber-optic cable that maintains transmission capacity while twisting through rocky crags deep below ground.
Chilean officials assigned psychologists and a personal trainer by video conference to tend to the men.
Given the miners' sensitive condition, nutritionists cooked food at high temperatures to guard against infection by bacteria in the minutes between its packaging and its journey down the tube.
To bore through the rock to reach the miners, the government created a kind of friendly competition among three different drills, one so massive it had to be hauled by a 40-truck convoy.
Chilean naval engineers worked overtime designing the 14-foot, 900-pound capsule that hoisted the men out of the mine. It was equipped with a communications system and oxygen supply.
Observers say some of the innovation and management reflects Mr. Piñera's background as a billionaire entrepreneur who ran a successful airline. Mr. Piñera made such a big bet on getting the miners out that a political scientist dubbed him "the 34th miner"-suggesting his own fate was linked to that of the men below.
With the rescue pod making its increasingly frequent round trips Wednesday evening, the sun over the Atacama desert gave way to a cold night. The mood turned visibly more festive.
Some 300 police officers, or carabineros, have been working in shifts to maintain order, direct traffic and assure easy passage of emergency vehicles at Camp Hope, which at its height hosted between 2,500 and 3,000 family members, journalists, volunteers and rescue workers.
"It's been a real privilege working here. This is now a part of history," said a carabinero wearing the traditional green uniform. "One day my grandkids will ask me where I was for the rescue of the miners at San Jose, and I'll say I was there."
In spite of the overwhelming relief that greeted the miners' rescue, they will carry with them the 17 days spent underground out of contact with rescuers, sweltering and near starvation, the miners' chief psychologist Alberto Iturra, said recently. They had seemed reluctant to discuss the worst part of their ordeal, he said.
"It's very difficult to tell something to someone and expect them to understand if they weren't there," he said. "The person who hasn't confronted death doesn't understand."
Write to Matt Moffett at matthew.moffett@wsj.com.
Copyright 2010 Dow Jones & Company, Inc. All Rights Reserved. Reprinted here for educational purposes only. Visit the website at wsj.com
Questions
1. How many miners were trapped in the San Jose Mine in Chile?
2. Who was the last miner to be rescued?
3. a) For how many total days were the miners trapped underground?
b) The previous record for the most days trapped underground was held by Chinese miners who survived a cave-in in 2009. How long were those miners trapped underground?
4. For how many days were the miners trapped before being located by Chilean rescue workers?
5. a) Who is Macarena Valdes?
b) Re-read paragraphs 22-26. How would you describe Ms. Valdes? Explain your answer.
6. In addition to mining engineers and Ms. Valdes, list the people who worked with the miners while they were trapped, and those who worked on the rescue operation, as mentioned in this article.
7. Did you notice the t-shirts the miners were wearing as they came out of the capsule? The shirts read: "Thank you Lord." On the back are the words, "To Him be the glory and honor," taken from Psalm 95:4. "Because in his hands are the depths of the earth, and the heights of the mountains are His." The shirts were donated by the brother of miner Jose Henriquez, who is a Christian and had been a spiritual guide for the group.
Mario Sepúlveda, the second worker to be rescued and the one who gained the admiration of the world for his good attitude when he came out of the mine, was the first to speak to the press. "God and the devil were fighting over me and God won", he said. "I always knew they would get me out. I always had faith in the professionals here in Chile and in the Great Creator."
The fourth miner to surface was the Bolivian Carlos Mamani. He knelt down, as soon as he came out of the capsule and pointed to heaven, giving thanks to God.
Omar Reygadas, a 56-year-old electrician did the same. He came out of the capsule with a Bible in his hands and knelt down to give thanks to God. Written on his helmet was, "God lives."
What do you think about the miners' acknowledgement of God's intervention in saving all of them during the cave-in, and their ultimate rescue? Explain your answer.
Resources
Watch a news report on the rescue of the miners:
Watch a news report from August 27 below:
Daily "Answers" emails are provided for Daily News Articles, Tuesday's World Events and Friday's News Quiz.