redo Jump to...
print Print...
Note: This article is from the Australian newspaper the Sydney Morning Herald.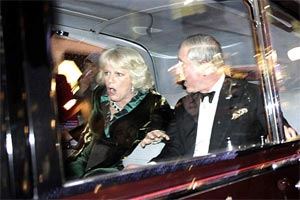 (from the Sydney Morning Herald website, SMH.com.au) – A car carrying Prince Charles, heir to the British throne, and his wife Camilla was attacked on Thursday by protesters in London demonstrating against higher [college tuition], a spokesman for the prince said. (see photo, at right taken during the incident)
"We can confirm that Their Royal Highnesses' car was attacked by protesters on the way to their engagement at the London Palladium this evening, but Their Royal Highnesses are unharmed," the spokesman said. He did not elaborate.
The car carrying the royals later arrived at the venue where they were to watch a variety performance.
Television footage showed the limousine splattered with white paint with damage to one of its rear passenger-side windows. ….. (see photo below – NOTE the smashed side window)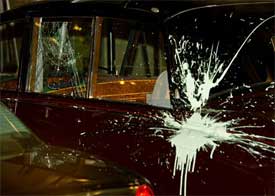 Masked rioters battled police outside Parliament as Britain's coalition government survived its biggest test yet in the vote to raise university tuition fees.
Dozens of officers and demonstrators were wounded as the protest in the heart of London turned violent following the government's narrow victory in a vote in parliament.
The government suffered its first resignations over policy and the plans to raise fees exposed the deep strains within the seven-month-old coalition.
The government's majority was cut by three-quarters as MPs [Members of Parliament, similar to U.S. Congressmen] voted by 323 to 302 to raise the cap on annual tuition fees at English universities [starting in] 2012.
The basic level of fees will now climb to [over $,9000], with an upper limit of [about $14,000]. The current cap is [approximately $5,000].
Demonstrator Anna Campbell, a 19-year-old studying French and Russian at Sheffield University, cried after hearing the result of the vote.
"I'm so angry, but this is not the end," she said. "It's just the beginning, we are going to keep fighting."
Outside the Houses of Parliament, hardcore activists rained missiles on police protecting the building and clashed with police at other points around Parliament Square, with several officers and demonstrators wounded.
Flares, sticks, metal fences, rocks, [billiard] balls and paint bombs were among the missiles hurled at police in a battle that lasted hours.
Hooded youths repeatedly attacked police lines, torched benches and a security guard box in the square, smashed the doors and windows of the Treasury, or finance ministry, and vandalized a statue of wartime prime minister Winston Churchill.
The iconic red telephone boxes outside parliament, used in countless tourist pictures, were wrecked.
…Julyan Phillips, 23, a student at Goldsmiths College in London, [who was wounded during the protests], … said he said he was demonstrating because "education is a right, not a privilege".
At least 22 protesters and nine police officers were injured, while nine people were arrested.
Superintendent Julia Pendry of London's Metropolitan Police [who was in charge of policing the protest that turned violent] said it was "absolutely obvious" that people had come to the capital "with the intention of committing violent disorder" rather than peaceful protest.
Another spokesman said the police were being subjected to "extreme violence".
The proposal to raise fees has exposed deep tensions within the Liberal Democrats, putting the strain on their coalition with the larger Conservative Party, which came to power following the general election in May.
As they try to rein in Britain's record deficit, the plans amount to a reversal of one of the Lib Dems' flagship election pledges.
Deputy Prime Minister Nick Clegg's party vowed to phase out tuition fees altogether if they won the election.
Of the 57 Liberal Democrat MPs, 28 voted with the government [to raise tuition], while 21 voted against.
The coalition suffered its first resignations over policy when two Lib Dem parliamentary aides to ministers and one Conservative quit their posts in order to vote against the plans.
The Lib Dem U-turn has outraged students who voted for the centrist party and has sparked a series of demonstrations over the past month which have turned violent.
A defiant Mr Clegg dismissed opponents of the plans as "dreamers" and insisted it was reasonable to make students pay more for their education at a time of deep cuts to public spending.
The rise in fees is also supported by most universities. Graduates will begin to pay them once they earn more than £21,000 a year.
AFP, AP and Reuters
This article was compiled from wire reports by AFP, AP and Reuters. Reprinted here for educational purposes only. May not be reproduced on other websites without permission from SMH.com.au. Visit the website at SMH.com.au.
Questions
1. a) Who attacked Prince Charles' car Thursday night?
b) What damage was done to the car?
2. a) Why are students protesting the college tuition hike in Britain with such anger?
b) Citizens have the right to protest in a democracy. What don't they have the right to do?
3. List the types of objects mentioned in this article that were thrown at police by protesters.
4. What types of physical action/destruction did the protesters who were violent commit?
5. The majority of students were not protesting with violence, although it appears that a large minority were doing so. How do you think police should respond to violent acts within a protest?
Background
NOTE ON BRITAIN'S BUDGET DEFICIT: (from a bloomberg.com article "U.K. Had Larger-Than-Expected Budget Deficit in Oct. Amid Modest Growth")
Britain had a larger budget deficit in October 2011 than economists forecast, underlining the challenge facing Prime Minister David Cameron as he tries to cut record levels of borrowing.
The shortfall in the budget was over $15 billion, the largest for any October since at least 1993…
[Finance minister] George Osborne on Oct. 20 detailed the deepest spending cuts since WWII, which aim to all but eliminate the deficit within four years.
Jonathan Loynes, chief European economist at Capital Economics Ltd. in London said "fundamentally the public finances are still in a dreadful position."
NOTE ON COLLEGE TUITION IN GREAT BRITAIN: (adapted from wikipedia posting)
In the years following the end of World War II local British education authorities (LEAs) paid student tuition fees and gave most students cash payments while attending school.
Under the Education Act 1962 a national grant [cash payment] was established, payable by the government to students attending school full-time.
A 1997 education committee report recommended ending universal free higher education, and also that students should pay £1,000 towards the cost of their tuition fees, which would be recovered in the form of a graduate tax.
From the academic year 2006/7, a new system of tuition fees was introduced in England. These variable tuition fees of up to £3000 per year are paid up-front as previously, but new student loans are available that may only be used to pay for tuition fees, and must be repaid upon graduation, in addition to the existing loan.
In fact, there is very little variation in the tuition fees charged by universities – nearly all charge the maximum tuition fee on all courses. Instead, the differences appear in the nature and value of various 'access' bursaries that are on offer.
Daily "Answers" emails are provided for Daily News Articles, Tuesday's World Events and Friday's News Quiz.