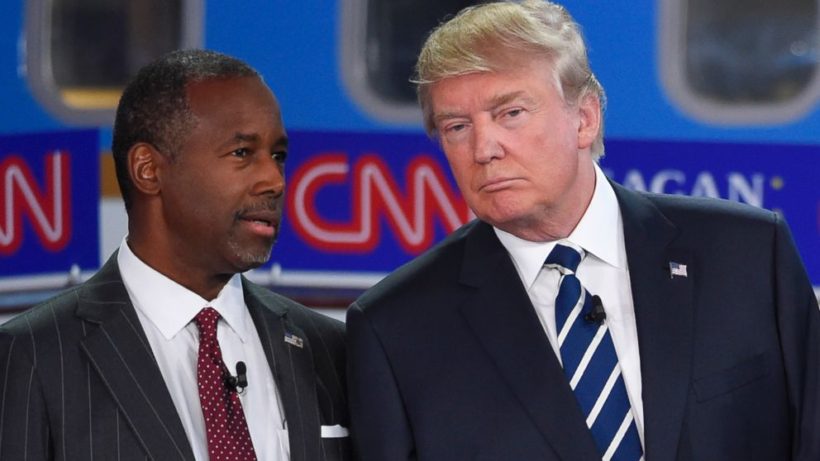 redo Jump to...
print Print...
(from the AP and CNN) WASHINGTON — The top two GOP presidential hopefuls, Donald Trump and Ben Carson, have requested protection from the U.S. Secret Service, a spokeswoman for the Department of Homeland Security said Monday.
The agency said the two campaigns have submitted requests, which kick off an evaluation period during which Homeland Security Secretary Jeh Johnson consults with five senior members of Congress and issues his decision.
Carson held a book signing Monday in Austin, Texas, where he told reporters, "I don't feel the need for it, quite frankly, but the Secret Service thinks that I need it, so it is what it is."
… According to disclosure forms filed with federal authorities last week, Trump spent at least $55,000 on security expenses for the three-month period ending Sept. 30. That includes travel and lodging costs for the bodyguards who move from event to event with the billionaire real estate developer. Trump is always surrounded by several private security guards and often local police officers. [In July, Trump added to his private security detail after a Twitter threat from Mexican drug kingpin Joaquín "El Chapo" Guzmán, who remains at large after his prison escape earlier this year.]
Carson, in contrast, listed only $2,097.50 for personnel service and equipment under security expenses. But while signing books at an Austin Costco, two employees of the wholesaler who were helping with crowd control said they saw more than one security agent with Carson.
"I recognize that someone like me, who is very truthful and who really doesn't subscribe to all the traditional power structures, is probably going to be a target and I do understand that," Carson said. "I also think that there's a God. But, you know, you have to be logical, so I will deal with it."
Trump said last week that if he were a Democrat he would have received Secret Service protection by now. He told The Hill last week that "they're in no rush because I'm a Republican."  However, he said he does not think they want anything to happen, "but I would think they should be very proactive and want protection for somebody like me that has 20,000 people at any time."
"I want to put them on notice because they should have a liability," Trump told The Hill. "Personally, I think if Obama were doing as well as me, he would've had Secret Service [earlier]. I have by far the biggest crowds."
President Obama first received Secret Service protection as a candidate on May 3, 2007, a few months into his first campaign for president and a full 18 months before he won the presidency.
On Tuesday, a DHS official said the process to grant protection is "expedited as quickly as reasonably practicable."
But, the official said, "We don't discuss protective detail in greater detail because of certain security concerns."
Compiled from news reports by the Associated Press and CNN.  Reprinted here for educational purposes only. May not be reproduced on other websites without permission.
Questions
NOTE TO STUDENTS: Before answering the questions, read the "Background" below and watch the news report under "Resources."
1. The first paragraph of a news article should answer the questions who, what, where and when. In this article, you will find those answers throughout the article. List the who, what, where and when of this news item. (NOTE: The remainder of a news article provides details on the why and/or how.)
2. How does the Secret Service decide which presidential candidates get protection?
3. Why has Ben Carson asked for Secret Service protection?
4. What does Donald Trump say about his request for Secret Service protection?
5. The Washington Post reports:
Dan Emmett, a former Secret Service agent and author of "Within Arm's Length: A Secret Service Agent's Definitive Inside Account of Protecting the President," is opposed to any candidates getting protection.

"If they want to run, it's also a risk that they take and they have to know ahead of time there are people who could hurt them," Emmett said in an interview. "With a campaign season like we have now, the Secret Service does not exist for the purpose of protecting everyone that wants to run for the presidency."

"(Agents) are pulled from field offices around the country … they are running around the country with a group of people, a bunch of which who don't have a prayer, it's a waste of resources at a time when (the Secret Service) is strapped of resources," he added.

Emmett acknowledged that we live in a dangerous world and there is a real threat to candidates who go into crowds of hundreds or thousands of people unprotected. Still, he thinks Secret Service agents have "more important things to do."

Emmett also speculated that some candidates like having the Secret Service around more for the perks than the protection.

"The Secret Service is the world's greatest chauffeur service," he said. "You know things are going to run like a clock when Secret Service is with you."
a) Do you agree or disagree with Mr. Emmett? Explain your answer.
b) Some candidates like Hillary Clinton already have Secret Service protection. Should the other front-runners be given the same protection, or should they have to pay for it out of their own campaigns? Explain your answer.
Background
Not all candidates will need paid security details, as sitting Republican governors Scott Walker, Chris Christie, John Kasich, and Bobby Jindal already have full-time security teams who are paid from state funds.
Democrat Hillary Rodham Clinton has permanent Secret Service detail because she is a former first lady. (She was also a U.S. Senator from NY and the U.S. Secretary of State.)
Democrat Bernie Sanders has not requested Secret Service protection. Neither has Republican Jeb Bush, whose campaign pays for his own security team.
---
Who receives Secret Service protection?
The Secret Service DOES NOT determine who qualifies for protection, nor is the Secret Service empowered to independently initiate candidate protection.
Under federal law [18 U.S.C.' 3056(a)(7)], "[m]ajor Presidential and Vice Presidential candidates," as identified by the Secretary of Homeland Security, are eligible for Secret Service protection.
Federal law [Title 18 U.S.C.' 3056(a)(7)] authorizes the U.S. Secret Service to provide protection for major presidential and vice presidential candidates:
Protection is authorized by the DHS Secretary after consultation with the Congressional Advisory Committee.
The Congressional Advisory Committee includes: Speaker of the House, House Minority Leader, Senate Majority Leader, Senate Minority Leader, and one additional member selected by the others
Criteria have been established to assist the DHS Secretary and the advisory committee in their decision making (as of 2008). Candidates must:
Be publicly announced
Have some degree of prominence as shown by opinion polls
Be actively campaigning and entered in at least 10 state primaries
Be seeking the nomination of a qualified party
Have qualified for matching funds in the amount of at least $100,000
Have received contributions totaling $10 million
Title 18 U.S.C.' 3056(a)(7) states that the U.S. Secret Service is also authorized to protect spouses of major Presidential and Vice Presidential candidates, as identified by the DHS Secretary, within 120 days of the general Presidential election. Some candidates have received protection earlier in the campaign pursuant to Presidential memoranda. (from secretservice.gov)
What is the history of Candidate and nominee protection?
Candidate and nominee protection was expanded to include major candidates for president and vice president in 1968:
Major candidates and their spouses began receiving protection after the assassination of Robert Kennedy in 1968. …
Prior to this event, candidates and their families did not receive Secret Service protection
Protection of a candidate/nominee is designed to maintain the integrity of the democratic process and continuity of government
Resources
Watch a CNN report:
Daily "Answers" emails are provided for Daily News Articles, Tuesday's World Events and Friday's News Quiz.