redo Jump to...
print Print...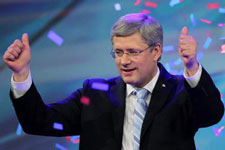 (by Rob Gillies, WashingtonTimes.com) TORONTO (AP) – Conservative Prime Minister Stephen Harper (see photo) on Monday won [a] majority government in elections that changed Canada's political landscape, with the opposition Liberals and Bloc Quebecois separatists suffering a shattering defeat.

Liberal leader Michael Ignatieff announced on Tuesday he will step down from the post after the party suffered its worst defeat in Canadian history. Mr. Ignatieff even lost his own seat in a Toronto suburb.

Mr. Harper, who took office in 2006, has won two elections but until Monday's vote had never held a majority of Parliament's 308 seats, forcing him to rely on the opposition to pass legislation.

While Mr. Harper's hold on Parliament was tenuous during his five-year tenure, he has managed to nudge an instinctively center-left country to the right. He gradually has lowered sales and corporate taxes, avoided climate change legislation, promoted Arctic sovereignty, upped military spending and extended Canada's military mission in Afghanistan.

…The Conservatives [won] 167 [of 308] seats,

, which will give Mr. Harper four years of uninterrupted government.

"We are grateful, deeply honored, in fact humbled by the decisive endorsement of so many Canadians," Mr. Harper told elated supporters in Calgary….

The leftist New Democratic Party [NDP] was projected to become the main opposition party for the first time in Canadian history with 102 seats, tripling their support in a stunning setback for the Liberals, who always have been either in power or as leaders of the opposition.

"It's a historic night for New Democrats," NDP leader Jack Layton told a delirious crowd in downtown Toronto.

Mr. Harper was helped by the NDP surge, which split the left-of-center vote in many districts, handing victory to Conservative candidates, especially in Ontario, where the Liberals were decimated in their last national stronghold. …[they] suffered their worst defeat in Canadian history – dropping to 34 seats from 77, according to the preliminary results.

Mr. Ignatieff congratulated Mr. Harper and New Democrat leader Jack Layton and accepted responsibility for the "historic defeat."

"Democracy teaches hard lessons, and we have to learn them all," Mr. Ignatieff told a somber gathering in Toronto.

Stephen Clarkson, a professor of political science at the University of Toronto, said the 52-year-old Mr. Harper now should be considered a transformative figure in Canadian history. "It's a sea change," Mr. Clarkson said.

The New Democrats' gains are being attributed to Mr. Layton's strong performance in the debates, a folksy, upbeat message, and a desire by the French speakers in Quebec, the second most populous province, for a new face and a federalist option.

Voters indicated they had grown weary with the separatist Bloc Quebecois [Party], which had a shocking drop to four seats from 47 in the last Parliament. Bloc leader Gilles Duceppe lost his own seat and immediately resigned.

Quebeckers said separatism was still an important force, despite the province's rejection of the Bloc. …..

The Green Party won its first seat ever in the House of Commons with leader Elizabeth May winning in a British Columbia district. …..

The NDP's gains marked a remarkable shift in a campaign that started out weeks ago looking like a straight battle between Mr. Harper and Mr. Ignatieff, a distinguished academic, with the 60-year-old Mr. Layton recovering from prostate cancer and a broken hip.

Mr. Harper counted on the economy to help hand him the majority. Canada has outperformed other major industrialized democracies through the financial crisis, recovering almost all the jobs lost during the recession, while its banking sector remains intact. He said he would continue his plan to create jobs and growth without raising taxes. …..

Mr. Harper campaigned in the last few days on a message that the New Democrats stood for higher taxes, higher spending, higher prices and protectionism. He called the election a choice between "a Conservative majority" and "a ramshackle coalition led by the NDP that will not last but will do a lot of destruction."

Gerry Nicholls, who worked under Mr. Harper at a conservative think tank, has said that having the New Democrats as the main opposition party would be ideal for Mr. Harper because it would define Canadian politics in clearer terms of left vs. right.

The Conservatives have built support in rural areas and with the "Tim Hortons crowd" – a reference to a chain of doughnut shops popular with working-class Canadians. They also have blitzed the country with TV attack ads, running them even during telecasts of the Academy Awards and the Super Bowl. …..

…To remain in office through the longest period of minority government in Canadian history, Mr. Harper had to engage in a constant balancing act. The three opposition parties combined held 160 seats in the last Parliament, while the Conservatives held 143. The Liberals held 77; the New Democrats, 36; and the Bloc Quebecois, 47.

Mr. Harper deliberately has avoided sweeping policy changes that could derail his government but now has an opportunity to pass any legislation he wants with his new majority.

Associated Press writers Jeremy Hainsworth in Vancouver, British Columbia; Charmaine Noronha in Toronto; and Selena Ross and Sean Farrell in Montreal contributed to this report.

Copyright 2011 The Washington Times, LLC. Associated Press. Reprinted from the Washington Times for educational purposes only. Visit the website at washingtontimes.com.
Questions
NOTE TO STUDENTS: Before you answer the questions, read the information under "Background" below, and watch the video under "Resources."
1. There are 308 seats in Canada's Parliament (in the House of Commons). List the number of seats won by each party in the House of Commons.
a) Conservative Party
b) New Democratic Party
c) Liberal Party
d) Bloc Québécois
e) Green Party
2. How will winning a majority of seats in Parliament affect the Prime Minister's ability to pass legislation?
3. What actions has Mr. Harper taken during his five years as Prime Minister (when his party did not hold a majority government)?
4. How well has the economy done under Mr. Harper's plan to create jobs and growth without raising taxes?
5. Mr. Harper campaigned in the last few days before the election on a message that the New Democrats stood for higher taxes, higher spending, higher prices and protectionism. He called the election a choice between "a Conservative majority" and "a ramshackle coalition led by the NDP that will not last but will do a lot of destruction." Why do you think this position was supported by a majority of voters?
Background
POLITICAL PARTIES of Canada that won seats in the House of Commons: (from wikipedia)

Conservative Party of Canada (founded in 2003) – conservative
New Democratic Party (founded in 1961) – social democratic (far left – much more liberal than the Liberal Party)
Liberal Party of Canada (founded in 1867) – liberal
Bloc Québécois (founded in 1991) – Quebec sovereignty, social democratic (a separtist party)
Green Party of Canada (founded 1983) – Green (liberal party – promotes environmental issues)
CANADIAN GOVERNMENT:

Canada is a bilingual nation with both English and French as official languages at the federal level.
Canada consists of ten provinces: Alberta, British Columbia, Manitoba, New Brunswick, Newfoundland and Labrador, Nova Scotia, Ontario, Prince Edward Island, Quebec, and Saskatchewan,
and three territories: Northwest Territories, Nunavut, and Yukon.
In Canada, there are 3 levels of government. Each level of government has different responsibilities.
Federal government (the Government of Canada) – Responsible for things that affect the whole country, such as citizenship and immigration, national defense and trade with other countries.
Provincial and territorial governments – Responsible for such things as education, health care and highways.
Municipal (local) governments (cities, towns, and villages in Ontario) – Responsible for firefighting, city streets and other local matters. If there is no local government, the province provides services.
Federal Government of Canada: (from settlement.org)

At the federal level, there are 3 parts of government:
Elizabeth II of Great Britain is also Queen of Canada. She is Canada's formal head of state. The Governor General represents the Queen in Canada and carries out the duties of head of state [performs mostly ceremonial duties].
The House of Commons makes Canada's laws. Canadians elect representatives to the House of Commons. These representatives are called Members of Parliament (MPs) and usually belong to a political party. The political party that has the largest number of MPs forms the government, and its leader becomes prime minister.
The prime minister is the head of government in Canada. The Prime Minister chooses MPs to serve as ministers in the cabinet. There are ministers for citizenship and immigration, justice and other subjects. The cabinet makes important decisions about government policy.
The Senate reviews laws that are proposed by the House of Commons. Senators come from across Canada. The prime minister chooses the senators.
2011 CANADA ELECTION: four ways that history was made May 2
(excerpted from The Christian Science Monitor)
On Monday, May 2, Canadians voted in an election that shook up their political landscape.
On the surface, the election simply saw more of the same: Conservative Prime Minister Stephen Harper, who took office in 2006, will stay in power. But wait, much more happened below the crust:
1. For the first time in Canada's history, the Liberals came in third place, with only 19 percent of the vote. The loss forced its leader, former Harvard academic Michael Ignatieff, to resign. (He even lost his own seat in Parliament).
2. Bloc Quebecois, the political party that long championed separation for Quebec province, also lost big time. Its seat count went from 47 seats to 4. This will alter one of Canada's long-standing debates about its unity.
3. A party with socialist roots in the Great Recession, the New Democratic Party, essentially grabbed the left-of-center votes from the Liberals. It came in second with 31 percent.
4. For Conservatives, their victory was sweet and historic. The party has not won a majority in Parliament in 23 years. Mr. Harper has had to rule over a minority government for the past five years, forming coalitions to get anything done.
The prime minister's popularity was largely due to his stewardship of the economy during the global recession. Canada did far better than [the U.S.] in weathering the storm and in a recovery. Now, with majority rule and 40 percent of the vote, the Conservatives can pass many of their measures more easily.
Daily "Answers" emails are provided for Daily News Articles, Tuesday's World Events and Friday's News Quiz.