Jump to...
(by Diana Kinch and Rogerio Jelmayer, The Wall Street Journal, WSJ.com) -The death toll in landslides and flooding in mountain areas near the Brazilian city of Rio de Janeiro rose to 640 early Monday as heavy rains that began six days ago continued, hampering rescue work.
Of the total, 271 people were killed in the mountain resort city of Teresopolis, while nearby Nova Friburgo suffered 294 deaths. There were 56 deaths recorded in the old imperial city of Petropolis and 19 in Sumidouro city, Rio de Janeiro state's health and civil defense department said in a statement. The area is around 150 kilometers (93 miles) from Rio de Janeiro city.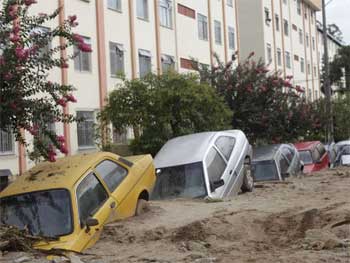 Reconstruction will cost at least two billion Brazilian reais ($1.2 billion), and could take two years, according to estimates by local mayors. State governor Sergio Cabral Sunday decreed a state of calamity in the four resort towns and three other more remote municipalities, after new landslides caused more deaths and blocked more roads, complicating rescue efforts and the transport of basic provisions to many still stranded without food and drinking water and basic services.
[Photo at right: Cars are partially submerged in mud after a landslide north of Rio de Janeiro on Sunday (1/15).]
This is Brazil's worst [natural] disaster ever. The previous highest death toll in a natural disaster was in 1967, when floods claimed the lives of 436 in a small town in the state of São Paulo, also in the country's southeast.
The arrival of 225 soldiers from Brazil's national security squad Saturday reinforced the existing 150-strong army and navy presence in the mountain resort area, where two field hospitals have been set up by the navy. As well as digging out bodies and bringing people by helicopter from the more isolated areas to centers where they can obtain provisions, the troops are assisting in the restoration of basic services to the…[affected people].
"Electricity services are being restored and donations are arriving despite some blocked roads," said Tania Lazzoli, of the Rio de Janeiro state's works department. "Sunday night the navy installed an enormous water pump by helicopter amid a downpour at a high point near Friburgo, where 40% of the population was without water supplies. They'll install a second pump today," Ms. Lazzoli said.
"However, rescue is still the first priority, reconstruction will come in a second phase," she said.
Last week, the federal government released [$467 million] in federal funds for relief efforts in Rio de Janeiro and neighboring São Paulo, which was also hit by heavy rains.
Relatives of some of the mountain resort area's inhabitants have acted on their own initiative, hiring private helicopters to search for their loved ones in isolated areas, usually with success. One Rio-based air-taxi company reported Sunday it had a waiting list for flights as demand had skyrocketed.
The continuing heavy rain continues to pose the risk of yet more landslides, said Kelen Andrade, meteorologist with CPTec, the weather forecast and climatic study department of the federal government's National Space Studies Institute, or Inpe.
"Today and tomorrow there will be more downpours in the area, though of less intensity than last week's," the meteorologist said. "Rainfall in the area shouldn't reach [1.2 inches] today, compared with the [4.7 inches] that fell in a 24-hour period starting Jan. 11."
"However, the situation continues dangerous as the ground is drenched, causing fragility. We maintain a state of alert on the area," the meteorologist said.
Copyright 2011 Dow Jones & Company, Inc. All Rights Reserved. Reprinted here for educational purposes only. Visit the website at wsj.com.
Questions
1. a) What is the population of Brazil?
b) What is the capital of Brazil?
c) Who is the president of Brazil?
2. How many people have died due to the mudslides and flooding in Brazil?
3. What is stalling/slowing rescue/relief efforts in the flooded areas?
4. a) How many soldiers have been sent to assist the victims in the flood areas?
b) What is the current role of these troops?
5. What action have some of the flood victims' relatives taken to find their loved ones?
6. Why is there still a risk for more landslides?
Free Answers — Sign-up here to receive a daily email with answers.
Background
Almost 5 inches of rain fell in a 24-hour period between January 11th and 12th, more rain than usually falls in an entire month.
Flooding of many areas in the region followed immediately. The floods have caused at least 635 deaths so far.
The disaster caused widespread property damage and the supply of public utilities such as electricity, running water and phone lines was affected.
Around 2,960 homes were destroyed.
As a result of the heavy rains, a series of floods and mudslides took place in several towns of the Mountainous Region (Região Serrana), in the Brazilian state of Rio de Janeiro.
Deaths occurred in the cities of Teresópolis, Nova Friburgo, Petrópolis, Sumidouro and São José do Vale do Rio Preto.
The combination of floods, mudslides and landslides in Rio de Janeiro became the worst weather-related natural disaster in Brazilian history.
The cities that reported human casualties are located in a mountainous area, in the neighborhood of the Serra dos Órgãos national park. The area is a tourist hotspot due to its geographic features, historical landmarks and mild temperatures.
Many buildings, however, are directly exposed to landslide hazards because of the steep terrain. (adapted from wikipedia)