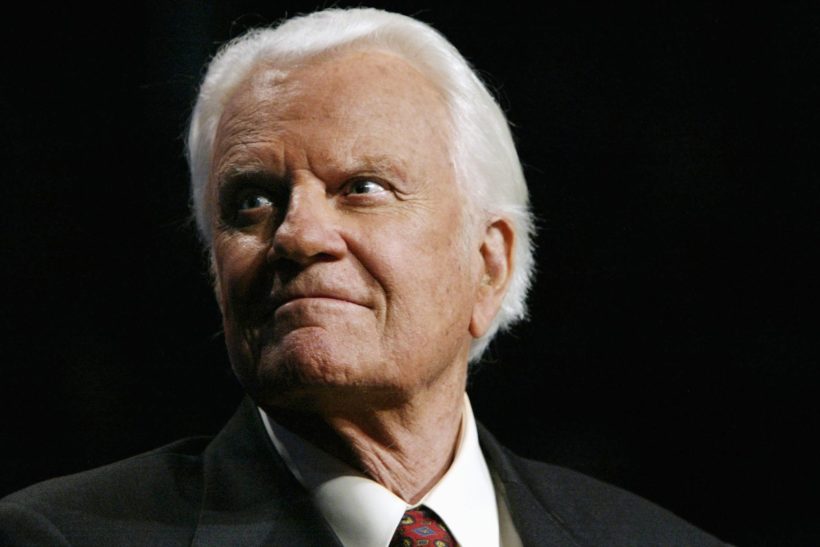 (by Cathy Lynn Grossman, Special for USA TODAY) – The world's best-known evangelist*, the Rev. Billy Graham, died Wednesday. He was 99. [*An evangelist is a person who seeks to convert others to the Christian faith, especially by public preaching.]
…Graham died at his mountain home in Montreat, N.C., where he retired in 2005 after nearly six decades on the road calling people to Christ at 417 [campaigns] from Miami to Moscow. His final New York City crusade in 2005 was sponsored by 1,400 regional churches from 82 denominations. …
He took his Bible to the ends of the Earth in preaching tours he called "crusades." Presidents called on Graham in their dark hours, and uncounted millions say he showed them the light of Christ.
"The GREAT Billy Graham is dead," President Trump tweeted Wednesday. "There was nobody like him! He will be missed by Christians and all religions. A very special man."
Family Research Council President Tony Perkins, noting Graham's humble beginnings, said that "because he yielded himself to God, he was used to accomplish the extraordinary — forever impacting the lives of countless people." …
"He was so real, he made Christianity come true," said Susan Harding, an anthropologist at the University of California-Santa Cruz. "He was homespun, historical and newsworthy all at once. He could span the times from Christ to today, from the globe to you, all in one sentence."
Grant Wacker, a Duke University professor of Christian history, says Graham represented "what most decent churchgoing people thought and ought to think."
His reputation was untouched by sex or financial scandals. … He never built a megachurch…or ran for office. Yet he redefined American Protestant life by popularizing Christianity's core message — Christ died for your sins — downplaying denominational details and proclaiming the joys found in faith.
…Eventually, Graham met, prayed with, comforted and joked with 12 U.S. presidents. …
When President Clinton's affair with Monica Lewinsky came to light, Graham called for forgiveness. Clinton told Peter Boyer of The New Yorker, "He took sin seriously. But he took redemption seriously. And it was incredibly powerful the way he did it."
Former president George W. Bush has said it was a conversation with Graham that turned him from his drinking ways when he was young. …
Graham emphasized the joy to be found in belief [in Jesus Christ]…. [He mostly avoided politics in later years.] However, Graham did take an uncharacteristically political stand before the 2012 presidential election. He authorized full-page ads in major newspapers in October urging people to vote for politicians who opposed same-sex marriage on "biblical principles." … [Graham said in a statement: "The Bible is clear—God's definition of marriage is between a man and a woman."
The Billy Graham Evangelistic Association he founded, now led by his son, Franklin, used every communications innovation possible to carry the Gospel to any willing heart on Earth. More than 214 million people in 195 cities and territories heard God's call in Graham's voice and witnessed him deliver the Gospel in person or by satellite links. His projects included founding Christianity Today magazine in 1956 and writing more than 30 books. …
Graham's last decades were slowed by illness and injury. He was diagnosed with Parkinson's disease in 1989, felled by broken bones, bouts of hydrocephalus and rounds of pneumonia. …
Graham's last crusade, in June 2005 in New York City, drew 242,000 people to Flushing Meadows; 8,786 made a new commitment to Christ and thousands more renewed or rejoiced in their faith.
Then he retired to his Montreat, N.C., mountaintop log cabin home…to spend his days with his wife, Ruth. … At her funeral in June 2007, Graham called Ruth the finest Christian he ever knew. …
USA Today. Reprinted here for educational purposes only. May not be reproduced on other websites without permission from usatoday .com.
Questions
1. a) How many evangelical campaigns did Billy Graham hold around the world?
b) How many people in how many cities did he reach?
2. What is the core message of Christianity that Billy Graham shared with people?
3. What did Graham focus on, according to former President Bill Clinton?
4. The news of Billy Graham's death has been covered by every media outlet. Why do you think he is such an icon?
5. Watch the videos under "Resources." What impression do you have of Billy Graham from these news reports and clip of his own words?
6. "Gospel" also means 'good news' – Christians believe the good news is that Jesus Christ is the Son of God who came to earth as a man. He was sinless, but he gave himself up to be crucified for our sins, and rose from the dead so that any person who believes in Him and repents of their sins will be saved and have eternal life.
OPTIONAL: Read the story of Jesus' life, death and resurrection in any of the four gospels found in the New Testament of the Bible. Each book, named for the man who wrote it: Matthew, Mark, Luke and John, tells the story of Jesus. Today's world can be discouraging. Hope and joy are found in the salvation of Jesus Christ. Read it for yourself and ask God to speak to you.  (Read the bible online at biblegateway.com)
John 3:17 "For God did not send His Son into the world to condemn the world, but that the world through Him might be saved."
Resources
Watch a CBS News report:
---
Fox News:
---
Famous quotes from the Rev. Billy Graham:
---
Watch a video of Billy Graham from 1949 in Los Angeles:
Daily "Answers" emails are provided for Daily News Articles, Tuesday's World Events and Friday's News Quiz.