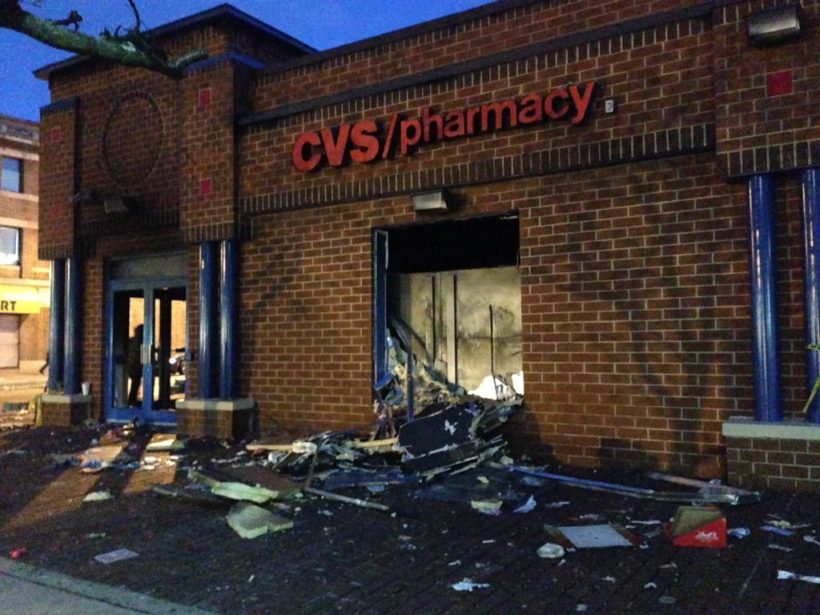 (by Megan Davies, Reuters) – A night of arson and looting in Baltimore has shaken the confidence of people running businesses beyond the areas hardest hit. In particular, they are concerned a city that took many years to start to recover from devastating riots in 1968 could be put back on its heels.

While Baltimore's unemployment rate is higher than the national average and it is lagging in per capita income, the city government's budget is stable, it has a diverse business sector, elite universities and medical facilities, and a growing number of tourists flock to its downtown harbor.

But the unrest that led to the burning of 19 buildings, the destruction of 144 vehicles, and injuries to 20 police officers on Monday, deeply unsettled the business community and the wider population of the city. It followed the funeral of a 25-year-old black man, Freddie Gray, who died in a hospital on April 19, a week after sustaining injuries in police custody. The situation was calmer on Tuesday, with the National Guard deployed and a curfew in force from 10 p.m. to 5 a.m, but tensions remain very high.

"I woke up this morning feeling really concerned about the future of our industry in Baltimore and whether people will want to move here and live here," said Will Runnebaum, owner of Baltimore's Marcus-Boyd Realty.

"In the last couple of days we've had to cancel numerous appointments with clients that were interested in seeing properties for sale and for rent," Runnebaum said.

With the one-week curfew imposed, service-oriented businesses such as restaurants are taking a hit. They started to suffer some days ago as protests grew following Gray's death.

"We started to feel the impact of the events taking place as early as Saturday, with cancellations of parties that were booked for events," said Brian McComas, the owner of Ryleigh's Oyster restaurant which has several Baltimore locations and has temporarily closed one.

Baltimore is home to some major American businesses, including fund management firms T Rowe Price and Legg Mason, and athletic wear retailer Under Armour. T. Rowe Price closed its downtown office on Tuesday. Legg Mason opened its offices but encouraged employees to work from home.

The city's conference industry could also take a hit. The Futures Industry Association said it canceled a compliance conference scheduled for Wednesday, and some other events have been canceled or postponed.

"It's going to be harder to attract convention and business meetings to Baltimore," said Anirban Basu, Chairman and CEO of Sage Policy Group, a Baltimore-based economic and policy consulting firm. "The community, region and state will all be negatively impacted. Private investment into Baltimore will slow."

The looting and burning of a CVS store, which has been shown on just about every newscast in the past 24 hours, as well as the destruction of other shops, will tend to deter retailers from making new investments, economists warned.

"One of the things that's been growing in the area has been the tourism aspect and nothing puts off tourists more than riots and curfews," said Daraius Irani, chief economist at the Regional Economic and Studies Institute of Towson University in Baltimore.

[In addition, Wednesday's baseball game between the Baltimore Orioles and Chicago White Sox was closed to the public and was played in an empty Oriole Park at Camden Yards in Baltimore. "After conferring with local officials, it was determined that Wednesday afternoon's game should be played without fan admittance in order to minimize safety concerns," Major League Baseball said.

The closed-door contest followed the postponements of Monday's and Tuesday's games against the White Sox following unrest in Baltimore. The team also announced it would move three games (May 1-3) against the Tampa Bay Rays to Florida. The Orioles will still be the home team, the team said.

The game is believed to be the first held in an empty stadium in the 145-year history of the major leagues.

According to MLB .com, games have been postponed in the past because of security concerns. In 1992, four Los Angeles Dodgers games were pushed back because of riots after the acquittals of police officers in the Rodney King case.

In 1967, riots in Detroit prompted baseball officials to move games between the Tigers and the Orioles to Baltimore. Opening Day of 1968 was postponed for two days after the killing of the Rev. Martin Luther King Jr.

After the September 11, 2001, terrorist attacks, all professional baseball was called off for one week.]

Reprinted here for educational purposes only. May not be reproduced on other websites without permission from Thomson Reuters. Visit the website at Reuters .com. [Note: the MLB info is from an Associated Press article.]
Questions
NOTE: The situation in Baltimore is a big news story. This article only addresses the longer-term economic impact caused by authorities' inability to stop the looting and burning of property. It does not intend to ignore the terrible, tragic death of Freddie Gray while in police custody. City officials are conducting a full investigation into the cause of his death and have said they will determine by May 1 whether any criminal charges should be brought against the police officers involved in Mr. Gray's arrest.
1. Why are Baltimore business owners concerned over the arson and looting that took place in Baltimore recently?
2. How does the Baltimore city government maintain a stable budget with higher unemployment and incomes than the national average?
3. a) What specific concern does Will Runnnebaum, owner of a Baltimore real estate company have?
b) What first-hand experience has he had that shows his concerns are valid?
4. List other types of business directly affected by the destruction of property that took place. How might each be affected?
5. How will the destruction affect retailers (like a CVS Pharmacy) from investing in new stores in Baltimore?
6. Who do you think will be most affected by the business decisions made in the aftermath of the rioting? Explain your answer.
7. Watch the first video under "Resources" with mother Toya Graham.
"To see my son come across the street with a rock in his hand, I think at that point I just lost it," Ms. Graham told CBS This Morning.
Manny Locke Jr., the WMAR cameraman who shot the video explained, "All of a sudden I saw her, she found her son and she just started wailing on him and I said 'Oh my god, she found him.' I think all parents probably should've did that."
Baltimore's police commissioner praised Ms. Graham Monday night and is calling for other parents to do the same. "For those parents who have kids that are out there who came off that campus, take control of your kids. This is our city. Let's make a difference," he said.
What do you think of the comments made by each of these adults? Are they right or wrong? Explain your answer.
8. Baltimore Mayor Stephanie Rawlings-Blake made a controversial comment on Saturday before the burning and looting erupted. She said, "I've made it very clear that I work with the police and instructed them to do everything they could to make sure that the protesters were able to exercise their right to free speech. It's a very delicate balancing act because while we try to make sure that they were protected from the cars and the other things that were going on, we also gave those who wished to destroy space to do that as well, and we work very hard to keep that balance and to put ourselves in the best position to de-escalate." Mayor Rawlings-Blake went on to deny saying they were giving space to "those who wished to destroy" and accused the media of taking her comments out of context. (Watch the video clip at nbcnews.com)
It is believed that the Mayor ordered the police to back off from rioters, which resulted in 20 officers being injured, 144 vehicles being destroyed and 19 businesses being burned.
Watch an interview with former NYC Mayor Rudy Guiliani (the second video under "Resources"). What do you think is the best way for a mayor to handle a situation like this? Is former Mayor Guiliani too aggressive? Is Mayor Rawlings-Blake not tough enough? Explain your answer.
Resources
Watch an April 28, 2015 CBS News report with Scott Pelley:  Toya Graham, the mom who was seen angrily reprimanding her son for throwing rocks at the police, explains why she smacked her son in a video that went viral.
---
Watch an April 29, 2015 interview with former NYC Mayor Rudy Giuliani:
Daily "Answers" emails are provided for Daily News Articles, Tuesday's World Events and Friday's News Quiz.