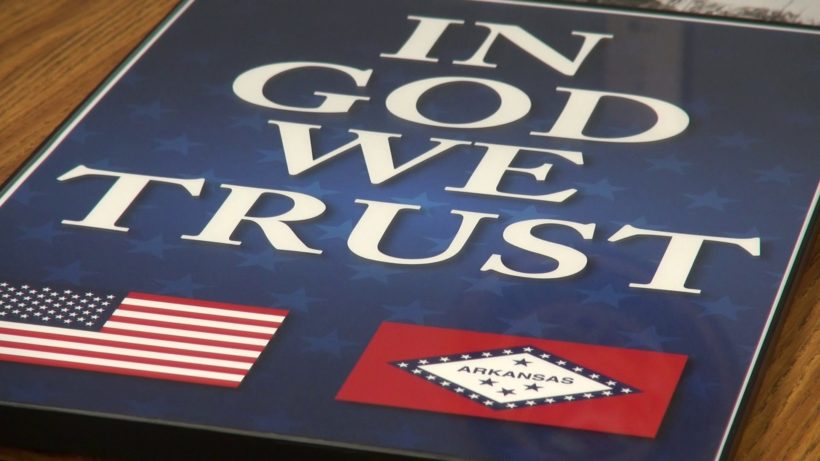 redo Jump to...
print Print...
Arkansas school districts are beginning to roll out posters proclaiming the national motto "In God We Trust" in their classrooms this week after a state law passed in August allowed the national motto to be displayed in classrooms.
The Arkansas state legislature passed a law in August that allowed K-12 schools to display a picture or poster of the national motto "In God We Trust" above an American flag in classrooms and libraries. The funding for these posters must come from private organizations or charitable contributions to local school boards.
The law also requires the motto to be displayed in some form in public buildings maintained with state funding. The bill passed in the Arkansas House 78-1 and in the Senate 20-2.
State Rep. Jim Dotson (R), who sponsored the bill that became Act 911, appeared at the Bentonville School Board's February 19 meeting to present 891 framed copies of the posters that had been donated to the school district by the American History and Heritage Foundation, an Arkansas-based group led by state Sen. Jason Rapert, R-Bigelow. American Legion Post 77 of Bentonville raised about $1,500 for the frames, for which Hobby Lobby gave a discount, Dotson said.
Ray Brust, an American Legion member, expressed gratitude to those who contributed money for the frames.
"I and everybody that I know is very positive on this law," Brust said. "I think it's something that will help not only the atmosphere, but it's something we do need for our youth. I think everyone knows our youth are lacking in certain areas of information about the United States and what we stand for."
Dotson, when asked why he proposed the law, said he believes history and heritage are important. Many people, especially children, are not aware "In God we trust" is the national motto, he said.
"So putting it up and displaying it is something I think is very valuable," Dotson said.
Not everyone is happy with the move though.
American Atheists, a New Jersey-based organization dedicated to the separation of church and state, alleges the posters violate the establishment clause of the First Amendment, while the Freedom From Religion Foundation, based in Madison, Wis., has said they would fight the law, asserting Act 911 uses "the machinery of the state to promote Christianity."
"In God We Trust" first appeared on coins in the 1800s, due in part to the "increased religious sentiment existing during the Civil War," according to the Department of Treasury.
"No nation can be strong except in the strength of God, or safe except in His defense," Treasury Secretary Salmon Chase wrote to the director of the Mint in 1861. "The trust of our people in God should be declared on our national coins…."
A 1955 law made the phrase mandatory on all U.S. money, both bills and coins, and another law in 1956 made it the national motto (Congress passed a joint resolution that President Dwight D. Eisenhower signed into law making "In God We Trust" our motto).
Posters are also being donated to other school districts in Arkansas.
Compiled from news reports at Arkansas Democrat-Gazette, Breitbart, USA Today and Fox Insider.
Questions
1. The first paragraph of a news article should answer the questions who, what, where and when. List the who, what, where and when of this news item. (NOTE: The remainder of a news article provides details on the why and/or how.)
2. What does Arkansas state law Act 911 require?
3. Why won't the law cost the schools any money?
4. For what reason did Rep. Jim Dotson propose the law?
5. a) What groups are opposed to the law? For what reasons are they opposed?
b) These groups have said they will fight the law. What do you think?
6. The bill passed in the Arkansas House 78-1 and in the Senate 20-2. What does that tell you about Arkansas voters' view of the bill?
7. "In God We Trust" is our national motto. Several and/or hundreds of police departments across the country put bumper stickers with the national motto on patrol cars. Oklahoma and Florida have similar laws pending for their schools and public buildings.
The sponsor of the Florida bill, Rep. Kim Daniels (D-Jacksonville), said Florida needed the legislation, given the goings on in the state. HB 839, which passed the House by an overwhelming margin of 97-10, would allow "In God We Trust," the state motto, to be displayed in schools. The week after the shooting at Parkland's Marjorie Stoneman Douglas High School, Daniels said she sees the motto as a symbol of hope that could inspire students:
"Few would disagree with me that God is positive. He's not a Republican and He's not a Democrat. He's not black and He's not white. He is the light. And our schools need light in them like never before," Daniels said on the chamber floor.
What is your reaction to Rep. Daniels remarks?
Background
Legislation similar to Arkansas' Act 911 has been introduced and is moving forward in two states.
In Florida, a bill requiring "In God we trust" be displayed "in a conspicuous place" in every school and administrative building passed the House of Representatives in February by a 97-10 vote. The Senate has not yet considered the measure. Florida legislators introduced the bill in late January, arguing that students should be exposed to Florida's history and legacy, and that faith in God was an integral part of that history. Bipartisan supporters lauded the bill as a necessary step not only for the state, but also as a beginning of a national return to acknowledging God. If approved, the legislation would take effect July 1.
In Oklahoma, state Sen. Wayne Shaw's bill (

Senate Bill 1016

) requires posters featuring "In God we trust" as well as the U.S. and Oklahoma state flags be displayed in public-school classrooms and libraries, as well as any other public building maintained or operated with state money. The posters must be donated to the schools – not purchased with school funds. A Senate committee passed the bill by a 6-4 vote Feb. 19 and the Senate Appropriations Committee approved it by a 33-4 vote Thursday.
Similar legislation in Wyoming was not passed:
In Wyoming, a bill that would require "In God We Trust" be displayed in all public school classrooms and state government buildings across the state passed in the State House 44-16. All nine Democrats voted against the measure. However, the bill did not pass as the Senate declined to vote on it.
Resources
Read the "History of 'In God We Trust'" on U.S. currency at the US Treasury website
Watch two news reports:
---
---
Watch a brief clip of NFL player Ben Watson – interviewed after the Florida House of Representatives passed a bill on Feb. 21, 2018, requiring all public schools to prominently display "In God We Trust" somewhere on campus:
Daily "Answers" emails are provided for Daily News Articles, Tuesday's World Events and Friday's News Quiz.