redo Jump to...
print Print...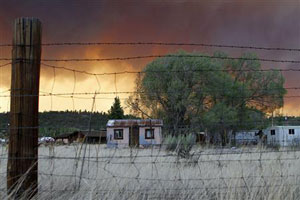 (from The Wall Street Journal, WSJ.com) SPRINGERVILLE, Ariz. (AP) – Bulldozers scraped away brush and trees on Tuesday to create a barrier between two eastern Arizona towns and a mammoth wildfire in the surrounding mountains. Other crews removed brush from around homes and firefighters were sent to protect buildings from the flames.
Authorities have ordered about 2,000 residents of neighboring Eagar to evacuate as a raging forest fire, [named the Wallow Fire] the second-largest wildfire in state history, approaches. [Photo: smoke from the Wallow Wildfire fills the sky in Luna, New Mexico, June 6, 2011.]
New evacuations have been ordered for communities along Arizona's eastern edge as a huge wildfire creeps toward more homes.
Officials say the blaze has already burned 486 square miles of ponderosa pine forest and is about 10 miles outside the towns. Winds have been driving the flames 5 to 8 miles a day since the fire began a week ago, possibly from an unattended campfire.
Strong afternoon winds kicked up Tuesday but were less fierce than expected, although they could send the flames to within several miles of the towns, triggering evacuation orders.
"The worst-case scenario is we're going to order an evacuation and the fire is going to burn up to the homes here," fire incident command spokesman Steve Miller said. "Or to wherever we stand and defend, hopefully not further than that."
The fire has already driven thousands from their homes and cabins in the resort towns of the nearby Apache-Sitgreaves National Forest. Thousands of firefighters, including many from several western states and as far away as New York, hope to keep the flames from getting into Springerville and Eagar, which sit in grassland at the edge of the forest.
With a blaze as large as this being driven by unpredictable and gusty winds, putting the fire out is a gargantuan task. All fire managers can do is try to steer it away from homes and cabins by using natural terrain, burning out combustible material first and trying to put out spot fires sparked by embers blowing in front of the main fire front.
New mapping showed that some fire breaks have held but the wildfire was still considered zero percent contained Tuesday.
Dozens of firefighters worked Tuesday alongside a stretch of Highway 191 about two miles outside of Springerville, burning combustible material such as vegetation along one side of the road in an effort to keep the approaching fire from jumping across and heading into town.
Jeff Brink, a member of an Idaho-based Bureau of Land Management fire crew, had spent the better part of Tuesday doing burnouts and making sure the flames stayed on one side of the highway while warily watching the weather.
"Obviously, with these winds, when we're burning out the wind can shift," Mr. Brink said.
In Springerville, it was raining ash and the sky was filled with thick smoke. When the sun peeked through, it was blood-red.
No serious injuries have been reported, but the fire has destroyed five buildings so far. It has cast smoke as far east as Iowa and forced some planes to divert from Albuquerque, N.M., some 200 miles away.
The fire has grown most on the north side, as winds whipped flames through the national forest, fire incident command spokeswoman Dellora Guager said.
Winds whipping the fire Monday drove the last holdouts from the small resort town of Greer. By Tuesday, Greer, Alpine and the other tiny resort towns near the New Mexico border were still standing.
The future of the towns remained in doubt because there was no sign winds would stop in the coming days and no rain at all was in the forecast. Authorities warned Springerville and Eagar residents that they may have to join about 2,700 others who have already fled.
Like others in Springerville, pastor Mike Taylor thanked firefighters, posting a message to firefighters outside the First Southern Baptist Church. He wanted them to know that his parishioners are praying for them. Mr. Taylor said he was ready to evacuate if necessary but was not worried. He said he spent the past week praying.
"For me, life is more important," he said. "Things can be replaced. We just have to trust God is in control."
The blaze has consumed 311,481 acres since it started May 29. It has been propelled by wind gusts of more than 60 mph. Fire officials said the blaze died down a bit overnight and crews planned to work on its northeast side Tuesday.
A giant smoke plume that lingered over Springerville a day ago had dissipated Tuesday morning, leaving behind haze. The wind, forecast at 35 mph, remained a concern, said fire information officer Kelly Wood.
"It's going to kick up," he said.
The evacuation orders in Greer came after most in the community had fled, leaving about 100 people by the time deputies started going door-to-door. Authorities also ordered to leave anyone left in the nearby area known as Sunrise.
Smoke from the fires was worst in the towns just north of the blaze now ordered to prepare to evacuate. But haze was being carried by a ridge of high pressure as far as central Iowa, said Kyle Fredin, a National Weather Service meteorologist in Denver. The smoke was also visible in New Mexico, Colorado, Nebraska and Kansas.
Colorado health officials canceled a smoke health advisory Tuesday as smoke cleared from the southern half of the state. Two airliners headed to Albuquerque were diverted Monday night because of smoke and high winds.
The state's largest blaze came in 2002 when flames blackened more than 732 square miles and destroyed 491 homes. A fire in 2005 burned about 387 square miles in the Phoenix suburb of Cave Creek and consumed 11 homes.
Another major wildfire was burning in southeastern Arizona, threatening two communities. The 163-square-mile blaze has devoured two summer cabins and four outbuildings since it started May 8.
Associated Press. Copyright 2011 Dow Jones & Company, Inc. All Rights Reserved. Reprinted here for educational purposes only. Visit the website at wsj.com.
Questions
1. Approximately how many squre miles of land have been consumed so far in the Wallow wildfire?
2. How many people have evacuated so far?
3. Approximately how many firefighters are fighting the fire?
4. How long ago did the fire start?
5. What has caused the fire to spread so quickly and made it difficult for firefighters to contain?
6. Watch the videos under "Resources" below. If you had to evacuate from your home and face having it not be there when you returned, what would you take? Explain your answer.
Background
Frequently Asked Questions about the Arizona Wallow Fire:

Question: When did the fire begin and how?
Answer: Fire officials believe an unattended campfire may have sparked the blaze about 1:30 p.m. May 29.
Q: Where does the name "Wallow Fire" come from?
A: Fires are usually named after a feature near the start point. In this case, Bear Wallow Wilderness is located in the Apache-Sitgreaves National Forests, near where the fire was first reported.
Q: How many structures have been lost?
A: Forest Service officials say ten structures have been lost to the fire.
Q: How many acres has the Wallow Fire burned?
A: More than 380,000 acres as of Tuesday. (approximately 480 SQUARE MILES)
Q: Historically, what are Arizona's largest wildfires?
A: The largest fire in state history was the 2002 Rodeo-Chediski Fire, which charred more than 468,000 acres in eastern Arizona. The current Wallow Fire is the second-largest in state history. The third-largest was the 2005 Cave Creek Complex Fire, which consumed more than 248,000 acres, followed by the 2004 Willow Fire at 119,000 acres and the still-burning Horseshoe Two Fire.
Q: What is a Type 1 Incident Management Team?
A: A Type 1 team consists of highly trained and experienced wildfire personnel, from federal and state levels, specifically outfitted for wildland fires.
Q: What type of equipment is being used?
A: As of Tuesday, 2,140 fire personnel were on the ground, utilizing 8 bulldozers, 141 fire engines, 46 water tenders and 20 helicopters.
Q: What types of helicopters are being used?
A: There are three types of helicopters. The Type 1 is the heavy-lift helicopter sometimes called a sky crane. It has the ability to dump up to 2,000 gallons of water. Medium-sized helicopters can dump about 500 gallons. Light helicopters are used to move supplies and keep an eye on the fire.
Q: What magnitude is the current evacuation?
A: Fire officials said the following communities have been evacuated: Sunrise, Greer, Blue River, Alpine, Nutrioso, Eagar (South of Arizona 260), South Fork, Hannagan Meadow Lodge, Sprucedale Guest Ranch, Brentwood Church Camp, Hannagan campground, KP campground, West Fork Black River campground, East Fork Black River campground, Escudilla Mountain Estates, Bonita, White Mtn. Acres, Dog Patch and the H-V Ranch. The towns of Eager, Springerville and South Fork are on pre-evacuation notice.
Q: Has anyone been injured?
A: No.
(from AZCentral.com)
Daily "Answers" emails are provided for Daily News Articles, Tuesday's World Events and Friday's News Quiz.