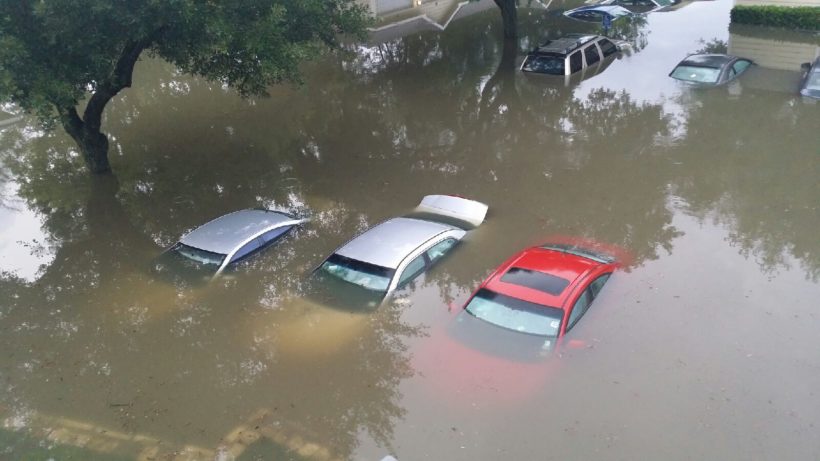 (by Mary Wisniewski, Chicago Tribune) – Cars soaked by floodwaters from Hurricanes Harvey and Irma will soon start appearing in the used car market, so buyers should beware, according to vehicle experts.
"Even brick-and-mortar legitimate dealers can get burned buying flooded vehicles," said Frank Scafidi, spokesman for the National Insurance Crime Bureau, a Des Plaines-based nonprofit that fights insurance fraud and crime. "If a professional can get burned, you can too."
Flood damage is easier to conceal from an untrained eye than damage from a wreck, but it can be more devastating to the engine and other key components, said Christopher Basso, spokesman for the used car research firm Carfax. Flooding can destroy a car's electronic system, affecting safety features like air bags and anti-lock brakes, while rust can rot the vehicle from the inside, Basso said.
Scafidi expects the number of flood-damaged cars to be greater for Harvey than it was for Hurricane Katrina in 2005, both because of Harvey's bigger footprint and because in the last 12 years more vehicles rely on computer technology and electronics.
"Beneath the surface, water can permanently damage computers that control everything from the gas pedal to steering," said Cliff Wood, chief operating officer at CarMax, a leading used car dealer.
Hurricane Katrina in 2005 damaged about 600,000 vehicles, Basso said. Carfax is still working on an estimate for Harvey.
About half of flood-damaged cars are resold. Some sellers do not have insurance and clean the cars up to try to get what they can from them, Basso said.
It is not illegal to sell or buy a flood-damaged car, as long as both parties are aware, Scafidi said. But some sellers conceal the damage and offer a nice-looking car at a suspiciously low price.
"With flood vehicles, it creates an opportunity for people in that business to scam innocent buyers who may have been researching used car purchases for some time and looking at a make and model and suddenly, there's that make and model that's just terrifically priced — it was $25,000 and now it's $12,000," said Scafidi. …
Since Hurricane Katrina, the National Insurance Crime Bureau has offered a free vehicle identification number (VIN) check service to see if a car has been in a flood. The service is available at www.nicb.org/vincheck. A VIN also can be entered into the National Motor Vehicle Title Information System database at www.vehiclehistory.gov.
Carfax, which charges $39.99 for a report, is offering its flood-damage database for free post-Harvey. Buyers can check if a car is flood-damaged at carfax.com/flood.
A database check is not always enough. Some flood-damaged cars are missed by title and VIN checks, because a car can be bought cheap, cleaned and then taken out of state where a VIN is switched and the car is retitled with no indication that it has been damaged, Scafidi said.
Basso recommends taking a vehicle to a trusted mechanic and going for a test drive. He said buyers should look for water lines and signs of debris or salt in the trunk and engine compartment.
"The biggest giveaway on the inside of the car is you see rust build-up on the seat rails, on the nuts and bolts, and the seat belts," Basso said.
Flooded vehicles also can pose health risks because they sat in water that was not clean, which can penetrate the seats and carpet, causing a build-up of bacteria, Basso said.
Larry Doll, legal counsel for the Illinois Automobile Dealers Association, a trade group, recommends giving used cars a "smell test." "Close the windows for a few hours to see if there's a rusty, mildew smell," he said.
Buyers also can protect themselves by buying from a reputable dealer rather than off some ad site like Craigslist, Scafidi said. Even though dealers can get fooled by damaged cars, too, they are more likely to refund your money.
"If it's a fly-by-night and a 'meet me under the shade tree' deal, that money is never coming back," Scafidi said.
Reprinted here for educational purposes only. May not be reproduced on other websites without permission from The Chicago Tribune. Visit the website at ChicagoTribune .com.
Questions
Note to students: For a better understanding, watch the news reports under "Resources" before answering the questions.
1. What does each of the following companies mentioned in the article do?
a) National Insurance Crime Bureau
b) Carfax
c) CarMax
2. What type of damage does flooding cause to a vehicle?
3. Hurricane Katrina caused flood damage to about 600,000 vehicles in 2005. For what reasons is the number of flood-damaged cars from Hurricane Harvey expected to be greater?
4. Many flood damaged vehicles are labeled as such. Some people who did not have auto insurance try to sell their vehicle without telling the buyer it has been in a flood. List 3 things a buyer can do to ensure the used car they wish to purchase has not sustained flood damage.
5. a) Define the term "buyer beware."
b) How would you use 'buyer beware' when buying a used car?
Resources
News reports on flood damaged vehicles:
Flood-damaged cars could be sold as new (from USA Today)
---
Many of the vehicles stuck in flood waters were later towed to a huge parking lot at the Royal Purple Raceway in Baytown, TX just outside of Houston. There they will be registered as flood damaged (from KHOU 11 Houston)
---
Harvey Puts Flood Damaged Cars In The Market (from News Channel 5 Nashville)
Daily "Answers" emails are provided for Daily News Articles, Tuesday's World Events and Friday's News Quiz.