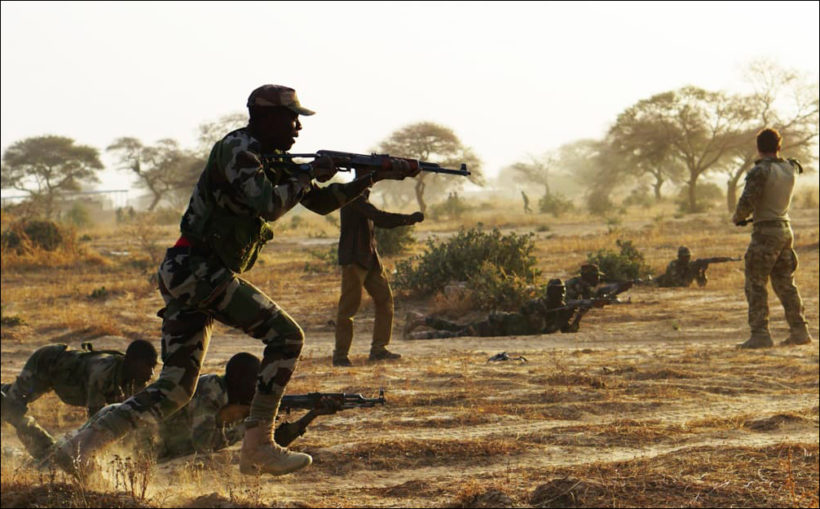 (by Barbara Starr, Ryan Browne and Brad Lendon, CNN) – Three US Green Berets were killed and two others were wounded in southwest Niger near the Mali-Niger border when a joint US-Nigerien patrol was attacked on Wednesday….
A US official told CNN that initial indications are the Green Berets were ambushed by up to 50 fighters who are thought to be affiliated with ISIS.
US Africa Command, which oversees military operations in Africa, issued a statement Thursday saying the two wounded US service members were "evacuated in stable condition to Landstuhl Regional Medical Center in Germany." The Command also confirmed Thursday that three US service members were killed in the attack and said the names were being withheld pending the notification of next of kin.
Officials told CNN that French military Super Puma helicopters evacuated the wounded Americans along with those killed in action while also providing covering fire.
The attack occurred approximately 125 miles north of the country's capital, Niamey, in southwest Niger, according to the statement from Africa Command.  … The Green Berets were part of a team advising and assisting local forces when they were attacked. …
A spokeswoman for the French Ministry of Defense confirmed that French troops from the Barkhane anti-terror force based in Chad are currently involved in an operation in Niger. She said the operation is being led by Niger and the French troops are there to support them. …
There are about 800 US troops in Niger, and the US military has maintained a presence in the northwest African country for five years, with small groups of US Special Operations Forces advising local troops as they battle two terrorist groups, ISIS-affiliated Boko Haram and al Qaeda's North African branch, al Qaeda in the Islamic Maghreb.
"Niger is an important partner of ours, we have a deep relationship with them," Lt. Gen. Kenneth McKenzie, the director of the Joint Staff, told reporters at the Pentagon Thursday.
"We are committed to that relationship, we believe that they are as well. In fact, I think it's a very good success story," he added.
US officials view Chad, Niger and Mali as being particularity important as they serve as bridges between north and sub-Saharan Africa, saying that local al Qaeda and ISIS affiliates use their control of these transit routes to gain revenue that helps them recruit, expand and export attacks. ISIS uses these North-South transit routes to move fighters northward, where they can gain more easily access Europe and the West.
One official told CNN that ISIS is attempting to infiltrate the gold mining industry in Niger to sell on the black market and finance world terrorism.
Al Qaeda in the Islamic Maghreb has maintained a presence in the Mali-Niger border area, despite a multi-year French-led military counterterrorism effort, Operation Barkhane, which began in 2014.
The US military has largely played a supporting role, providing intelligence, surveillance and reconnaissance assets in support of French forces operating in Mali and Niger. The French operation involves thousands of French troops as well as forces from Germany, Mali, Niger and other countries in the region.
And while US troops largely play a supporting role, military leaders acknowledge the risks they face.
"Clearly there's risks for our forces in Niger," Lt. Gen. McKenzie said while declining to discuss the specifics of Wednesday's attack, citing "ongoing partnered operations."

"Any time we deploy full forces globally we look very hard at the enablers that need to be in place in order to provide security for them and that ranges from the ability to pull them out if they're injured to the ability to reinforce them at the point of a fight if they need reinforcement," he added.
"US forces are in Niger to provide training and security assistance to the Nigerien Armed Forces, including support for intelligence, surveillance and reconnaissance efforts, in their efforts to target violent extremist organizations in the region," said US Navy Lt. Cmdr. Anthony Falvo, a spokesman for US Africa Command, adding, "one aspect of that is training, advising and assisting the Nigeriens in order to increase their ability to bring stability and security to their people."
Wednesday's attack comes after US drones struck ISIS fighters in neighboring Libya twice in a week in late September.
Those two missions, the first under the Trump administration, suggest US officials have become increasingly concerned that the terror group is regaining strength in Libya.
More than two dozen ISIS fighters were killed in the airstrikes, US Africa Command said.
Wednesday's casualties were not the first this year in the US fight against terror groups in Africa.
Milliken was the first US service member killed in action in Somalia since 1993, when two Black Hawk helicopters were shot down and 18 American soldiers were killed in the Battle for Mogadishu.
CNN's Brent Swails and Saskya Vandoorne contributed to this report.
Reprinted here for educational purposes only. May not be reproduced on other websites without permission from CNN. For the original article, visit CNN .com.
Questions
NOTE TO STUDENTS: Before answering the questions, watch the videos under "Resources" below the questions.
1. The first paragraph of a news article should answer the questions who, what, where and when. List the who, what, where and when of this news item. (NOTE: The remainder of a news article provides details on the why and/or how.)
2. Who was responsible for the attack?
3. What were the Green Berets doing in Niger?
4. a) How many U.S. troops are in Niger? – How long they been there?
b) For what purpose are U.S. troops in Niger? – What is their role? Be specific.
5. Why do U.S. officials view Niger, Chad and Mali as important in combating Islamic terrorists?
6. What considerations does the U.S. military take into account when deploying troops globally, according to Lt. Gen. McKenzie?
7. Do an internet search to discovery the names and stories of our Special Forces soldiers killed in Niger this week. How does each man's story inspire you?
Resources
Watch a CNN report:
---
Watch a report from FoxNews:
Daily "Answers" emails are provided for Daily News Articles, Tuesday's World Events and Friday's News Quiz.