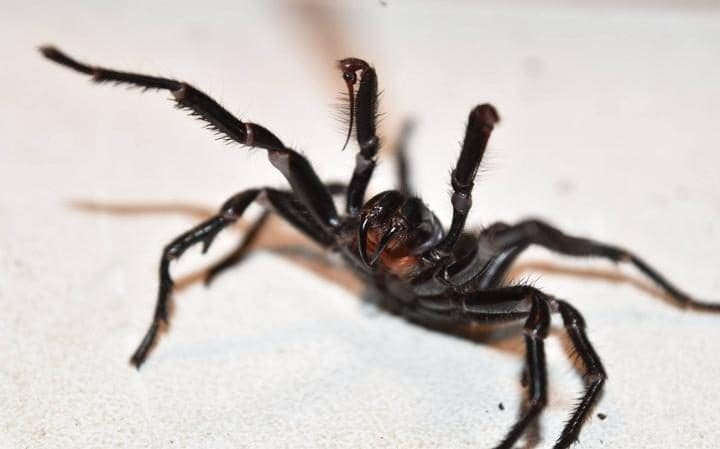 Zoo appeals for help catching deadly spiders for milking venom
(by Mark Molloy, London's Daily Telegraph) – An Australian zoo has issued a rather unusual appeal for members of the public to help catch one of the world's deadliest spider species.
The Australian Reptile Park in New South Wales urged people in a Facebook appeal to trap funnel-web spiders instead of killing them.
Experts from the park regularly milk the spiders for their venom, which is then used in the production of anti-venoms to help save snake and spider victims.
"It's funnel-web season but instead of killing them, we need the public to catch them so they can be a part of our venom milking program!" the park posted on Facebook.
"We need spiders to keep saving lives … only responsible adults should catch funnel-webs to assist the program," they added.
Head of Conservation and park manager Tim Faulkner demonstrated in the video how to safely catch the spiders using a glass jar and a ruler.
"We milk funnel-web venom to supply CSL (Commonwealth Serum Laboratories) in Melbourne so they can make the live-saving anti-venom," he explained.
"Never put yourself at risk, please don't touch them or try and pick them up. And remember, don't leave it anywhere near the kids or in sunlight."
Several species of the funnel-web are renowned for their highly toxic and fast acting venom, according to the Australian Museum. (posted at the Telegraph 1.23.17)
---
Switzerland won't give an 'annoying' vegan a passport
(by Lauren Steussy, NY Post) – An animal-rights activist who campaigned against the use of cowbells in a quaint Swiss village is getting her comeuppance, thanks to a few peeved village residents.
Vegan model Nancy Holten was denied a Swiss passport because she's too obnoxious. Tanja Suter, the president of the local branch of the Swiss People's Party, said "She annoys us and doesn't respect our traditions," so she should not be granted citizenship, Suter told the Daily Mail.
Suter said Holten has a "big mouth," referring to Holten's vocal opposition to the town's use of cowbells. Holten claims cowbells are too heavy and too loud for the cows. "The sound that cowbells make is a hundred decibel(s)," she told the Daily Mail. "It is comparable with a pneumatic drill. We also would not want such a thing hanging close to our ears."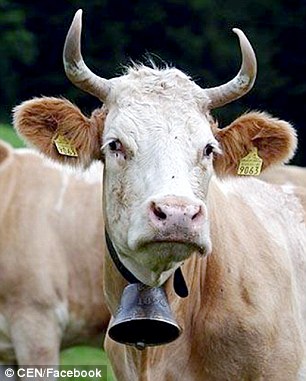 There's surely at least one cowbell enthusiast who would beg to differ.
Holten moved to Switzerland from the Netherlands when she was 8 years old, and now has two children who are Swiss nationals. She was previously denied citizenship in the village, whose residents have a say over who should be allowed in, according to Swiss law.
Urs Treier, a spokesman for the Gipf-Oberfrick administration, which reviews passport applications, told European news site the Local that it wasn't that Holten was rejected simply for her opinion, but that she has been so vocal and public about her rejection of Swiss traditions like hunting, pig races and the tolling of the town's church bells.
"The reason why they have yet again clearly rejected the naturalization is that Nancy Holten very often expresses her personal opinion in the media, and also gathers media coverage for rebelling against traditional [Swiss] things within the village," Treier said. "If someone is so much in the spotlight and rebels against things that are accepted in the local community, it can cause the community to not want such a person in their midst."
Holten, though, isn't letting her being turned down get in the way of important causes like freeing cows of bells.
"I am still committed to what is important to me," she told the Local. "[The animals'] well-being is important to me. If I stop doing it anymore, I am not being genuine and honest. So I will not stop just for the sake of the Swiss passport." (from nypost, 1.13.17)