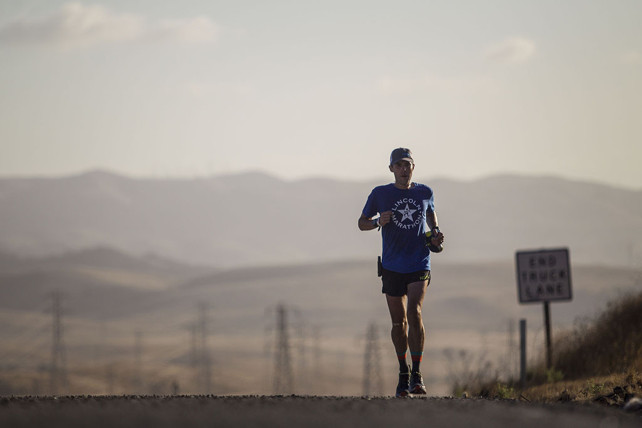 (New York Post, October 25, 2016) – New York City celebrated its very own Forrest Gump on Monday, when 29-year-old Pete Kostelnick reached City Hall, landing in the Guinness Book of World Records as the fastest man to ever run across the country.
Just like Tom Hanks' beloved character in the 1994 classic "Forrest Gump,'' Kostelnick started on one end of the US — on the steps of San Francisco's City Hall on Sept. 12, his birthday — and just kept running.
By the time he hit the New Jersey side of the George Washington Bridge on Monday, exactly 42 days and about 2,900 miles later, he had gathered a mob of 10 fans who started running with him.
As with Hanks' character, when Kostelnick stopped for a minute, such as to retrieve a dropped water bottle, the crowd stopped. When he moved, they all did.
The group gathered steam as it ran south of West 125th Street and along Central Park, growing to about 25 people.
As Kostelnick neared Midtown, several men in business suits joined his journey, running for several blocks with him.
Bystanders chanted, "Run, Pete, run!" and "Forrest Gump!"
The fleet-footed financial researcher, an Iowa native who now lives in Nebraska, said he had been to Manhattan before and felt right at home running on Sixth Avenue — because he had once chased a bus along the street on foot.
When Kostelnick reached City Hall at around 5:45 p.m. — after 42 days, 6 hours, 34 minutes and 6 seconds on the road — he had shattered the previous record of 46 days.
As he crossed the line marking the end of his odyssey, Kostelnick quipped, "Well, I'm definitely not going to run back.
By Kostelnick's own admission, he hardly began as a running prodigy.
He dipped his feet into the sport initially to lose weight but found that not only did he like to run — he was pretty good at it.
He swiftly conquered the marathon and found his true calling was super-long-distance ultrarunning.
One of the first races Kostelnick entered as an ultrarunner was the RAGRBRAI fund ride across Iowa — for bikes.
He ran 423 miles in seven days, finishing ahead of some cyclists.
He has since won the prestigious Badwater135 Ultramarathon two years in a row, setting the course record in 2016, and ran 163.68 miles in 24 hours in 2015.
Kostelnick then set his sights on running across country — and shattering the Guinness record while he was at it.
His route had spanned the altitudes of the Rockies, the windswept mid-American plains and the severe ups and downs of the Poconos before he hit the mean streets of Manhattan.
He ran at a consistent nine minutes per mile, occasionally walking up hills or slowing toward the end of the day to let his muscles cool down.
For the past six weeks, Kostelnick and his crew assumed a workmanlike approach, but with no allowed vacation or sick days.
Kostelnick would typically rise at 3 a.m., consume a breakfast of plain oatmeal and milk and a protein-powder shake. He would then hit the pavement at 3:30 a.m., run about 40 miles, and then eat a second breakfast, this time high-protein and high-fat, usually including eggs, bacon and different carbs such as mashed potatoes or lasagna.
Kostelnick would then cover another 30 miles before stopping for the night around 6:30 or 7 p.m. and inhaling dinner. It usually included a meat such as steak or meatloaf, a carb including mashed potatoes or pasta and a possible legume and protein shake.
He allowed himself only two 15-minute breaks during his long stretches — to eat.
He estimates that he consumed roughly 15,000 calories per day — including 12 cans of Dr. Pepper, Mountain Dew and A&W Root Beer. He also guzzled water and Gatorade.
Kostelnick also burned a lot of rubber, going through eight pairs of running shoes.
At night, he would get a massage from professional masseuse, chef and RV driver Cinder Wolff, then enter a fitful sleep interrupted by bouts of hunger and restless legs.
Kostelnick's veteran race crew of Dean Hart and Chuck Dale tracked his mileage and caloric intake while driving ahead of him and stopping either every mile or at every turn in order to ensure the runner stayed on course.
His data was confirmed by several GPS devices, a detailed physical mileage log kept by his crew and a Bible-thick stack of witness testimonials.
He sported two GPS watches and one satellite tracker at all times. The detailed recording was necessary to satisfy not just the Guinness Record organization but also legions of doubters.
The former record holder, Frank Giannino, who ran a similar route cross country in 46 days in 1980, said he was happy to see his achievement beaten by "an athlete at the top of his running game."
"Records are meant to be broken," he said.
In a testament to Kostelnick's running prowess and mental perseverance, several all-time endurance athletes, including "Running Man" author Charlie Engle, have attempted a record crossing and failed.
---
Quintuplets all work in the same McDonald's restaurant
(By Andreas Preuss, CNN, Oct. 15) – If you're ordering a burger and fries from a Potterville, Michigan, McDonald's — you're probably talking to one of the Curtis kids … or to be exact, one of the five Curtis kids.
That's because all of the Curtis quintuplets work in the same Lansing area fast-food restaurant, CNN affiliate WXYZ reported this week.
There are three boys — Lucas, Logan and Leith — and two girls — Lindsay and Lauren — on staff. The 18-year olds are not identical quintuplets. So no confusion on that front.
They ride to work in the same car and many times, work the same shift, according to the affiliate.
"I can call that house and if I need to cover a shift, my chances are pretty good that I am going to get one of the workers," owner Renee Draves said.
Here's how their jobs break down. Leith and Logan man the fryer. Lucas assembles the meals, Lauren takes orders and Lindsay works the front of the restaurant.
Draves calls them hard-working and reliable.
The Curtis quintuplets are all high school seniors who hope to be attending college next year.
Watch the CNN report: