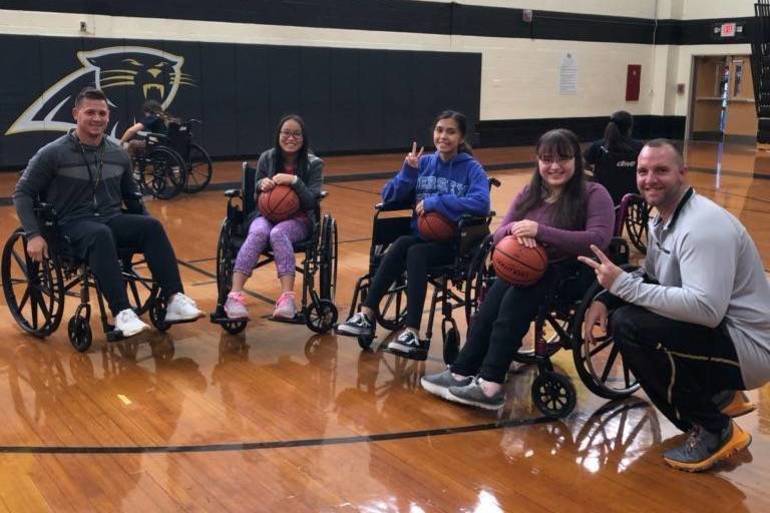 (News12, Dec. 16) CEDAR GROVE, NJ – After the soccer unit ran its course, Cedar Grove High School physical education teacher Thomas Jones and student teacher Nick Andriani wondered what they would do with the week and a half left in the first marking period. Jones, who is also an adjunct professor at William Paterson University, has a colleague at the college who teaches an adaptive gym class, which is where he got the idea to offer wheelchair basketball in an effort to raise awareness of the challenges faced by freshman student Alexa Varjian.
Jones and Andriani approached Varjian about the idea, and after getting her approval, they headed to William Paterson to pick up 10 wheelchairs, using Jones's pickup truck and a Cedar Grove Board of Education truck to transport the chairs back to the high school.
"When I was first told about the wheelchair basketball idea I was so excited and I honestly started tearing up because it made me so happy," said Varjian. "Being in a wheelchair myself, it was really exciting for me and I couldn't wait to see what it was like."
Wheelchair basketball was offered to all classes taking phys-ed in the first marking period, and students could volunteer to try it or play regular basketball in the other half of the gym.
"This was a chance to have everyone play on Alexa's turf," said Jones, who was thrilled with the response he received from the students who were up for the challenge. "We heard comments after five minutes like 'my arms are on fire' and 'my shoulders are killing me.' Students couldn't believe that Alexa does this all day long every day."
Freshman Valentina Carpinelli, who participated in wheelchair basketball, said it was "challenging getting around the gym because wheeling around in the chairs requires a lot of upper body strength and gets tiring."
For freshman Niveen Bugueiro, she thought wheelchair basketball was "an amazing opportunity for my schoolmates to adapt to a different way of playing basketball and give them a glimpse into just how different a simple game can be to someone who might not be able to play the game by traditional rules."
As a student teacher, Andriani was pleased to see the students engage and embrace wheelchair basketball. "The students learned how hard things are for people in a wheelchair and the difficulties they face on a daily basis," he said. "They learned to empathize and to show compassion for people with limitations."
Varjian said that the best part of wheelchair basketball was playing this sport with her classmates and seeing them get excited about something that was so relatable to her. "It was also very cool to watch them experience what it was like playing a sport in my shoes," she said.
Impressed with her classmates' determination and willingness to try new things, Varjian hopes that this could be the start of more inclusive programs at Cedar Grove High School. "Whether it be a club or sport, I think that there should be more programs for disabled individuals that make them feel represented and confident in the person that they are," she said.
Resources
Watch a News12 NJ report: