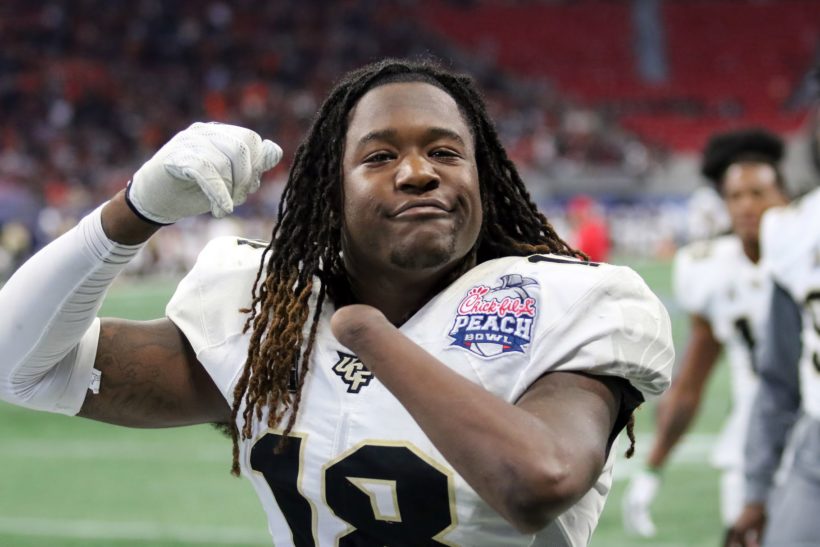 Shaquem Griffin, one-handed player selected in NFL draft 
(by Jim Axelrod, CBS News, April 30, 2018) NEW YORK — When we first met Shaquem Griffin, 22, a few weeks ago — the feel-good story of the NFL draft — he was just hoping to get picked.
"The first thing I will do if I get drafted is cry," Griffin said days before his dreams came true.
But the story of a linebacker whose birth defect left him without a left hand only got better when, not only was he drafted, but landed with the Seattle Seahawks – the same team his twin brother Shaquill plays for.
"I think I'm in the best spot now," Griffin said.
And "feel-good" became something else entirely to younger fans across the country.
Just ask Juliana Linton. She's a 12-year-old cheerleader from Cypress, Texas.
"I loved watching you play football in college and I can't wait to watch you in the NFL," Linton said.
Linton could double as president of the Shaquem Griffin Fan Club.
"Because I do competitive cheer with one hand and he does professional football with one hand … so if he can do it … I can do it," she said.
Annika Emmert is always inspired. She's a soccer player in St. Augustine, Florida. Both girls were born with the same condition — amniotic band syndrome — as Shaquem.
"I love him," Emmert said. "He's just really amazing and he's pushed so hard to be where he is now that it inspires me to never, ever stop no matter how many times I'm told to."
And both now share something else: a new favorite football player.
---
Talented teen pianist born without hands goes viral
(by Dawn Kendrick, WKYC3, NBC, May 9) – Darrius Simmons is a self-taught, 17-year-old pianist at Warren G. Harding High School in Warren.
It is nothing short of awe inspiring to be by his side, in person, to see and hear Simmons roll out his talents so effortlessly.
It comes from just 2 fingers on his right hand. One on the left.
That's all Darrius Simmons has to work with. A few fingers where his hands should be.
His hands never completely formed.
It's a birth defect that never crosses Simmons' mind when he's mastering the piano and turning out amazing music.
He all but dismisses the birth defect when I asked him about it, saying, "I really don't know that much about it, honestly."
That from a teen who since he was a kid, never asked "Why me?"
Darrius Simmons was too busy figuring out how.
How to translate the beautiful tapestry in his head into songs like his latest composition, "Dreams Never Die." No time to acquiesce to a "disability."
"I just looked at what people did and I just copied it. I found out my own way to work around it," Simmons says, matter-of-factly.
He's been working on "Dreams Never Die" since December.
He started composing his own music his freshman year when Korean pianist Yiruma invited Simmons to play with him at Carnegie Hall.
Darrius was 15-years-old at the time. He was inspired right then and there at Carnegie Hall to create the music that's already has millions in awe online.
Simmons says, it's all because Yiruma challenged him to do it.
And oh yeah, Darrius Simmons also plays the trombone.
And then there's this: At 18-months-old, he had both of his legs amputated.
His proud mom, Tamara Simmons says, not surprisingly, Darrius never missed a beat.
"He still makes me go WOW!!!," this mom says, as a big smile spreads across her face.
"I was so worried for him when he was born. But he took off crawling and when he could talk, the most you would ever hear him say is, 'I can do it! I can do it!' I knew it would be fine and he's proving it," she says.
Glaringly obvious is the fact that Warren's Darrius Simmons is on an amazing trajectory to a See The Possible future.
"I want to be an inspiration for people. That's what I want to do when I get older. To prove you can do things when you put your mind to it. That's really my main goal. To be an inspiration to people," says Simmons.
Watch a news report: