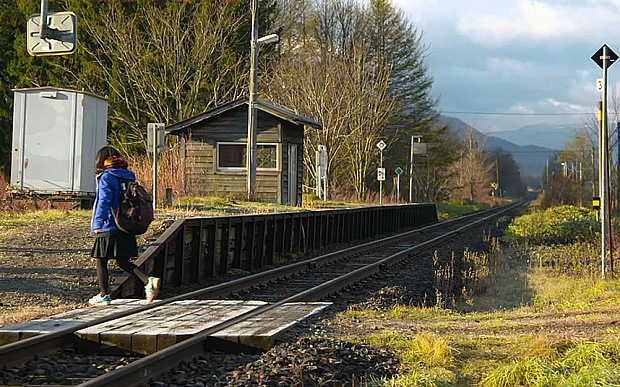 Japanese train firm goes extra mile for single passenger
For the past three years, a train has stopped at the remote Kami-Shirataki station in the far north of Japan just twice a day. At 7:04 am prompt, it takes on a single passenger – a student on her way to school – and brings her home again at 5:08 pm.
The student's journey to school may be lonely, but the operator of the line, the Hokkaido Railway Co, has been praised for its commitment to its customers after a story about the service by China's CCTV went viral.
The railway company had planned to shut the station down three years ago as it was virtually unused, until it realised that a single student was still boarding the train every school-day morning and alighting every evening.
Hokkaido Railway Co. decided to keep the station open for the girl – who has not been named in media reports – until she graduates from high school. In her final few months as a student and with the end of the school year in March, the station is now scheduled to close for good on March 26.
And while the story has led to praise for the railway firm, it does underline the population crisis that Japan faces.
Hokkaido, the most northerly of Japan's four main islands, has had services on 20 railway lines halted in recent years. The population in this rural and remote part of the country is declining more rapidly than the national average as employment opportunities shrink.
By 2060, Japan's population is forecast to have aged dramatically and contracted by as much as one-third to around 85 million people, the majority of whom will eschew life in the countryside for the cities.
---
Ban on Vespas in Italian city has scooters riders in revolt
There are few sights more Italian than a brightly-coloured Vespa buzzing down a cobbled alleyway, but it is a spectacle which is under threat in one of the country's biggest cities.
The mayor of Genoa has decreed that Vespas that were built before 1999 will be banned from the city's streets in an effort to reduce air pollution.
Italian cities have struggled with unusually high levels of smog this winter, a result of unseasonably dry, warm and windless weather.
Marco Doria wants Genoa to be off-limits to older Vespas between 7am and 7pm, Monday to Friday.
The prohibition has infuriated the city's estimated 20,000 "scooteristi", the owners of the nippy little two-wheelers, who are bombarding the city authorities with messages of protest.
To add insult to injury, Genoa is the birthplace of Enrico Piaggio, who invented the Vespa 70 years ago.
"This should not be happening in 2016, the 70th anniversary of the birth of the Vespa by a Genoese local, Enrico Piaggio," Vittorio Vernazzano of the Vespa Club of Genoa, told Corriere della Sera newspaper.
Angry Vespa drivers are mobilising on social media, rallying under the Twitter hashtag #lamiavespanonsitocca – "Don't touch my Vespa".
They have adopted the combative slogan "E nata a Genova, muore a Genova" – "It was born in Genoa and it's dying in Genoa."
An online petition has been created, called "Let's keep Vespas in Genoa", with organisers arguing that the distinctive vehicle is "a symbol of the city".
Developed as a cheap mode of transportation that would help get Italy back on its feet after the Second World War, the Vespa is an icon of Italian industrial design.
The name means "wasp" in Italian – a nod to the distinctive, buzz-saw sound made by its engine.
Sales received a huge boost in the 1950s after Gregory Peck and Audrey Hepburn scooted around Rome in the romantic comedy Roman Holiday.
Genoa has the most scooters per capita of any Italian city – around 180,000 locals whizz around on Vespas, mopeds and motorcycles, out of a population of 600,000.
The decree was issued by the council on Dec 31, when most Genoese were out celebrating New Year's Eve, and took a while to sink in.
It was due to come into force on Feb 1 but under public pressure has now been postponed to April 1.
Italo Porcile, the city council's environment officer, says he has received hundreds of emails from angry "scooteristi" but insists the ban will be adopted.
---
Bank robbed again as TV station reports live
(December 16, 2015) – An Iowa television station was doing a live update on a Minnesota bank robbery when police say the suspect returned to rob it a second time.
KIMT-TV of Mason City, Iowa, was outside Sterling State Bank in Rochester on Tuesday when a bank employee ran out and pointed out the robbery suspect.
Reporter Adam Sallet broke away from the report, saying: "I have to go. I have to call 911."
The Post-Bulletin reports that police spotted the suspect's vehicle on U.S. Highway 52. Minnesota State Patrol says the 36-year-old Rochester man was pulled over south of Minneapolis and arrested.
Police Capt. John Sherwin says the man is suspected of robbing the bank two days in a row. In both robberies, the suspect presented a note and escaped with money.
Watch the news report:
---
From London's Daily Telegraph and The New York Post.