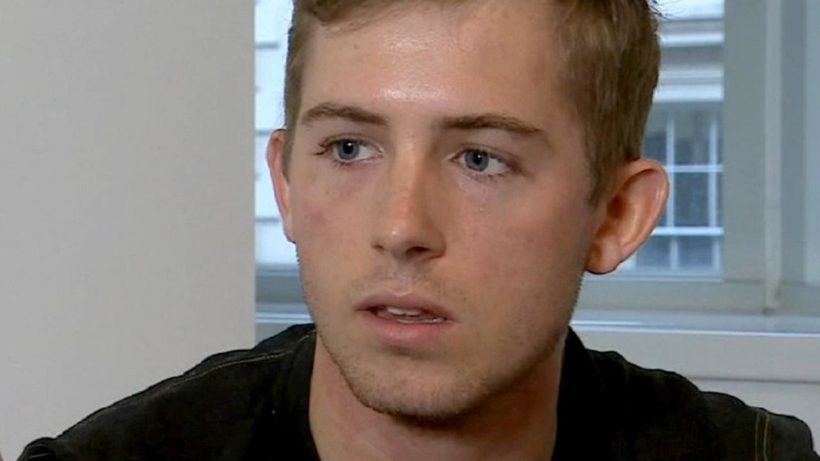 There were 50 to 60 other people in the bar, all paralyzed with fear, as bullets flew and sirens blared outside. One man hunched over the bleeding victim, desperately trying to help him.
"I yelled to my friends who I was hiding with, 'I can't believe that there's only one guy helping him!' " Kindschuh, 19, recently recounted to The Post.
Kindschuh, an ROTC cadet, had had enough. He sprinted over to help and ultimately saved the man's life.
Just moments before, armed terrorists had plowed through pedestrians on London Bridge and busted through the city's crowded food-and-drink hub Borough Market with machetes in their hands, stabbing people while screaming "This is for Allah!" London police responded with gunfire.
Eight people lost their lives in the attack on June 3.
Kindschuh emerged a hero.
Now, in a few weeks, he will be awarded the ROTC Medal of Heroism for the courage he exhibited.
Growing up in Bay Ridge, Brooklyn Kindschuh said he always felt a "call to serve."
"My grandfather on my dad's side was on a destroyer escort ship in the Pacific during the Second World War, and whenever I used to spend time with him . . . he would tell me his stories about his service in the military in the Pacific theater," Kindschuh said.

"It inspired me to serve one day."
He worked as a lifeguard in Breezy Point, Queens, during his summers growing up and volunteered at a long-term-care facility while a senior at Regis High School.
When he started at Boston College as a freshman, he joined the ROTC as an "un-contracted cadet," which meant no scholarship, no benefits and a whole lot of work. But it's exactly what he wanted.
"I want to give back to my country," he said.
He decided to take a month-long study-abroad summer course in London between his sophomore and junior year.

The attack took place on a Saturday night, so Kindschuh didn't have classes that day. He and a group of friends went to the observation deck at The Shard, the famed London skyscraper, to get some photos and check out the view. They headed off for food afterward.

The group had had only a few drinks and some appetizers when chaos erupted.

"We were just sitting there conversing casually, just hanging out . . . waiting for our food . . . and then basically out of nowhere, there was some serious loud bangs, which I immediately identified as gunfire," Kindschuh recalled.

"Someone near the front of the room shouted, 'Get down!' and everyone started getting below the tables."

A crowd of people rushed inside the bar for safety, one of whom was seriously injured with a head wound.

"I saw it was a dire situation and there was only one person taking the initiative to help so I ran over,'' Kindschuh said. "I put my hands around his head trying to locate the wound and put pressure on it."

Kindschuh tried to talk to the man to help him maintain consciousness.

"I was asking him very basic questions like what football club he rooted for and stuff," Kindschuh explained.

He remembered the first-aid lessons he was taught as a lifeguard and an ROTC cadet and [tried to stop the bleeding].

People were shouting at him to get down and stop moving, but he says the only thing ringing in his ears were the values instilled in him as an ROTC cadet — "selfless service to others" and "personal courage."

He rationalized he had one of two options. He could either sit there and hold the man's head and wait for help, which might not arrive in time, or he could go outside of the bar and look for help. Either way, the clock was ticking.

"I went out there and tried to tell someone . . . I look to my left and [cops] all had their rifles pointed towards the other end of the block . . . For a split second, I was the only other person in the street besides the police and the attackers."

The police yelled at him to get back inside and within a few moments it was all over. The three attackers were shot and killed right outside The Wheatsheaf, several feet from where Kindschuh had been standing only moments before.

…When Sen. Charles Schumer (D-NY) and Rep. Dan Donovan (R-SI) [heard the story, they] sent a letter to the US Army telling officials Kindschuh should be awarded the ROTC Medal for Heroism — the highest Department of Army medal awarded to ROTC cadets — and they agreed. Kindschuh will be honored at a ceremony in the coming weeks.

[When he got home that night]…he decided he could either be depressed about the situation or use it as motivation.

"I walked away from it with a further commitment to excel in ROTC and eventually serve our country in the Army and do whatever I can to combat terror and make sure these things don't happen, that innocent people don't have to die for no reason," the young man said.

He's excited to win the award, but when asked how it feels to be a hero, Kindschuh replied, "That's not what I view myself as.

"I'm not a hero, just a person who tries to do the right thing in every situation."

[His father, Dr. Mark Kindschuh is the director of Coney Island Hospital's Emergency Department. Speaking exclusively with Eyewitness News, he said his wife had a bad feeling when they couldn't get a hold of him in the hours following the terrorist attacks.

"He stayed with him and didn't think of anything of himself," Dr. Kindschuh said.

Dr. Kindschuh said what's remarkable to him was the selflessness his son displayed while panic and chaos was raining down.

"I've never been prouder in my entire life," he added.]
---
Watch an interview with Mark Kindschuh: