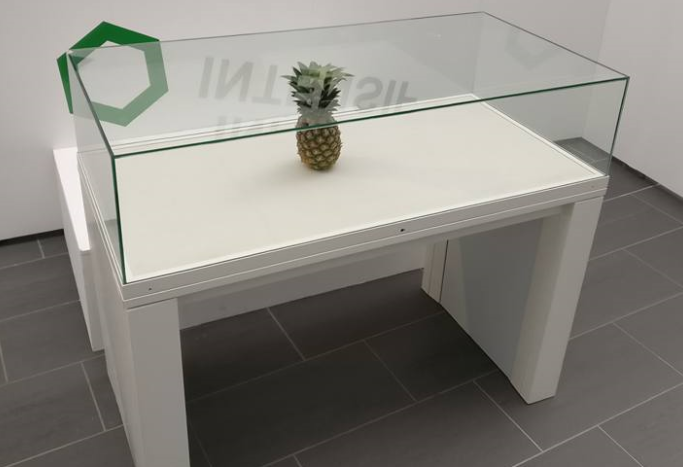 (by Roisin O'Connor, May 8, 2017, The UK Independent) – Students claim they managed to pass off a pineapple they bought for £1 at a supermarket as a work of art, after leaving it in the middle of an exhibition at their university.  Ruairi Gray, a student at Robert Gordon University in Scotland, and his friend Lloyd Jack, reportedly left the fruit at the Look Again exhibition at RGU's Sir Ian Wood building, hoping that it might be mistaken for art.
When they returned four days later he found that the pineapple had been put inside its own glass display case at the event.
Gray, 22, told the MailOnline: "I saw an empty art display stand and decided to see how long it would stay there for or if people would believe it was art.
"I came in later and it had been put in a glass case – it's the funniest thing that has happened all year. My honours supervisor saw it and asked an art lecturer if it was real because he could not believe it."
Natalie Kerr, a cultural assistant for the festival who organised the display, said she wasn't the one who included the fruit as an artwork because she is allergic to pineapple.
"We were moving the exhibition, and came back after 10 minutes and it was in this glass case," she told the Press & Journal.
"It's a bit of a mystery – the glass is pretty heavy and would need two or three people to move it, we have no idea who did it. But it's still there now, we decided to keep it because it's keeping with the playful spirit of this commission."
The incident recalls a similar prank last year when a 17-year-old placed a pair of glasses on the floor at the San Francisco Museum of Modern Art.
Apparently unimpressed with some of the work on display and wanting to test the theory that people will try to interpret any object provided it is in a gallery setting, TJ Khayatan placed the glasses on the floor and walked away.
Soon after, visitors to the gallery surrounded them and began taking pictures.
Khayatan, who had previous success with a baseball cap and a bin, was keen to defend modern art despite the joke.
"I can agree that modern art can be a joke sometimes, but art is a way to express our creativity," he said at the time.
---
U.S. Dairy Cows Get Water Beds, Country Tunes and Backscratchers
(by Benjamin Parkin, The Wall Street Journal) – Scott Beyer and his farmhands spend mornings scraping manure off the milking-parlor floor. In the nearby climate-controlled barn, cows are sleeping on water beds and munching on nutritionist-crafted meals while high-tech tags on their legs help monitor their health.
"We try to make them live the high life," said Mr. Beyer, manager of Kelsay Farms outside Greenwood among the corn and soybean fields of central Indiana.
Many of America's dairy farmers have decided that a happy cow is a cash cow—that treating their cattle like dairy queens yields more milk. They are playing soothing classical music in milking rooms, firing up fans and sprinklers to mimic spring breezes and treating their cows to robotic back-scratching sessions.
American dairy cows are among the world's most productive. They produced 10.3 metric tons of milk per animal, on average, in 2016, according to the U.S. Department of Agriculture. That is enough for about 150 people for a year, and an almost 40% larger yield than two decades ago.
While operational efficiency and selective breeding play a big part, farmers and some researchers believe cow-coddling also is critical.
"Cow comfort is one of the main driving forces of our existence," said Mike McCloskey, chief executive of Select Milk Producers Inc., a cooperative that includes around 100 farms. "We have to keep them fine-tuned. They can't get stressed."
Homestead Dairy in Plymouth, Ind., is installing automated backscratchers and memory-foam mattresses in its new high-tech barn. The cows "are free to do whatever they want, when they want to do it," says partner Brian Houin. The farmers say there is nearly always a line at the backscratcher.
At Valsigna Farms in Hilmar, Calif., managing partner Aaron Wickstrom sends Juno, a R2-D2-like robotic assistant, on laps around the barn delivering food to ensure his cows have something to eat at all times. Next on his wish list: the backscratchers. "A lot of it is just common sense," he says. …
At Tony Bos's farm in Fair Oaks, Ind., the cows go for milking when they feel like it, thanks to a squad of robotic milkers. When a cow is good and ready, she enters a pen in which self-guiding mechanical arms set to work cleaning, massaging and milking her udders using lasers and brushes. The robot distracts the cow by dolloping out fresh feed. The process is over in a few minutes.
Each cow is milked about three times a day. If one tries to sneak in an extra session, the robot catches on and turns her away. A mechanical contraption scrapes away manure.
The robotic milkers allow the 700 or so cows more time for eating and taking siestas on their water beds. Farmers want their cows lying down a minimum of 12 hours a day, saying that maximizes milk output. The water beds protect their legs far better than hard floors.
…Most dairy cows still end up in slaughterhouses and become ground beef once their milk-production cycles are over, usually after three to seven years.
These days, most of them don't have access to pasture, and many spend the majority of their lives indoors. A growing body of research shows that improved living conditions can reduce health problems and, by extension, improve productivity. Proper air circulation and drainage reduce sickness. Open-plan barns permit more movement and socializing among animals, reducing stress.
…Conventional dairies say they would go out of business if their cow indulgence went that far. Just how far to go, however, is subject to debate.
Maurice Loehmer of Loehmer Dairy in Monterey, Ind., says he is all for making cows more comfortable, but he isn't going to be buying water beds anytime soon. When it comes to cows, he says, there is nothing more comfortable than sand. Many veterinarians agree.
Steve Maddox of Maddox Dairy near Fresno, Calif., ended up imposing silence in his milking parlor after employees fought over what music to play for the cows. Mr. Maddox prefers country, while his employees bickered over rock and Latin music.
The only thing they agreed on—no politics, which he says agitated man and beast alike. "Doesn't matter if you're listening to MSNBC, Fox News or Glenn Beck," he says. "They just don't need it."
The Happy Cow back scratcher:
---
Coach's viral response when asked why star missed game for child's birth
(By NY Post, Sports Desk, May 21, 2017) – Sarunas Jasikevicius was stunned but firm, speaking in a stern, serious voice that might have known that he was speaking to more than a "youngster" reporter.
The coach of Zalgiris, a Lithuanian basketball team, defended his center, Augusto Lima, after Lima missed a playoff game for the birth of his daughter. Zalgiris won the semifinal game Friday, but an inquisitive reporter, who is not a father, wanted to know how Jasikevicius felt about Lima being absent from the team.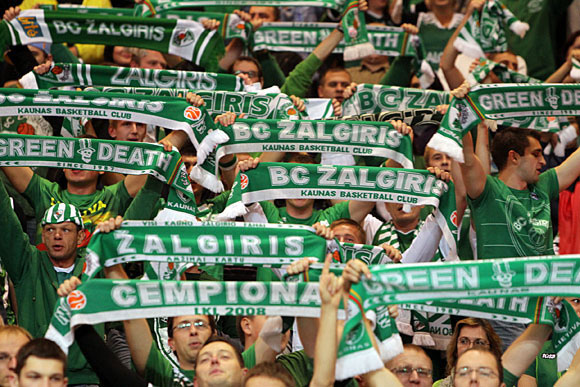 Here's the exchange, which quickly has made its way around the internet:
Reporter: Coach, what do you think about Augusto Lima going away in the midst of a series to attend the birth of his child?
Jasikevicius: What do I think about it? I allowed him to go.
Reporter: But is it normal for a player to leave the team during the semifinals?
Jasikevicius: Do you have kids? When you have kids, youngster, you'll understand. Because that's the height of a human experience. Wow, that's a good question, really. Do you think basketball is the most important thing in life?
Reporter: No, but a semifinal is important.
Jasikevicius: To whom is it important?
Reporter: The team.
Jasikevicius: Which one?
Reporter: Zalgiris.
Jasikevicius: Did you see the number of fans at the game? Important? When you see your first child, you will understand what the most important thing in life is. Because nothing can be more majestic in the world than the birth of a child. Not titles, not anything else. Augusto Lima is now in heaven emotionally. I'm really happy for him.
As for Lima, he posted on Instagram on Sunday welcoming his daughter, Alba, to the world.
"It is undoubtedly the best gift of my life," Lima wrote in Spanish.
Watch the video: