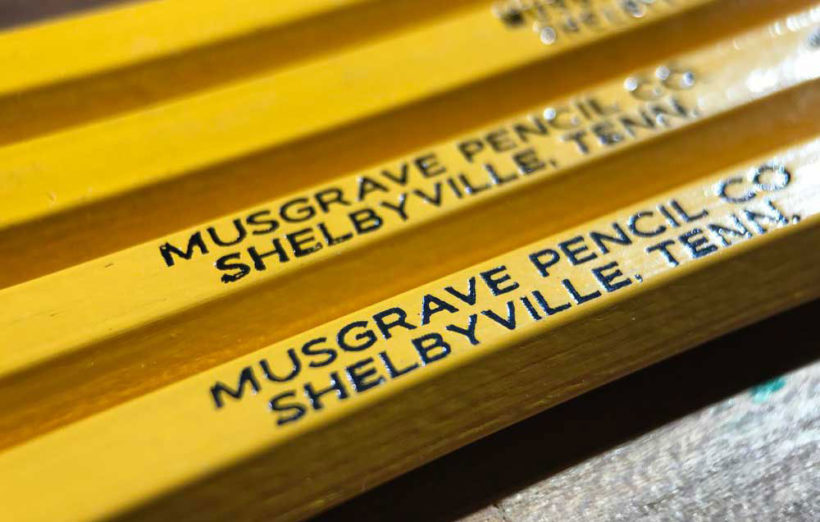 (by By Sandy Scragg, TapInto, March 4, 2020) SHELBYVILLE, TN — TAPintoTV visited one of the last remaining pencil factories in America: Musgrave Pencil Co. in Shelbyville, Tenn. Despite changes in American manufacturing and the rise of technology, Musgrave remains a healthy business. We spoke with Henry Hulan of Musgrave about how pencils are made, the long history of pencil-making in Central Tennessee, and the enduring popularity of the humble pencil in the digital age.
Henry Hulan is the grandson of the founder of Musgrave Pencil Co., James Musgrave, commonly referred to as "Col. Musgrave." He founded the company in 1916 and developed an innovative way to manufacture pencils: the pencil slat.
"My grandfather was either a visionary or an entrepreneur," said Hulan. Grooves are cut into thin pieces of wood called slats, graphite cores are laid into the grooves, and lastly, another grooved slat is glued on top. All three layers are pressed together, then shaved and separated into individual pencils.
Sign Up for Belmar/Lake Como Newsletter
Our newsletter delivers the local news that you can trust.
Interestingly, Musgrave did not use wood from trees at first. "A lot of people don't know it, but we were probably one of the first people that did any kind of recycling that there was," Hulan said. Col. Musgrave bought cedar rail fences from farmers who were transitioning to fences made of modern materials. "We did not cut a tree," Hulan added. Those fences were made of Tennessee red cedar, abundant in the area, and were the perfect material for pencils.
As other pencil companies in Central Tennessee closed and business moved to other states or overseas, Musgrave has been able to remain open, employing local workers and putting out a quality, American-made product. Through a combination of strategic management decisions, long-term employees and loyal customers, they've been thriving. Musgrave also produces an enormous variety of pencils and reaches every type of writing customer— students, architects, carpenters, artists and more. "I think by being a jack-of-all-trades, we've been able to stay in this town and have people come to us for their pencil wants," Hulan said.
Recently, there's been a growing demand for pencils and other analog items in this time of all things digital. The pencil trend, exemplified by people such as Caroline Weaver of CW Pencil Enterprise in New York and The Erasable Podcast, have also helped buoy the pencil market.
"Pencils are special," Hulan said. "People like them because they are wood — it's not plastic, it's wood," he said. "The feel and the look of a pencil is just one of those things that will never be replaced."
To learn more about Musgrave Pencil Co., including its products and company history, visit www.musgravepencil.com.
Resources
Watch a March 4, 2020 TapInto news report:
---
Watch a November 25, 2018 BBC news report: