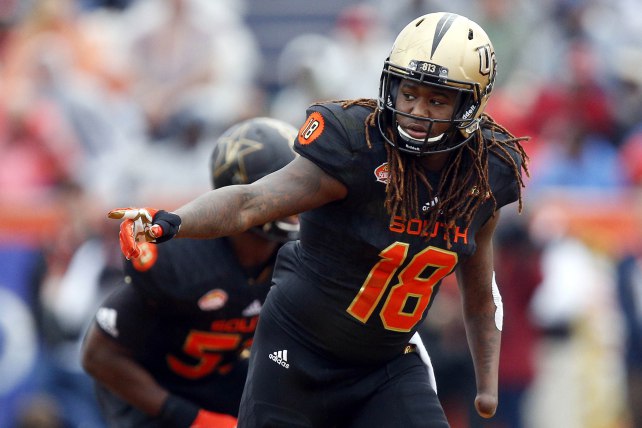 The Central Florida linebacker is looking to become the first one-handed player to be drafted into the league in the modern era. He won't know for almost two months whether he will accomplish that goal, but he definitely made teams sit up and take notice with his combine performance.
Wearing a prosthetic attached to his left arm, Griffin did 20 reps on the bench press at 225 pounds, all to the loudest cheers of the day from a raucous crowd excited to witness the feat.
"My goal was six," Griffin said at his press conference afterward. "I think I beat that by a lot. … Just being able to do that, it was amazing. Hearing the crowd and having the juices flowing, I mean, I felt it."
Griffin's left hand was amputated when he was 4 years old as a result of a congenital condition. Despite the handicap, he was a two-year starter at Central Florida, earning two selections to the All-American Athletic Conference first team. He also was named AAC Defensive Player of the Year in 2016, when he amassed 92 tackles, 11.5 sacks, two forced fumbles and an interception.
The 6-foot, 227-pound defenseman, whose twin brother is a cornerback for the Seahawks, said he plans to do DB drills and linebacker drills at the combine, but when speaking to the press, Griffin offered his services at any position an NFL team needs him.
"I don't have to be the guy who just [rushes] the quarterback," Griffin said. "If you need somebody who can cover – and not just tight ends, I can cover slots, too – you watch some film. I got a few interceptions against some slot. I want to be able to show NFL teams: Whatever you need help at, I can play it."
And that applies to more than just defense.
"You want me to play kicker or punter, all I gotta do is get a good stretch in and warm my foot up," the reigning Peach Bowl defensive MVP said. "I think I can kick the ball, too."
It seems unlikely any team will take him as a kicker, but as an addition to an NFL defense, Griffin's 20 reps on the bench press may be enough of a calling card to earn a shot.
"It felt good to do that many reps," Griffin said. "I didn't know I had it in me, but it came out today."
---
Roger Bannister, first to run mile under 4 minutes, dies at 88
(by Allen Cone, UPI .com, March 4) — Roger Bannister, the first person to run a mile in under four minutes — a test of speed and endurance that was one of the defining sports achievements of the 20th century — died Saturday in Britain, his family confirmed. He was 88.
Bannister, who had Parkinson's disease since 2011, died in Oxford, where the runner achieved the feat in 1954.
He was "surrounded by his family who were as loved by him, as he was loved by them," the family said in a statement. "He banked his treasure in the hearts of his friends."
While studying medicine at Oxford, he took up athletics.
At the 1952 Summer Olympics, he finished fourth in the 1500-meter mile, setting a British record.
Two years later, on a windy afternoon in Oxford, Bannister clocked the mile in 3 minutes, 59.4 seconds over four laps at the Iffley Road track on May 6, 1954 — the equivalent of 15 mph. His Oxford team competed against Amateur Athletic Association,
"It became a symbol of attempting a challenge in the physical world of something hitherto thought impossible," Bannister said as he approached the 50th anniversary of the feat in 2004. "I'd like to see it as a metaphor not only for sport, but for life and seeking challenges."
Previously for nine years, Swedish runner Gundar Haegg had the mile record of 4:01.4.
But Bannister and Australian rival John Landy as well as others were threatening to break it.
Shortly before 6 p.m. in Oxford, the wind died down.
Chris Brasher set the pace a first lap in 57.5 seconds, then 60.7 in the second lap for 1:58.2 for the half mile. Chris Chataway, a distance specialist, ran a third lap of 62.3 — 3:00.4. To set the record, Bannister would need to run the final lap in 59 seconds.
With 250 yards to go, Bannister surged past Chataway as his lungs gasped for oxygen.
"The world seemed to stand still, or did not exist," he wrote in his book, The First Four Minutes.
"The only reality was the next 200 yards of track under my feet. The tape meant finality — extinction perhaps. I felt at that moment that it was my chance to do one thing supremely well. I drove on, impelled by a combination of fear and pride."
Bannister didn't fully appreciate the significance of his achievement until reading the newspapers the next day.
"It had become rather like Everest, a challenge for the human spirit," Bannister reflected on the significance of his own achievement.
His record lasted just 46 days as Landy ran 3:57.9 in Turku, Finland, on June 21, 1954.
Bannister and Landy then competed at the Empire Games, now called the Commonwealth Games, in Vancouver, British Columbia on Aug. 9, 1954.
Bannister won the race in 3:58.8 and Landy was second in 3:59 in a race that became known as "Mile of the Century" and the "Miracle Mile,"
Later in 1954, Bannister won the 1,500 meters at the European Championships in Bern, Switzerland, in a games record of 3:43.8.
Bannister was chosen as Sports Illustrated's first Sportsman of the Year in 1954.
He retired from competitive running and he then had a full-time career in neurology.
Bannister was chairman of the Sports Council between 1971 and 1974, during which he developed the first test for anabolic steroids.
"None of my athletics was the greatest achievement," he said. "My medical work has been my achievement and my family with 14 grandchildren. Those are real achievements."
In 1955, he married Moyra Jacobsson, an artist. They had two sons and two daughters and lived only minutes away from the track where he set the record.
Bannister was knighted in 1975,
Moroccan Hicham El Guerrouj is the current mile record holder with a time of 3:43.13 in Rome on July 7, 1999. No woman has ever run the mile in less than four minutes.
The 1,500-meter race is usually run instead of the mile in international competition. Since 1976, the mile has been the only non-metric distance recognized by the International Association of Athletics Federations for record purposes.
---