By The Editors of WorldMag.com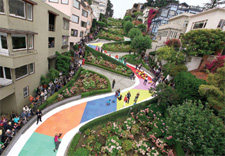 Candy Cane Forest
Who would have thought that a street with eight hairpin turns and a 27 degree decline would ever be celebrated? Known by locals in San Francisco as "the crookedest street in the world," one famous stretch of Lombard Street in the city's Russian Hill neighborhood was shut down on Aug. 19 for a special event: its 60th anniversary. Local groups and officials with the University of California-San Francisco Children's Hospital converted one block of Lombard into a life-sized version of the popular children's board game Candy Land. The block was covered in colored tiles and costumed adults paraded as King Kandy, Princess Lolly, and Princess Frostine. Kids from the hospital and the neighborhood got to play the game. The reward for finishing the course? Candy, of course.
All tied up
By the time Whitman County sheriff's deputies arrived on the scene, there wasn't much left to do. Dispatched to a LaCrosse, Wash., home, they found 25-year-old Sean Lee all tied up outside and ready for arrest. Police say Lee took advantage of 69-year-old Larry Garrett, who had invited Lee inside to prepare him a meal after hearing the young man's sob story about needing gas money. And though Garrett was prepared to give him some cash, Lee stole Garrett's wallet and tried to escape out the front door. That's where he ran into Garrett's brother, who slowed him down long enough for the 69-year-old and other friends inside the house to tackle and tie up Lee. "I find it a bit refreshing when our criminals are already under arrest and cuffed up for us when we arrive," Deputy Keith Cooper told the Spokesman-Review.
A yawn too far
Next time, Clifton Williams might want to cover his mouth. Williams, a 33-year-old Illinois man, was tagged with a six-month jail term for contempt of court spawned by a yawn. Circuit Judge Daniel Rozak issued the contempt charge as he was handing down a two-year prison sentence on Williams' cousin on a felony drug charge on July 23. Williams stretched out and yawned loudly, interrupting the judge, who took it as a sarcastic gesture designed to disrupt the proceedings.
Plane scarey
Some southbound drivers on U.S. Highway 101 near Santa Barbara, Calif., got a good scare on Aug. 23, and now they have a good story to tell. As traffic sped along on the freeway at about 10:30 a.m., a 1965 Piper PA-24 Comanche airplane flying overhead ran out of fuel, forcing the pilot to make an emergency landing-into oncoming traffic. Nobody was seriously injured as the plane collided with three vehicles.