By The Editors of WorldMag.com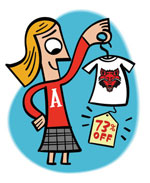 Agony of victory
Arkansas State's 83-10 rout of Texas Southern in the Red Wolves' home opener on Sept. 6 created a lot of excitement around the Jonesboro, Ark., campus. Except for Hoppy Hoffman, owner of a local apparel store who promised to discount prices of Arkansas State swag by 1 percent for every point the Red Wolves won by during home games this year. With the promise of 73-percent-off merchandise, Hoffman said a huge crowd waited for him to open his doors the Monday morning after the game. "It got crazy. We opened at 9:30. The people who probably got in line by 10 checked out about 1:30," he said. "When the door opened at 9:30, I know at least 200 people filed in. It was hilarious. . . . It looked like they were waiting to buy rock concert tickets." He said he'd like to encourage Arkansas State to continue winning home football games-but perhaps only by a point or two.
Model workers
When Angelinos sees scores of goats munching away at overgrowth in the middle of a high-rise district in the nation's second-largest city, they assume one thing: a film production. But the goats eating away in one downtown Los Angeles lot weren't for show. Like other cities, officials in Los Angeles hired the goats to clear growth on the 2.5-acre hillside lot rather than paying temperamental human work crews. "[They] won't collect a pension or charge for working overtime and won't call in sick," said herd owner George Gonzales, who charged $3,000 to rent out about 100 goats.
Scratch that
According to the USAction Education Fund, it has a proud history of increasing voter registration in underrepresented communities. This year, that means cats too. In a recent voter registration drive, the left-leaning advocacy group sent a registration packet to the home of 54-year-old Jeff Jewitt of Ohio. But the voter registration information wasn't directed to Jeff Jewitt, but instead to his cat Dipped Jewitt, a six-year-old black cat with white paws. Despite Dipped's ability to smell out a rat-presumably in politics too-the cat's owner says he has no plans for submitting the registration card.
Tight security
After spending decades locked away in a secret filing cabinet with two combination locks inside a triple-locked vault, the Colonel's secret recipe was on the move. Executives with the KFC fast food chain needed to temporarily move Harland Sanders' 68-year-old original recipe for fried chicken from its Louisville, Ky., home on Sept. 9 as experts upgraded security at corporate headquarters. Company officials placed the yellowing piece of paper that bears Sanders' handwritten 1940 recipe in a lock box before handcuffing it to a safe keeper who climbed into an armored car that took him and the trade secret to an undisclosed location. Moves to upgrade security were prompted by executives who recently retrieved the recipe for consultation prior to releasing a new line of chicken strips.