By The Editors of WorldMag.com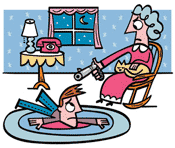 Surprised by Smith
She might not be the fastest draw in Pennsylvania, but 85-year-old Leda Smith proved she isn't a great-grandmother to be trifled with. A 17-year-old burglar broke into Smith's Lake Lynn home on Aug. 18. But the boy awoke Smith, who then grabbed for the .22-caliber revolver near her bedside. Only when the intruder heard the sound of the pistol cocking did he realize Smith had a bead on him. "I had the gun on him before he turned around and said, 'you've had it,'" Smith told a local TV station. According to a police report, Smith then told the young man to dial 911 from her white slimline living room phone and report himself. "Don't attempt to throw the phone at me, or do anything bad or I'll just shoot you," Smith told him. State troopers arrived to find the boy spread-eagle on her living room floor with the 85-year-old perched over him with the gun.
Bread alone
James Sham isn't raising money to combat AIDS or cancer. And though he's a resident at the Skowhegan School of Painting and Sculpture near Toronto, he's not collecting funds for the arts. Sham's project is a bit tastier. He's gathering cash for a muffin-in perpetuity. In all, Sham collected $9,000, enough for him to set up a foundation that will provide enough residual cash for one 70-cent muffin every day for a customer at Empire Grill, a local eatery. Sham's mission statement: "Provide a muffin a day in perpetuity-as in forever." According to Sham, the Empire Grill wait staff gets to award one muffin to any customer and the foundation will pick up the bill off of income from the $9,000 investment.
Encore?
This wasn't the sort of pass out Texas country music singer Pat Green had anticipated. Yelling into a crowd gathered for a show at Michigan International Speedway, Green shouted into the audience, "Anyone got a beer?" Indeed, someone tossed one can of beer onto the stage. But another can quickly followed and hit Green squarely between the eyes. It knocked out Green.
Day tripper
By now, Silbestre Penaloza Menera should be a free man. Instead, he's a wanted man. With one day left in his five-day sentence for a mis­demeanor driving under the influence charge, the 32-year-old man escaped from the Stanislaus County Men's Honor Farm in Modesto, Calif., by running through a gate and disappearing into a cornfield on Aug. 7. Two weeks later, authorities still had not apprehended Menera, who had just over 24 hours until his release from the work camp. If found, Menera could face up to one year in state prison.