By The Editors of WorldMag.com
All shook up
Seeking some sort — any sort — of notoriety, a pair of San Francisco men possibly shook their way into Guinness World Records after completing a marathon handshake 30 minutes longer than the previous record. Kevin Whittaker and Cory Jens shook hands for nine and a half hours May 26 after flipping through the record book searching for something they could best. Guinness only requires the two partners to clasp hands and move them up and down to fulfill the requirements of a handshake. "I looked up what some of the weakest records were," Whittaker said. "I'm not going to break the 100-meter dash record, but I thought I could break this record."
Got milk?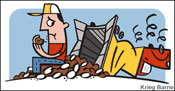 A tractor-trailer traveling out of Chicago crashed and spilled much of its 14-ton payload of Oreo double-stuffed cookies onto Interstate 80 in the early morning hours of May 19. The crumbly collision happened after the truck's driver fell asleep at the wheel and struck the median. According to the police report, boxes containing the Oreos broke open, spilling individual packages onto the roadway. Police were forced to clear the roadway of the cookies before opening the Interstate back up to travel. No word on whether authorities sampled the wreckage.
Eighty and counting
Love and marriage go together like a horse and carriage: Which may or may not have been what Frank and Anita Milford drove away from their wedding ceremony on May 26, 1928, in Torpoint, a village in Southwest England. In May the couple celebrated their 80th wedding anniversary in the Plymouth nursing home where they both live. Mrs. Milford says the pair met in 1926 at YMCA dances while attempting to foxtrot. "He used to step on my feet," Mrs. Milford, now 99, said. Mr. Milford, now 100, made up for it, though: She still wears the engagement ring costing six pounds [approx. $12] that he bought her.
Been here, done this
Don't tell Paul Baldwin what to do. The 48-year-old Portsmouth, Va., transient claims he's the elder statesman of the courtroom. And, according to Baldwin, he doesn't need a lawyer. "I don't need a lawyer," Baldwin snapped at Judge Sawako Gardner. "I've been in this court more than you have." Probably not true, but perhaps not far from it. According to police records, authorities have arrested Baldwin 152 times and served him over 70 citations. Most recently, police arrested Baldwin on May 19 for stealing a $1.99 can of beer from a Mobil station. He's being held on $10,000 bail.
Early birds
The next great hope in the efforts to stop the spread of West Nile virus? Chickens. Acting as canaries in coalmines, hundreds of chickens will be stationed around Utah by health department officials who will be watching the stationary birds closely for signs of West Nile virus. Carried and transmitted to humans by mosquitoes, the sometimes-fatal virus popped up numerous times in the Mountain West in 2006 and 2007. Utah isn't the first state to employ so-called Sentinel Chickens. Flocks of the watchbirds have been used recently in California, Florida, New York, and several other states.
The $600 man
Oh, the indignity. For John Odom's sake, let's hope the baseball open market does not reveal the measure of a man. Unable to get Odom, a minor league pitcher, across the border into Canada, the Calgary Vipers of the independent Golden Baseball League attempted to unload the 26-year-old pitcher for whatever they could get in return. A few weeks later, Calgary finally found a trading partner in the Laredo Broncos. What did the Vipers want in return? "They just wanted some bats, good bats-maple bats," Broncos General Manager Jose Melendez said after the deal to acquire Odom for 10 maple bats was finalized. The bats traded for Odom have a cash value of just over $600.
Joke's over
A German couple says it was just a joke, but authorities see it differently. Hours after a young German couple listed their 7-month-old baby boy on eBay, authorities had the auction shut down and the child in protective custody. The price on the child's head started at one euro ($1.58). Police in the Bavarian Hamlet of Krumbach took the child and opened an investigation into possible human trafficking. The ad read, "Offering my nearly new baby for sale, as it has gotten too loud. It is a male baby, nearly 28 inches long and can be used either in a baby carrier or a stroller."
Wave of the past
A Tennessee farmer's new engine for harvesting his hay fields certainly costs less to keep fueled. That's because T.R. Raymond of McMinnville, Tenn., just ditched his gas-guzzling tractor for a pair of mules. "This fuel's so high, you can't afford it," he said. "We can feed these mules cheaper than we can buy fuel. That's the truth." All Raymond did was have his harvesting rake modified for the pair of animals. They move slower, but they get the job done, Raymond says. "It's the way of the future," his brother notes.
Small problem
Curators at a popular open-air museum in Helsinki, Finland, have asked patrons to stop feeding the squirrels. The rodents, they say, are now eating away at the display houses, barns, and cottages that make up the outdoor museum of traditional Finnish culture. "Squirrels run into the buildings through open doors, they nibble on the museum textiles and make holes in the walls," museum conservator Risto Holopainen told the AFP news service. Holopainen said the squirrels come for food handed out by people visiting the 87-building museum, but stay for gnawing on roofing tiles and other parts of the structures.
Bad hair day
Barber Clyde Scott probably should have just taken his day off on Monday, May 19, as planned instead of opening up Clippa's Barber Shop in Houma, La., to cut the hair of a few soon-to-be graduates. The law says he shouldn't have. A police officer ticketed Scott on an obscure ordinance prohibiting barbers from cutting hair on Sundays or Mondays.