By The Editors of WorldMag.com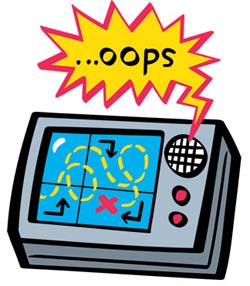 Led astray
New evidence suggests that when common sense and GPS are at odds, go with your gut. A group of three South Korean tourists traveling in a remote state forest in Queensland, Australia, dutifully followed their satellite navigation program's directions until the suggested route led them to get their rented Ford sedan stuck in the middle of a field. According to police, the tourists followed gravel roads, dirt roads, and even opened up a few closed gates in Cordalba State Forest in order to comply with their GPS instructions-all the while ignoring several warning signs the non-English-speaking tourists could not understand. Finally stuck in a gully, the three men abandoned the car and dialed emergency services. After first locating a translator to conquer the language barrier, authorities were able to locate and rescue the confused travelers.
Long-time fighter
He fought the Nazis, and was even held as a prisoner of war in Germany for five years. He served as a sheriff for three decades where he earned the nickname "Hang 'em Hook." Now, according to police in Edinburgh, Scotland, one unwise perpetrator knows not to mess with feisty 91-year-old William Hook. Police there say Michael MacKinnon broke into the nonagenarian's house and tried to steal his war medals and other valuables. Police say MacKinnon even tried to put a bag over Hook's head and tie him up. Hook said that's all the provocation he needed. "He didn't scare me in the slightest-in fact I like a bit of fisticuffs," said Hook, who fought back against his much younger assailant. "He gave me a black eye-so I gave him one back. He probably thought he had got lucky when he saw me. But there's life in me yet." Hook successfully chased the burglar away, and police quickly arrested the perp.
A lot of cow
In an attempt to set a world record and raise money for a good cause, Canadian barbecue chef Ted Reader created a hamburger the size of 2,360 quarter-pounders. Reader needed six hours to grill the 590-pound burger, a special grill with a forklift mechanism to flip it, and a 105-pound bun to house it. An auction of the enormous burger raised $8,500 for a charity that benefits children with burn injuries. "I'm amazed that we got it out of the grill and onto the bun," Reader told the Canadian Press. "That was the whole trickiness to it, but it's held together, it's edible, it's delicious."
Food fight
The Nanny State's newest message to a British parent: You'd better include some lettuce or tomatoes on that cheese sandwich. Workers at a government-run daycare center west of Manchester pried a cheese sandwich out of the hands of a 2-year-old because the meal his mother packed for him failed to meet the daycare center's standards for healthy eating. The 2-year-old's mother, Dorothy Gallear, said workers at the Westfield Children's Centre confiscated the cheese sandwich and instead gave her son, Jack, some fruit and vegetables. The center also dished out a lecture to the parents, telling them to include a piece of lettuce or tomato on the sandwich next time in order to pass muster. Gallear reported she had enrolled Jack at a different daycare center.
Easy come, easy go
It usually takes a few days for gamblers to burn through their winnings. For Kenneth Lamoree of Onondaga County, N.Y., it took less than two hours. On May 4, Lamoree brought home $3,200 that he had won at an upstate casino. A little over an hour later his house caught fire. Lamoree, his fiancé, and three children escaped the early-morning blaze, but his wallet and casino winnings went up in smoke.
Monster eater
A hungry Kansan left a Missouri restaurant in April with both his belly and pockets full. Two years after first offering a prize for anyone who could finish an 18-inch by 18-inch pizza, the Pizza Haus of Jefferson City, Mo., finally found a taker. Overland Park, Kan., resident Randy Santel entered the restaurant and consumed a 324-square-inch hamburger, pepperoni, and Canadian bacon pizza. For being the first to consume the challenging pie, Santel also walked away with a $450 award.
Let them wear pants
After more than 200 years, a small group of French members of parliament are trying once again to make it legal for Parisian women twear trousers. Few might suspect that the normally laissez-faire Paris would have a law against women in the city wearing trousers. But the city's police chief decreed in 1799 that any woman wishing to "dress like a man" must get special permission from police headquarters. Through the years, authorities have gradually weakened the rule. In 1892, the city decreed that women could wear trousers so long as they were holding the reigns of a horse. And in 1909, trouser-clad women could go about if they were hanging onto a bicycle. Now 10 lawmakers are out to kill the law once and for all, submitting a draft bill to parliament to repeal the centuries-old ban.
Flavored web
A flavor at a trendy Cambridge, Mass., ice cream parlor is certainly turning heads. In honor of a recent internet culture convention-ROFL­Con-owners of Toscanini's rolled out "Internet Flavored Ice Cream." What could such a creation taste like? One San Francisco blogger speculated, "A Mountain Dew-base flavor with chocolate bacon chunks. Something wildly ironic from Humphry Slocombe maybe?" But it turns out he was wrong. Toscanini's Internet flavor is a vanilla-based ice cream with candy Nerds swirled in.