by The Editors of WorldMag.com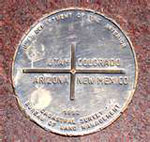 Quick trip
A trio of Utahns completed a record-breaking roadtrip through 48 states on May 8 when the beleaguered passengers pulled into the Four Corners area at the intersection of Utah, New Mexico, Colorado, and Arizona after a 7,000-mile roadtrip completed in under five days. Inspired by stories of great American roadtrips and also by the official Guinness World Records time of five days, seven hours, and 15 minutes, Josh Keeler, Adam Gatherum, and Joey Stocking each took six-hour shifts behind the wheel of their Toyota Scion xB to drive through all contiguous 48 states in just four days, six hours, and 43 minutes. Gasoline alone cost the group over $1,000. Along the way, there wasn't much time for getting to know the states: The trio's longest stop lasted just 15 minutes.
Party poopers
Although it is sometimes flown above vessels in Her Majesty's Royal Navy Submarine Service, flying the Jolly Roger in the United Kingdom might not be such a good idea these days. For his daughter's pirate-themed birthday party, David Waterman flew the skull-and-crossbones Jolly Roger flag from the side of his house to complement the eye-patched and cutlass-wielding children playing pirates outside. But the town council in Ashtead, Surrey, regarded the flag as a commercial symbol and told Waterman in late April he would have to pay nearly $200 for a permit to fly the pirate symbol. In protest, Waterman has left the black flag up despite threats of prosecution from the town.
The price isn't right
There's one problem with author Clementina Marie Giovannetti's plan to get rid of her Ocala, Fla., home: Her ploy may be illegal. Unable to sell her home for the price of $1.25 million in Florida's stale housing market, Giovannetti announced plans to award the home to the winner of a "pet lover" essay contest. Each entry will cost $200 and Giovannetti has said she'll need at least 6,250 essays to hold the contest. Some law enforcement officials in Florida have grown suspicious of the author of self-help and dream interpretation books. They say that unless Giovannetti actually reads and judges the essays, the contest could run afoul of the state's anti-gambling statutes.
What's in a name?
If you're going to lie to police in Sheboygan, Wis., it's best if the lie is less damaging than the truth. During a routine traffic stop, one man, a passenger, lied about his identity to authorities in order to hide his record of unpaid traffic tickets. But the fake name he gave officers just happened to be the same name of a man wanted for vehicular homicide. Police in Sheboygan only believed his later retraction after verifying through fingerprints and photographs he was not the wanted felon he accidentally pretended to be.