By The Editors of WorldMag.com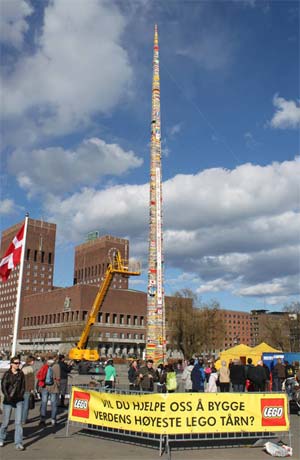 Building blocks
LEGO enthusiasts in Oslo, Norway, have given fact checkers at the Guinness World Records something to consider. A group of builders, including schoolchildren, recently finished constructing a LEGO tower in front of Oslo's city hall that seems to exceed the current world record holder for tallest LEGO tower previously constructed in Munich. According to the Oslo builders, their LEGO tower is just over 99 feet tall-exceeding Munich's LEGO high-rise by 10 inches.
A new lightweight
A newborn that entered the world on April 23 in Barnstead, N.H., weighed six pounds and was 14 inches tall. Which would be normal, except the newborn was a tiny pinto stallion named Einstein. According to records, the previous smallest horse was a chestnut mare named Thumbelina that weighed 8.5 pounds. A typical miniature horse foal weighs 18 pounds.
Big claims court
After 250 years, a border dispute between two Vermont towns has finally been settled. But it wasn't modern GPS technology that determined the boundary line between St. George and neighboring Shelburne, and even old maps and a new survey of the area didn't help much. Instead, an arbitrator decided the matter. Shelburne Town Manager Paul Bohne blamed New Hampshire for the confusion. Bohne said it was shoddy paperwork by Benning Wentworth, the colonial New Hampshire governor in 1763 whose jurisdiction included modern-day Vermont, that caused the problem. "When all was said and done," Bohne told the Associated Press, "he had given the same land to different towns."
Wrecked and wronged
A mix-up by a city demolition crew has left Francis Howard of Denton, Texas, with an enormous hole in her house. The crew was tasked with tearing down the house across the street on April 21 because of repeated violations of the city code, but mistakenly began to demolish Howard's home instead. A neighbor stopped the crew, but not until much damage had already been done. "I just want this house put back together," Howard, 69, told the Denton Record Chronicle, adding, "I think I need a lawyer." City records show that Howard's house was also slated for demolition, although she had until July 15 to get the structure up to code. City spokesman John Cabrales told the newspaper that Howard could apply for an extension.
Cracking the code
Tracey Brown has had enough. The Ontario woman says she won't stop pestering school board officials until they come up with a written policy instructing teachers at Westervelts Corners Public School to stop forcing children to remove their MedicAlert bracelets. Brown says a substitute gym teacher thought the MedicAlert bracelet on her first-grader, Tianna, violated the school's dress code against jewelry. Tianna's bracelet contained instructions to paramedics about her asthma condition. "This isn't the first time I've had to deal with this, and I've lost it," Brown told the Toronto Sun. "I've been calling the school, the board, trustees, and the ministry."