By The Editors of WorldMag.com
Losing the keys
New York City transit officials have quite a quandary to solve: What do you do when low-level thieves get the key to the city? Last year, city police confiscated 33 copies of a master key that unlocks an access gate to the city's subway system at each of New York's 468 subway stations. Sometimes the perps caught by cops were simply using the duplicate master key to skip the $2.25 fare. Others were selling keys to straphangers for $27 each. Metropolitan Transit Authority officials acknowledge the problem but admit it will be all but impossible to round up all the rogue keys.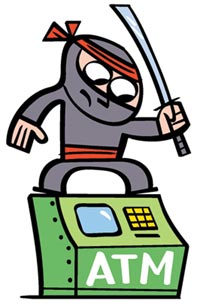 Hapless ninja
For a ninja, he sure was clumsy. A would-be bank thief-dressed in black and wielding a curved sword-bashed his way into a Saskatchewan, Canada, bank on April 13 but left empty-handed, bank security cameras show. The footage shows the still-unidentified man poking and prodding an ATM machine outside the bank before smashing through a glass door. Once inside the closed bank, the cameras showed him rummaging behind the counter before exiting the building, smashing his way through yet another glass door. Bank officials note that one of the doors the empty-handed suspect crashed through was unlocked.
Green for thee, not me
A new house in Brentwood, Calif., has a $20 million price tag and will reportedly have 20,000 square feet, a six-car garage, a pool house and lagoon-shaped swimming pool and spa, a recreation room with a 19-foot ceiling, and an elevator. The house is for a family of three, and one member of that family is the UN's goodwill ambassador for the environment, Gisele Bundchen. She and husband/NFL star Tom Brady took flack when photos of their new house surfaced last month. Environmental activists were alarmed at the new digs of the high-profile environmentalist. "The resources that it takes to put it together and the land that it needs," said the Sierra Club's Philip Dowds in the Boston Herald, "this just can't happen anymore."
Bottle bust
Concerned citizens in Anaheim, Calif., called the police after seeing two men place a mysterious small canister inside the base of a light pole and then drive away. A bomb squad, a hazmat team, and nearly a dozen fire trucks arrived and spent five hours analyzing the suspicious object. But the pill-bottle-sized container turned out not to be part of a terrorist plot; it was part of a harmless treasure hunt known as Geocaching, in which online enthusiasts use GPS to find objects hidden by other enthusiasts. Police Sgt. Rick Martinez told the Orange County Register that the witnesses were right to call authorities. "You never know," he said. "The one time somebody does not report something that was suspicious may be the one time that they should have reported it."