By The Editors of WorldMag.com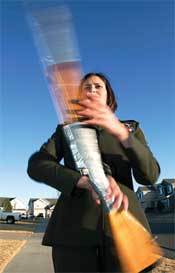 Zero intelligence
A Darrow County, Colo., girl's twirling sticks have landed her in front of the school board. Marie Morrow, 17, was expelled from her high school on Feb. 5 under the state's zero-tolerance policy on weapons because passersby saw wooden replica rifles in the back of her car and misunderstood them as the real thing. In reality, Morrow twirls the wooden and duct-taped rifle replicas for her high school's drill team. Eventually, however, public sentiment swayed toward the honor student and school officials allowed her to return to campus.
Justice delayed
With wait times like this, Indians with legal claims might just go vigilante. In a recent report from the top judge of the Delhi High Court, the chief justice says the court's docket is so backlogged, some cases may take up to 466 years to clear if the judges keep their present pace. Despite spending an average of 4 minutes, 55 seconds on each case presently, the Delhi High Court still has tens of thousands of cases in the hopper including more than 600 that are at least 20 years old. The Delhi court is indicative of a terminally backlogged national judicial system that the UN claims has over 20 million cases pending. One reason for the backlog? A shortage of judges. While the United States has roughly one judge for every 9,100 citizens, India has one judge for every 91,000 citizens.
Up on the farm
Forget the more urbane Match.com, rural singles looking for agrarian matches finally have a destination on the internet. With more than 100,000 members, three-year-old FarmersOnly.com puts a twist on traditional online dating services by focusing in on singles who prefer the rural or rustic lifestyle. In an interview with Online Dating Magazine, founder Jerry Miller said city folk who dream of moving to the country make up 10 percent of his clientele. Miller himself works in Cleveland, but he knows a thing or two about rural life: His public-relations firm handles farms across the Midwest.
High on Hayes
He ranked 33rd on C-SPAN's 2009 poll of historic U.S. presidents, but on Presidents Day this February, Paraguayans celebrated Rutherford B. Hayes as their favorite. Paraguay's affection for the United States' 19th president stems from an 1878 agreement he signed that ceded Paraguay 60 percent of its territory. In response, the nation set up a holiday in his honor, has a Presidente Hayes province (its capital is Villa Hayes) and put his visage on a postage stamp. The praise for Hayes catches even his American enthusiasts off guard. "It appears that they have sort of an inflated view of Hayes' importance in American history," said Tom Culbertson, executive director of the Rutherford B. Hayes Presidential Center in Fremont, Ohio. "One article said that they thought he was revered only behind Abraham Lincoln within the United States, which certainly isn't the case."