By The Editors of WorldMag.com
Counting the cost
After three months, Newsday could only coax 35 paying customers. "I heard you say 35 people," said a Newsday reporter questioning publisher Terry Jimenez about how many people had signed up to pay for unfettered access to the newspaper's website. The figure seemed amazingly low for the Long Island-based newspaper that still boasts a daily print readership of nearly 400,000. Last year, Newsday embarked on a redesign and relaunch of its website that cost the company about $4 million. The 35 customers who are willing to pay $5 a week for unlimited access to the site's content have generated about $9,000 for the paper-less than a quarter of 1 percent of the redesign cost.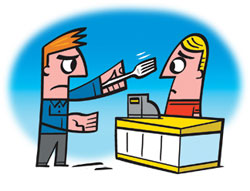 Cutlery caper
According to police in Hempfield Township, Pa., Gino Conti entered a Shell gas station and attempted to rob the cash register brandishing only a fork. When the clerk revealed the register was empty, police say Conti settled for a box of cigarettes and fled on foot. Police captured the 31-year-old a short while later and charged him with robbery and simple assault.
Giving their all
It may not have been the biggest donation toward relief efforts in Haiti, but the contributions made by clients of the Guilford Avenue Shelter in Baltimore certainly made a big impression. That's because Guilford Avenue is a homeless shelter. After a prayer meeting led by lay pastor Tim Herty of Grace Fellowship Church in nearby Timonium, homeless clients of the shelter scraped together $14.64 to make a donation for relief efforts in Haiti. A representative put the donations in an envelope and delivered it downtown to the Red Cross. "We were all weepy-eyed" when the donations arrived, Red Cross volunteer coordinator Bobbie Jones said.
Winter overload
The town of Cary, N.C., was all set for a Jan. 30 "winter wonderland" festival. Town officials even planned to truck in 30 tons of snow to create a winter atmosphere at a local park. But then the actual winter got in the way. The storm that hit the Southeast at the end of last month covered Cary in snow and prompted the town to cancel its annual winter event.