By The Editors of WorldMag.com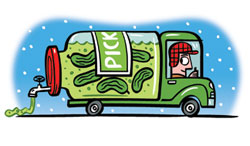 In a pickle
With their budget too busted to buy road salt, Bergen County, N.J., authorities have come up with a briny solution to keep the county's roads ice-free. County leaders announced a plan to use pickle juice as a cheaper alternative to de-ice roads for the remainder of the winter season. And if it works, other counties may adopt the cheap workaround: Officials say the salty juice costs just $16 per ton compared to $63 per ton of road salt.
Nepal's Rambo
Nepal has announced it will honor a Gurkha soldier from Pokhara, Nepal, who fought off 40 bandits during a train robbery attempt in Nepal in September. Authorities say Bishnu Shrestha killed three and injured eight when a mass of train robbers boarded the Maurya Express in between Gorakhpur and Ranchi and attempted to loot passengers. Armed with only a knife known regionally as a khukuri, Shreshtha, a passenger, used his training as a Gurkha to slice and dice his way through the robbers.
Collateral damage
It was a long process, but the birds finally prevailed over a gas station awning in Vacaville, Calif. Fire department officials in Vacaville blame the Jan. 24 collapse of an awning at a local gas station on the tremendous weight of bird droppings. Officials say a flock of pigeons created a two- or three-inch film of droppings over the entire awning, causing the structure to give way. No one was hurt in the collapse. Firefighters equipped with hardhats-and respirators-helped clean it.