By The Editors of WorldMag.com
All in the family
For a California woman and her family, starting a business venture required an unusual verdict from a U.S. District Court judge. The business? A casino. The ruling? A confirmation from the court that Rhonda Morningstar Pope's small group of Me-Wuk Indians near Sacramento really constitute an Indian nation with a legal right to open a gaming casino over a legal challenge from Amador County. Now Pope's group, a federally recognized tribe consisting just of the woman and her children, will proceed with plans to build a 13,000-square-foot gaming complex that could employ up to 800.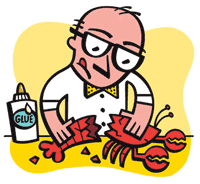 Shell game
Say what you will about one New York thief: At least he was thorough. Walter U. Tessier returned a $10.99 lobster to an Amsterdam, N.Y., Price Chopper supermarket saying the crustacean was bad. But while Tessier went browsing for a bag of king crab legs to exchange for the lobster, store employees became suspicious of the rejected seafood. Apparently, Tessier ate most of the lobster and reassembled the crustacean to appear whole before returning it to the store. When confronted, Tessier fled on foot but was arrested later at his home and charged with petty larceny.
Higher priorities
For one hotel patron, finishing a beer took priority over seeking treatment for a knife wound. Police in Edmonton, Alberta, responded to an emergency call at the York Hotel around 9 p.m. on Jan. 17 only to find the stab victim sitting at his table polishing off a brew. "He's got a minor poke to his chest, but he's not giving us any details," said Staff Sgt. Regan James. "You can imagine the level of his concern was not that high."
Life in the fast lane
Hummer owners might want to tap the brakes: A year-long study produced by a risk-analysis firm found drivers of Hummers were 463 percent more likely to be ticketed for speeding than the average driver. Officials with San Francisco–based ISO Quality Planning said the research may not indicate that traffic cops are more likely to single out drivers of gas-guzzling SUVs for speeding tickets, but that particular cars affect how a driver drives. Joining Hummer atop the list for most ticketed vehicles: two highly powered Mercedes Benz vehicles. Drivers of Buicks and minivans received the fewest tickets.
Horse power
For a pair of would-be tractor thieves in Ireland, escaping the crime scene on a pony appears to have worked, if only temporarily. Irish police are tracking down two suspects who fled a farm after failing to hotwire a tractor on a four-year-old white Connemara gelding named Snowy stolen from the stables on Jan. 12. The thieves ditched Snowy about two miles up the road from the farm and proceeded on foot, police say. "I know we are in the middle of a recession, but things must be really bad when someone uses a pony as a getaway car," said farmer Joe McGlinchey, who says he's just happy to have his animal back.