By The Editors of WorldMag.com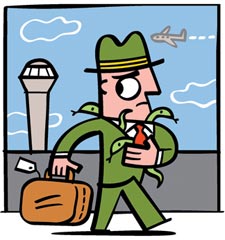 Reptile ruse
Few would attempt to smuggle animals through an international airport. Almost no one would be willing to hide multiple reptiles on his person. That makes Michael Plank of Los Angeles County unusual. Authorities discovered Plank traveling through airport customs at LAX with 15 live lizards strapped to his chest. He had been returning from Australia when customs agents discovered two geckos, 11 skinks, and two small monitor lizards strapped to his body. The reptiles have a street value of $8,500, but now Plank could face a smuggling fine of up to $250,000.
Nightmare on ice
A Canadian teen and three polar bears found themselves stranded for two days on a floating chunk of sea ice in the northern Hudson Bay. Miraculously, it was the teen who survived. Authorities in the Nunuvut say Jimmy Nakoolak and his 17-year-old nephew Jupi became stranded in the Canadian wilderness on Nov. 6 when their snowmobile broke down, forcing the pair to set out on foot across the ice toward a tiny island village. Along the way, they became separated on ice floes. Jupi said he soon discovered he was not alone on his piece of ice. And authorities say the teen was forced to shoot one of the bears in self-defense when the three came too close. Rescue workers discovered the boy alive after two nights on the ice and took him to a local hospital where he was recovering from hypothermia. Jimmy was discovered alive by searchers earlier.
Parent trap
A clueless Illinois teen phoned the cops Nov. 15 to complain that his parents had stolen his Xbox 360. When an officer arrived at the Buffalo Grove, Ill., home after the 911 call, the teen, apparently unfamiliar with the concept of ownership, asked the officer if his parents had the legal authority to confiscate the gaming system. A police report indicates the officer "advised him that he needed to listen to his parents."
Eating the evidence
One Cleveland man may have been caught red-handed, but he managed to get rid of some evidence by eating it. When police in Twinsburg, Ohio, stopped John H. Ford, they discovered a .38-caliber pistol and red-ink-stained money in his passenger seat. Ford is a suspect in several bank robberies. While cops were searching his vehicle, Ford managed to chew and swallow the note he handed to a bank teller at a First Merit Bank outside of Cleveland. Authorities only discovered Ford's act after reviewing footage from the police cruiser's dashboard camera.