By The Editors of WorldMag.com
Draw play
Fayette County, Pa., constables Hubie Coleman and Rocky Younkin spend their shifts knocking on doors, serving warrants, and hauling individuals to a district court. But getting people actually to open the door has been a problem for the two constables. "One guy told us he wouldn't come outside because of our car," Coleman told the Daily Courier, noting their cruiser looks very much like a police car. So the pair borrowed a van painted in Pittsburgh Steelers livery to see if that would draw perps out of their homes. "We sit outside and lay on the horn, and they come out. They're interested and curious," Coleman said. "It's been working great." But maybe too great. Local press attention to the Trojan van has blown the duo's cover, leaving them to look for a fresh façade.
Watch the news report here:
Digging a mess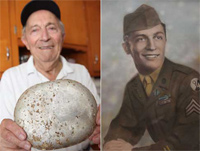 Dominick Sgobbo survived the beaches of Normandy and a Nazi prison camp. But while the 84-year-old Bronx resident arrived home safely from the European theater of World War II, one thing got lost along the way: Sgobbo's mess kit. In October, Sgobbo received a phone call from a 20-year-old Dutch archeology student who had been working in Schomerich, Germany-the same place Sgobbo was taken prisoner. The Dutch student explained that he and other archeology students had uncovered Sgobbo's missing mess kit during a recent dig. "When I got the call saying my mess kit was found, the hair stood up on my arm. . . . It was like I was in the Twilight Zone," Sgobbo told the New York Daily News. The Dutch student mailed the mess kit to Sgobbo, and the old soldier has his property back after 65 years. (see photo at right)
No writing on the war
Charles Whittington's college professor at Community College of Baltimore County asked him to write about his experiences while he was a combat soldier in Iraq. The 24-year-old veteran complied and turned in the paper. His professor gave him an A. Two weeks later, the school suspended him. Citing the violence Whittington wrote about in his school essay, school administrators told the Iraq veteran he couldn't return to campus until he has a psychological evaluation that indicates he's not a threat to other students.