By The Editors of WorldMag.com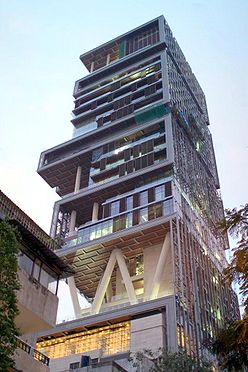 He needs his space?
How much house is too much? Three stories? Four? How about 27? That's the number of floors in the new home of India's richest man, Mukesh Ambani. Construction on the Indian business tycoon's new residence (see photo) began in 2007 and eventually cost between $500 million and $700 million to build. Though 27 stories, the tower is actually 568 feet tall, making it as tall as a normal 60-floor office tower. The residence tower, named Antilia, begins with a six-floor parking garage with enough space for 160 vehicles. Nine elevators and three helipads will deliver Ambani, his family, and guests to the more than 60,000 square feet of living space.
Running man
Days after Muhammad Ali and George Foreman's famous Rumble in the Jungle bout in 1974, Walter Byerly started running. Today, more than 13,000 days later, the 80-year-old Byerly is still running, having run at least a mile every single day for the past 36 years. Although Byerly's pace has slowed to just 16 minutes per mile, it just gives the octogenarian more time to pray for his friends (what he does to pass the time). Amazingly, the Dallas man's streak is only good enough for 11th place in the United States for consecutive daily mile runs. According to the U.S. Streak Running Association, Mark Covert, a coach from Lancaster, Calif., holds the active national record having logged at least a mile a day since July 1968. But Byerly is no slouch. At 80, he's the oldest person on the organization's streak list.
The right stuff
What does it take to build your own spaceship? Not much, it turns out. British space enthusiasts Steve Daniels, John Oates, and Lester Haines created a paper airplane, used a helium balloon to launch it 17 miles into the atmosphere, and managed to capture images of the planet with a small camera on board. The balloon and the plane, which had a three-foot wingspan, took 90 minutes to make the climb, and the trio used a GPS system to track the plane's progress. When the balloon burst, the plane glided back to the earth. "We decided to launch a paper plane because nobody has done that before," Daniels told the Daily Mail. "It seems really silly but it was brilliant fun."
Rescue at sea
His name won't be reported in the press, but a 19-year-old Australian woman will never forget him. Elyse Frankcom was swimming with dolphins off the coast of western Australia on Oct. 30 when a shark, believed to be a Great White, attacked the young woman, biting her on her legs. That's when an anonymous man jumped into action, grabbing the large shark by its tail. The bold move caused the surprised shark to let go of Frankcom, who then began to drown. The man then dove, brought her to the surface, and got her on board their boat. After six hours of surgery, Frankcom emerged in good spirits. The unidentified man refused to speak with journalists.