By The Editors of WorldMag.com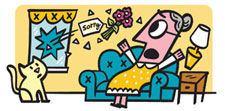 Sorry for the inconvenience
Even British burglars have manners-sort of. Days after frightening a 91-year-old woman during a home invasion, the burglar sent an apology note along with a bouquet of flowers to her Halifax home, about 200 miles north of London. In the note, the robber explained he believed the residence to be empty when he broke in around 4 a.m. on Oct. 9. Police said the perpetrator left the home empty-handed, but have asked him to come forward with his identity, not just a floral arrangement.
Impactful 'stache
At long last, Tim Galvin is getting the acclaim he deserves. But it's not for his professionalism during a 20-year career as a New York City policeman, during which he earned three medals of valor and survived two gunshot wounds. It's Galvin's facial hair that's earned him notoriety. The American Mustache Institute chose the former undercover cop as the recipient of the group's first-ever Robert Goulet Memorial Mustached American of the Year award for what the AMI calls the nation's "most impactful mustache." Galvin's son described the mustache as "respect-demanding," while AMI's chairman Aaron Perlut praised Galvin, saying, "Tim doesn't sit around pondering whether his mustache is in fashion this season-it's always mustache season to Tim." Galvin beat out notable athletes like Jason Giambi, Art Monk, and Keith Hernandez, as well as Libertarian presidential candidate Bob Barr in the online ballot.
Contraband sand
Many travel to the Caribbean just for the white sand beaches. Now some are leaving with it. Authorities in nations throughout the Caribbean are bemoaning sand thieves who steal truckloads of beach sand used in construction of new developments. Builders favor the fine powdery sand for its usefulness to create smooth plaster finishes. At one private beach in Jamaica, thieves stole roughly 706,000 cubic feet of sand in 100 truckloads, endangering mangroves and a limestone forest. The haul was valued at more than $5 million. Jamaican police suspect government officials were involved.
Playing horse
A horse is a horse, of course, unless that horse belongs to 55-year-old Allyson B. Young of Meddybemps, Maine. At least in her mind, she and her horse are part of the same herd. That's the argument Young made to a Calais District Court judge in October after a state animal welfare official removed Angel, Young's poorly-cared-for saddlebred mare, after discovering the horse to be on the brink of starvation. In court, Young, who admitted she could not pay to care for the animal, argued against the separation, saying that she and Angel had become one herd and demanding the court find a suitable home where they could be together. State attorneys pleaded for Young to seek help from the state's department of health and human services.