By The Editors of WorldMag.com
Smart move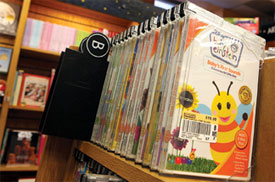 Disney has offered refunds to all the parents whose children were not transformed into child geniuses by Baby Einstein. And that's basically everyone, considering nearly all child welfare experts now agree that the video series, which was supposed to make infants and toddlers smarter, doesn't deliver the goods. The American Academy of Pediatrics still advises children younger than 2 shouldn't be exposed to any television or video programming. The move by Disney to offer full refunds for all Baby Einstein videos made between 2004 and 2009 and returned to the company came after lawyers threatened a class-action lawsuit last year.
On the loose
If you happen across a giant lizard in northeast Austin, Texas, Ryan Amazeen would appreciate a phone call. Amazeen's 6-foot-long monitor lizard escaped his backyard home on Oct. 17 and appeared to be headed toward a nearby creek. "He's just so big that people are just terrified of him when they even see him at our house," Amazeen said of the 30-pound lizard that has been the family pet for five years. "I don't want him to get killed. I've had him for so long, he's like a family member to me." Amazeen said Rosti, the lizard, usually eats rats and rabbits, but admits it could take down a small dog if given the chance.
Rocket Ismael
It wasn't so much that Ismael Esparza was speeding. It was by how much. Grapevine, Texas, police officers began chasing the 37-year-old Esparza after he flew past a cruiser. When an officer of the Dallas suburb finally caught up, he clocked Esparza at 150 mph-2.5 times the posted speed limit. Also amazing: Esparza managed the high-speed feat not in some sports car, but in a Buick.
A real mouthful
Some records you don't want to break. The single-time-roaches-in-mouth record would be one of them, unless your name is Sean Murphy. Murphy, an employee at a Lansing, Mich., pet store, recently was able to stuff 16 live Madagascar hissing cockroaches in his mouth at one time, apparently breaking the world record by five cockroaches. Murphy said he got to a record-setting 12 roaches, held them there for the required 10 seconds, but then kept going until he managed to stuff four more in his mouth. When mature, the Madagascar hissing cockroach can be 2 to 3 inches long.