By The Editors of WorldMag.com
Facebook folly, part 1
Rather than calling emergency services, two Australian children posted a cry for help on Facebook after getting stuck in a storm drain. The 10- and 12-year-old girls became stuck in a sewer they were exploring near their home in Adelaide in South Australia on Sept. 8. But rather than dial emergency services with their mobile phones, the girls went online and posted a status update on their Facebook pages. Luckily, a friend was monitoring the social networking website at the time and phoned emergency officials who dispatched rescue workers.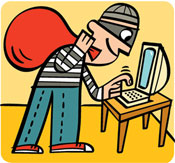 Facebook folly, part 2
The next time Jonathan G. Parker wants to burglarize a house, maybe he'll stick to his priorities. Police say the 19-year-old Fort Louden, Pa., teen burglarized a nearby Martinsburg, Pa., home, rifling through drawers and cabinets before making off with a pair of diamond rings on Aug. 28. But before leaving the home, police say Parker stopped to check his Facebook profile on his victim's home computer and neglected to log off. Police easily tracked down the teen and charged him with a felony burglary count.
Barking art
By most contemporary measures, Tillamook Cheddar, or Tillie, is a successful artist: Her paintings sell for more than $1,000 each, and she recently had a solo show in Florida. She's also a dog-a 10-year-old Jack Russell terrier-who creates her masterpieces by scratching, biting, and clawing at vellum paper that is covered with paint. The results may look bizarre, but they sell well in today's art world. The dog's owner, Bowman Hastie, calls himself Tillie's assistant and says her work has been compared to that of abstract expressionists like Jackson Pollock. Sculptor and photographer Ward Yoshimoto told the AFP news service that Tillie's work easily passes for art: "I'd say you'd put them up anywhere and no one would ever say a thing, not in any museum in the world."
You sunk my plotline
No details yet on what the plotline could be, but Universal Studios has set July 1, 2011, as the preliminary debut of a big-budget motion picture based on the classic children's game, Battleship. Friday Night Lights director Peter Berg has commandeered the seemingly difficult task of turning a nearly mindless guessing game into a Hollywood summer blockbuster.