By The Editors of WorldMag.com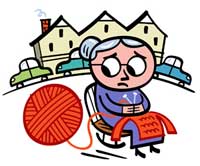 Crime and punishment
A tire-slashing granny caught in Germany has been ordered by her judge to do a penance that might actually benefit her community. Fed up with the number of vehicles in her neighborhood in western Germany, 89-year-old Heidi Kohl embarked on a tire-slashing spree, slicing open perhaps 50 car tires, according to prosecutors. When Kohl claimed she couldn't pay the fine, a judge ordered her to knit a sweater for each of her victims.
Tricks are for kids
After treating citizens to a holiday swap moving Halloween to Nov. 1, many residents of Oxford, Mass., feel tricked. The city's Board of Selectmen voted to move trick-or-treat one day later than the traditional Oct. 31 celebration in an attempt to avoid Friday evening traffic that, according to the board, could endanger children out soliciting candy. In an email to selectmen obtained by a local newspaper, Kimberly A. Shaw asked, "Is this some socialist country that I don't recognize? I think we parents are mature and responsible enough to keep our children safe on Friday evening." Many other letter-writers panned the move. And despite backing the date change, Police Chief Michael Boss said he would not move to enforce the measure.
Bad bulbs
Compact fluorescent bulbs: great for the environment? Not so fast. Once a hot item to soothe the enviro-conscience, a new study by Yale University scientists reveals the energy-saving bulbs probably do more harm to the Earth's environment than good. Yale researchers found that while compact fluorescent bulbs do save a lot of energy compared to traditional incandescent bulbs, the benefits to the environment are outweighed by the harm in disposing all of the toxic mercury contained in the long-lasting bulbs if dumped into landfills.
Playing dress-up
If James Ticker wanted to play military for his wedding, he at least should have dressed for the role. For his April nuptials in Slidell, La., the 42-year-old man dressed in a Navy captain's dress uniform replete with medals signifying a Navy Cross, Silver Star, and a Purple Heart. Problem: Ticker has never been in the military. And someone in attendance spotted something fishy. Ticker mistakenly wore the Navy lieutenant commander's hat he used in a previous wedding instead of securing a more accurate captain's hat with the appropriate gold leafing. A tipster at the wedding notified authorities who charged Ticker with violating the Stolen Valor Act, a 2006 federal law making it illegal for imposters to wear military medals or commendations. Ticker pleaded guilty and on Sept. 30 was sentenced to one year of home confinement and a $500 fine.