By The Editors of WorldMag.com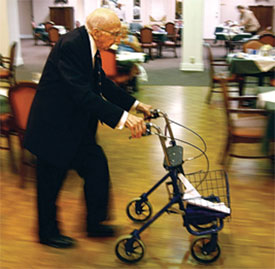 A long life
Walter Breuning has lived in three different centuries, remembers his grandfather talking about serving as a Union soldier during the Civil War, and this summer became the world's oldest man. The 113-year-old resident of Great Falls, Mont., says diet and exercise are the keys to his longevity: He eats only two meals a day, and he gets exercise by walking through the halls of the Rainbow retirement home with the help of a walker.
Flower power play
If you ask Briton Angie Summers, her fellow citizens should be thanking her. Instead, a passerby who noticed the 43-year-old Wiltshire, U.K., resident pulling a dead flower out of a public garden display phoned police who showed up at her residence soon after to threaten her with prison time for her vigilante gardening. Authorities eventually dropped the case, acknowledging her "good intentions."
Share to care
Want to help your teenager avoid an accident? Don't let him have his own car and make him sign a contract before he drives yours. Research published by Children's Hospital of Philadelphia in the October issue of the journal Pediatrics suggests that one quarter of all teen drivers who have their own car have been in an automobile accident while driving. Only 10 percent of teens who shared their vehicle with another family member have crashed the car. Researchers wrote in the same article that teens who have to sign a safe-driving contract with their parents perform better on the road.